Cyanovisions - Short Film
$1,599
of $5,000 goal
Raised by
36
people in 7 months
Dear Friends, we need your help to create the short film Cyanovisions that explores our relationship to our changing environment. Its a multimedia project spanning the genres of video, installation, dance, bioart, environmental science, and fashion - involving diverse Bay Area artists from the queer community and beyond. Cyanovisions examines climate change, harmful algae blooms and biotechnology; and hopes to redefine our perspectives on our impact of the ecosystems we inhabit, other species, and imagine more symbiotic futures.
Cyanovisions is a project led by Tiare Ribeaux with filmmaker Jody Stillwater, Danger Charles, and artists Megan Noelle Low, Crystal Titus, Micah Morris, Pseuda, Jader, Dasha Ortenberg, Adrianx, Jon Leezy, Kim Ip, Andrej Hronco, Tiffany McColl, Keri Shewmaker, Inti Ramirez, and others.
Second Film Shoot of Cyanovisions at B4BEL4B Gallery
First Film Shoot on Clear Lake with Cyanovisions Team, Photo by Max Schwartz
Set Design and Bio-Art Exhibition for Cyanovisions, on view until Sept 28th at B4BEL4B Gallery
If you want to support the realization of this project, donations of any level help!
Optional Tiers:::
Contribute $20 or more for a thank you on the credits
Contribute $50 for a bioplastics making session with Tiare (Bay Area)
Contribute $100 for your own in-person microscopy viewing session with Tiare (Bay Area)
Contribute $250 for a unique 3D print based on microalgae/cyanobacteria
Contribute $1000 or more to be listed as co-producer on the credits
All funding will go toward the creation of this film which will involve renting camera equipment and lenses, sourcing materials for costumes, set design, bio/lab equipment, paying collaborative artists, sound design, post-production and more. The costumes and bio art works and props for set design are currently art objects shown as an exhibition, currently on display at B4BEL4B Gallery until September 28th.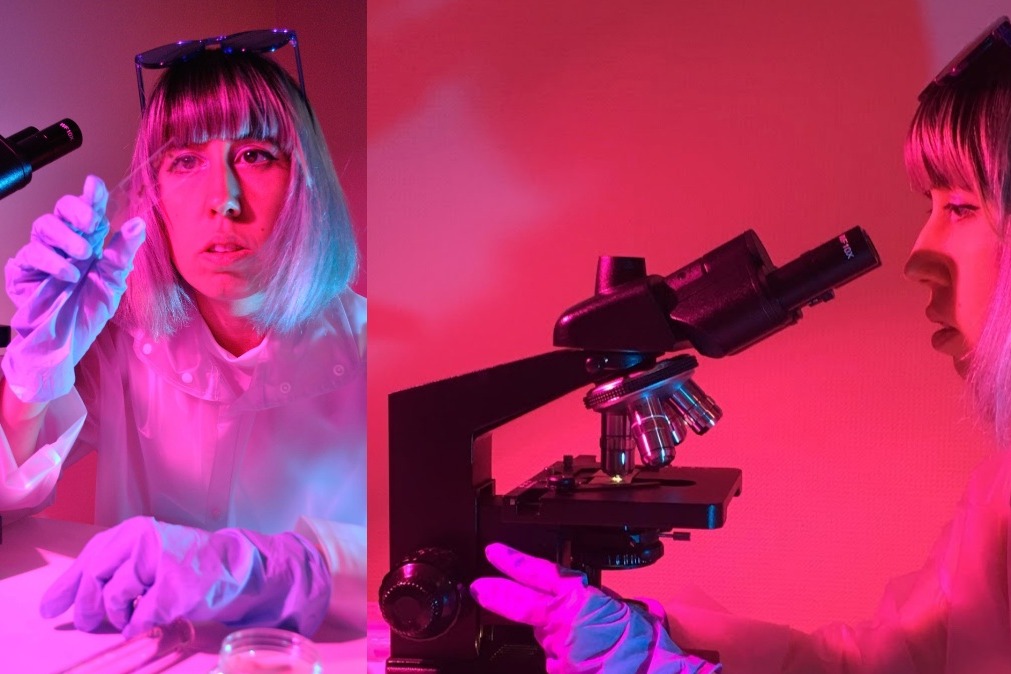 Photo by Krolikowski Art, Tiare Ribeaux analyzing water samples 
Photo by Irina Kostyshina - Algae Blooms in the Dnipro River in Kyiv
Still from "Small Crimes - Palm Fronds" Directed by Jody Stillwater
Cyanovisions is going to be elegant and mutant, fashion forward, subversive, visually engaging, genre and gender-bending - while critiquing our technologies today and imagining more collective and symbiotic ways of being.
Humans have become so far removed from other species and ecosystems that we've changed our planet's surfaces and oceans completely. California, the state that we're currently based in, is on fire. We're living in a world that is urgently out of balance. One indicator of our earth out of balance is harmful algal blooms of cyanobacteria, the species that initially gave us life by creating oxygen on our planet billions of years ago, yet now proliferating as toxic blooms globally in rivers and lakes due to human pollutants. This film will begin to reframe our relationship to other species, ecosystems and microorganisms.  
Bioplastic garments by Tiare Ribeaux
Cyanobacteria are ancient organisms that were the first to create oxygen on the planet through photosynthesis. Later through endosymbiosis, they became the chloroplasts that exist in all plants today, as well as enabling complex ecological systems and all oxygen dependent life on our planet today. Proliferating at times as harmful algal blooms (HABs) in rivers, lakes and estuaries around the world, they recently have been creating toxic environments for humans and other species through eutrophication events and cyanotoxins. As the element first created by this ancient life form sustains us, humans in turn, generate the pollutants that stimulate its unmitigated and toxic growth. Humans also create new forms of life through synthetic biology, gene editing, and genetic engineering. We also are able to harness energy, food, and biofuel from different strains of cyanobacteria.
Through short film we will explore these entanglements of humans and cyanobacteria, and in addition, shift perspectives of humans as single entities to symbiotic entities. Through this film, we will reframe the human body as a system in relation with the ecological systems it often impacts.
www.tiareribeaux.com
 //
www.vimeo.com/brightspectrum
Still from short film "M", by Bright Spectrum Director Jody Stillwater
Performance Artist Psueda at Gray Area Theater
3D modeling in VR by Tiare Ribeaux
Still from the "Wind Telephone" by Director Jody Stillwater with Jon Leezy

Thank you for helping us to realize this vision, it would not be possible without your support!
+ Read More