Pettipas' Legal Fund
$2,515
of $30,000 goal
Raised by
17
people in 33 months
Classic David and Goliath - we urgently need your help.
My name is Edna Pettipas and on January 27, 2014 the Supreme Court of Nova Scotia issued a ruling against Bell Aliant, allowing our case to go to trial. I have filed a lawsuit for personal and financial injuries against Bell Aliant Regional Communications for operation of a cell tower on my land. 
In February 2002 we allowed a cell tower to be erected on our land with the false assurances that there was no health risks. They told us that we either agree to let them put the tower up there behind our home site or if we didn't they would go to a neighbour and the tower could have been located beside or in front the house. I felt blackmailed.
In 2007 we built our dream home and became sick instantaneously after we moved in.  The longer we stayed the sicker we became. 
In September 2008, my teenage daughter and I moved out of the house after discovering my tumor marker levels were "through the roof." We tried moving back into the house in March 2009 but we didn't even last the day.
As a result of the prolonged exposure to the radio frequency radiation emitting from the cell tower I developed breast cancer and had a bilateral mastectomy.
We need to raise about $30,000 to bring in experts to testify against the telecom giant for property damage and personal injuries caused by radiation from a cell phone tower.  As you know the telecom giants have unlimited amount of money to pay for legal representation and financially drain any hopes for justice for us.
Industry Trolls are taunting us with messages hoping we will give up.  Our case is strong would be precedent-setting case against one of the largest telecommunications company helping all Canadians who are fighting the health risks from cell towers.
My lawyer has shown bravery in taking this case on contingency, meaning he does not get paid unless we win. I need to do some fundraising to cover the costs of bringing international experts to testify at the trial.
All donations will be used strictly towards bringing witnesses for our case.
Here is the list of doctors, scientists, and engineering consultants that have been chosen to be their expert witnesses:
Enrique Navarro, PhD, Professor of Physics, University of Valencia, Spain. Researcher in electromagnetism. Teaches communication systems, microwaves, and antennas;
Horst Eger, MD, of Naila, Germany. Physician and epidemiologist;
Anthony Miller, MD, of Toronto, Canada. Specialist in the epidemiology of breast cancer; Emeritus Professor, Dalla Lana School of Public Health, University of Toronto;
Martin Blank, PhD. Retired professor in the Dept. of Physiology and Cellular Biophysics at Columbia University, living in Victoria, BC;
Kumar Biswas, ND of British Columbia;
Jonathan Fox, MD, of Fall River, Nova Scotia (Nova Scotia Environmental Health Center);
Ben Boucher, MD, of Halifax, Nova Scotia (Edna's family doctor);
Magda Havas, PhD, of Peterborough, Ontario. Associate Professor of Environmental and Resource Studies, Trent University;
Patrick Last, building biologist in Salisbury, New Brunswick.
Any donation large or small will be greatly appreciated and I thank you for your support!
Edna Pettipas
https://www.facebook.com/edna.pettipas
+ Read More
Update 1
32 months ago
Share
I would like to thank those who have donated. We are hopeful there will be others who will be willing to donate to reach our goal by June 30th! We greatly appreciate your help!
Well known author, Katie Singer, has very kindly volunteered her time to do a cartoon (below) to depict a summary of our lawsuit against Bell Aliant.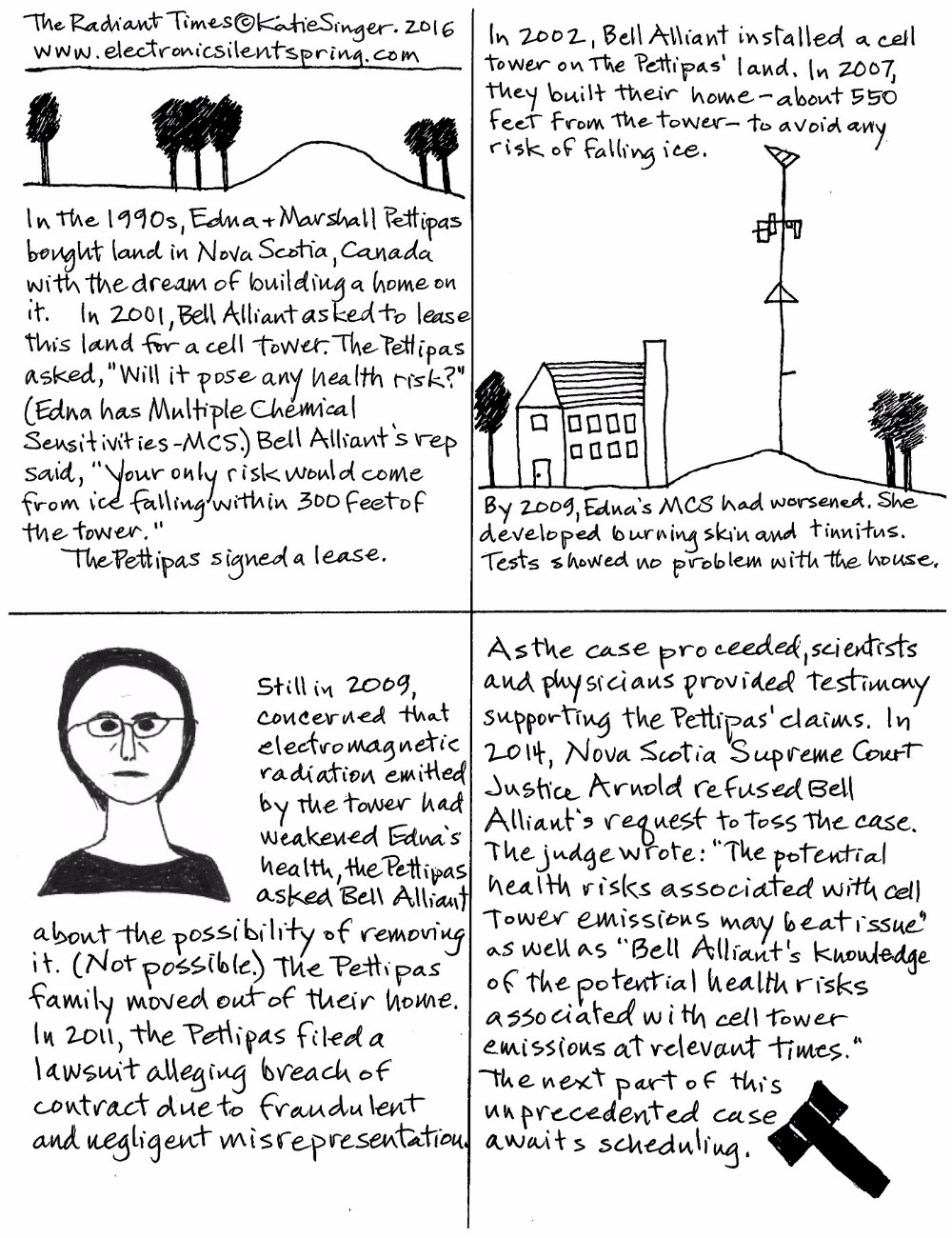 + Read More
Edna desperately needs to raise money to bring expert witnesses for her legal case against one of the telecom giants. Please give what you can for this precedent setting case that will support future cases claiming health effects from radio frequency radiation.
+ Read More