In Memory of Paul and Christopher
$10,540
of $10,542 goal
Raised by
150
people in 33 months
After 8 years of infertility and 3 cancelled/failed IVF cycles, my husband, Joel, and I were so excited to find out that our 4th treatment was a success. We were pregnant with identical twins! We knew that with twins we would be higher risk, but we couldn't believe that we were being blessed with two.
My pregnancy was going so well. No sickness or any problems at all except for a low laying placenta. Scans all looked good, babies were measuring about the same size. At my 20 wk anatomy scan on the 27Jan16, everything looked fantastic and we found out we were having BOYS! My next OB appt was scheduled for 11Feb16. The next weeks went by without a problem until the very end of my 21st week. 
I started to be really uncomfortable, some muscle pain in my right rib area and my legs swelled. I had my OB appt in two days from when the swelling started, so I waited until then to talk to my Dr about it. My doctor did a quick ultrasound of my babies and they were moving around so much. She was surprised that I didn't feel them more often because I would just get little thumps and not all the time. My swelling and uncomfortableness was something she said I would start to have to deal with as I progressed further in my pregnancy. My Blood Pressure was a little higher than usual, but the nurse said it was 2 below what would make her worry. My weight had gone up 10lbs since my last appointment. As of the last appointment I still hadn't gained any weight. So we knew some weight gain would be starting and we had the swelling too. We didn't do a heart rate monitor on the babies, as I was having another anatomy scan the next week on 17Feb16 my 23wk. So I left my appt feeling happy with seeing my boys moving around so much and that my swelling was normal.
Week 22 was the hardest week of my pregnancy. I was sure it was just because my babies were going through a growth phase. Everything I read said that was normal for my uncomfortableness and how big I was getting. So when I went into my scan on Wednesday the 17th and the sonographer asked how I was feeling, I told her that this has been the worst week yet of my pregnancy and I just didn't feel right. Little did I know that my life would change in just ten minutes.
She started the scan and right away I knew something was wrong. My babies were not moving. And she kept trying to find a heartbeat. I asked her "there is no heartbeat is there?" She said she was trying really hard to find one. She went to the other baby and the same thing. She said she had to go and get the doctor and she would be right back. I laid there alone on the bed and couldn't believe that my babies were gone. All my hopes for the future gone in a moment. The doctor came in and they scanned again. Still nothing. The doctor confirmed that my babies were gone.
The Doctor ordered blood work and for my BP to be taken. BP was 145/93. And blood work came back with some abnormal results with my liver enzymes. Joel was at a school in Virgina and it would take him almost 5 hours to get to the hospital. I called my parents who got to the hospital in 20 minutes.
Doctors were really worried about my health and started the induction within hours of being admitted. My labs continued to show abnormalities not just with my liver enzymes but also my clotting factors. As the induction medicine was working, we found out an epidural was out of the question because of my abnormal clotting factors.
My sleeping boys were delivered Thursday 18Feb16 at 1122pm and 1144pm. I was able to hold them for about 30 minutes before I was in surgery for a D&C and had a transfusion, as my placenta wouldn't dislodge and I had already lost 2 liters of blood. 
When I came back my husband warned me right away that the boys were "changing" and to not be surprised when I saw them next. I couldn't keep awake after surgery and fell asleep. I woke up in the morning and asked for my boys. They had been in the room the whole time since delivery, laying where a normal healthy baby would have been. The nurses had taken such great care of my boys for me while I was in surgery or asleep. Nurse Emma brought my boys to me all wrapped in a crocheted blanket with a little hat. My husband was right and I wasn't prepared for how much my boys had changed. We had another 6 hours with our boys. Had the photographer from the hospital come and take pictures. However, my boys already looked so different by the time they came.
We said goodbye to our boys that afternoon after Joel said he was starting to feel bad about them laying there and continuing to change the way they looked. 
Once home from the hospital looking over the condition they believe took my boys (Twin to Twin Transfusion Syndrome), I stumbled over an article on the Cuddle Cot. After reading the article and watching the video, I knew I had to get the hospital where I delivered two in memory of my boys Paul and Christopher.
A Cuddle Cot is an in room cooling unit that is the size of a small humidifier disguised inside of a Moses basket, cot, etc. Research has proven having a unit available to parents while they are in the hospital encourages families to spend time with their baby. This gift of time allows precious hours for bonding, pictures, plaster molds to be taken and other family members to come and meet the baby before the natural changes that occur in death become more apparent. 
If we would have had a Cuddle Cot, the changes that were such an agony for us to see in our boys wouldn't have happened. We would have been able to spend more time with our boys and had time to get better pictures. 
Joel and I want to give the gift of time to other parents who's hearts are breaking from the loss of a baby. We wish that we could keep this from happening to any other family, but knowing that 1 in 160 pregnancies result in stillbirth...it will happen again.
We want to raise funds to purchase two Cuddle Cots (with extended warranty) to be given to Naval Hospital Camp Lejeune, to support families that experience the same outcome from a pregnancy as we did. The Cuddle Cot will give the parents more time to spend with their baby. More time to memorize all the features, feet and fingers. More time to bond with their baby. Time that they will only get in the hospital, because unlike other parents they will be coming home empty handed. The nursery will be silent, no cries to be heard. No feedings when your milk comes in. All our memories are held in a small room where we said hello and goodbye to our perfect boys.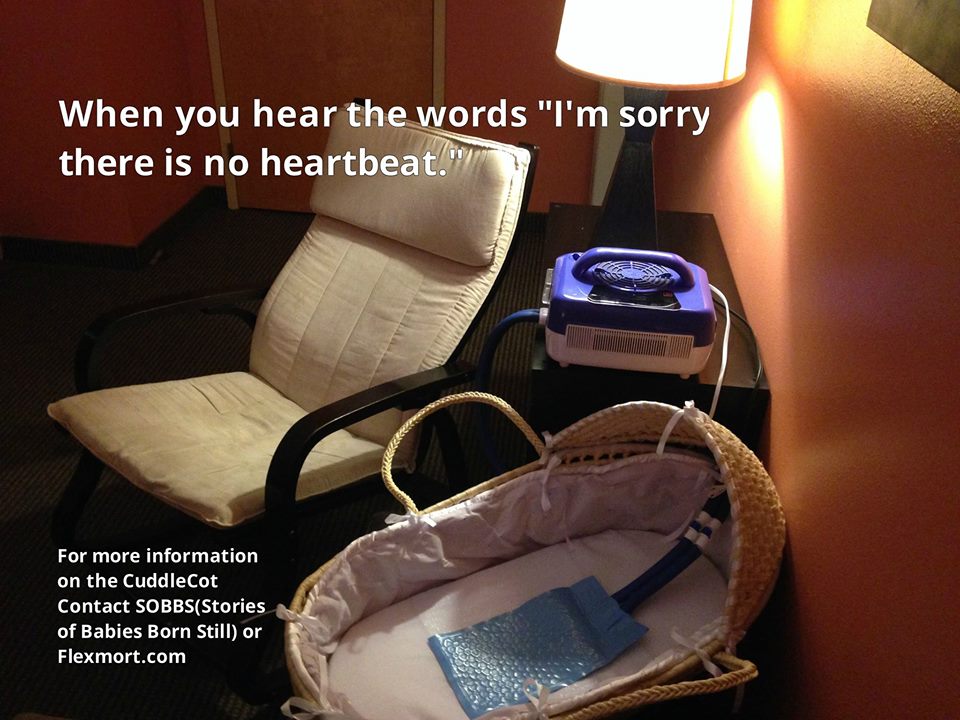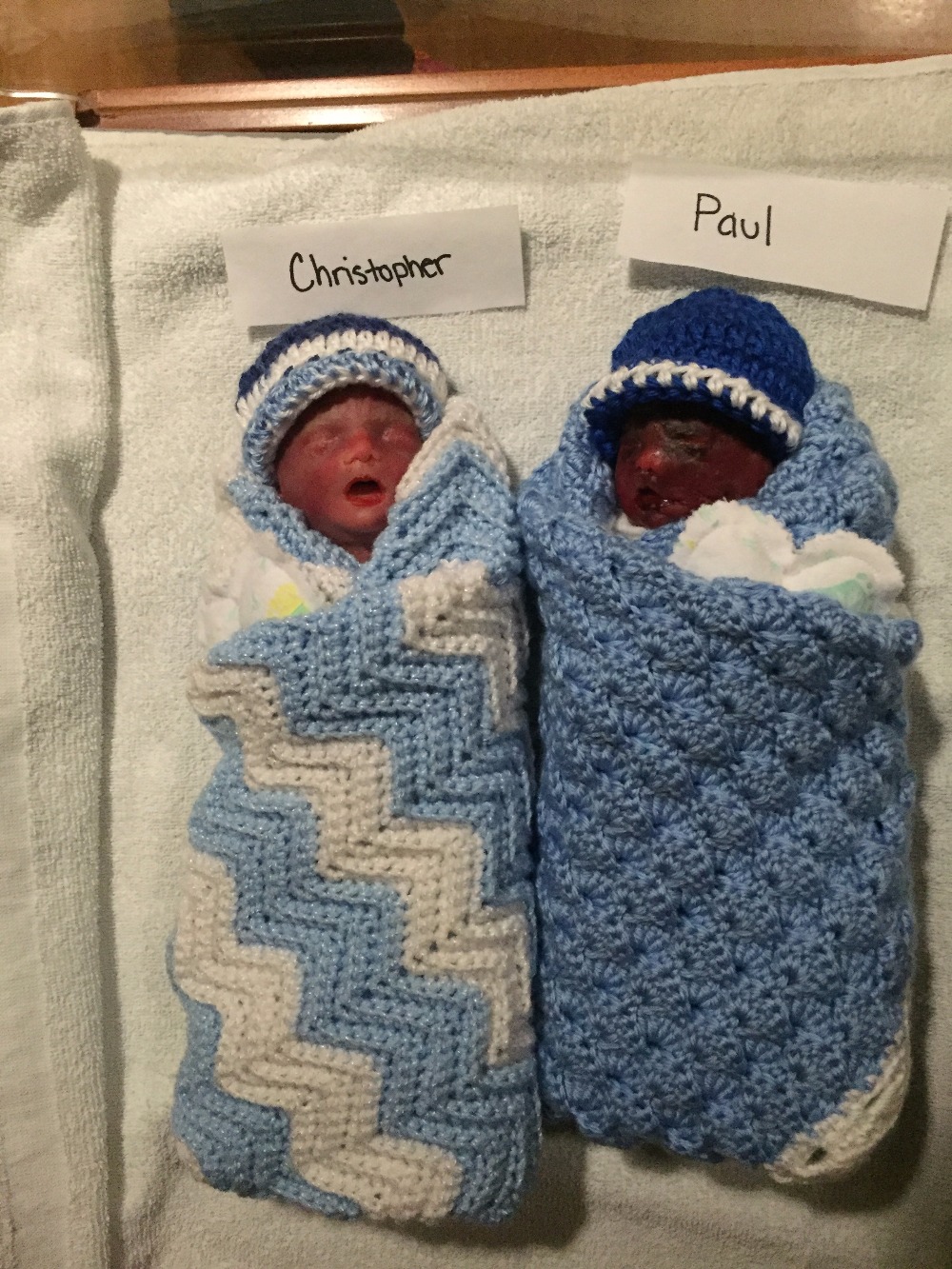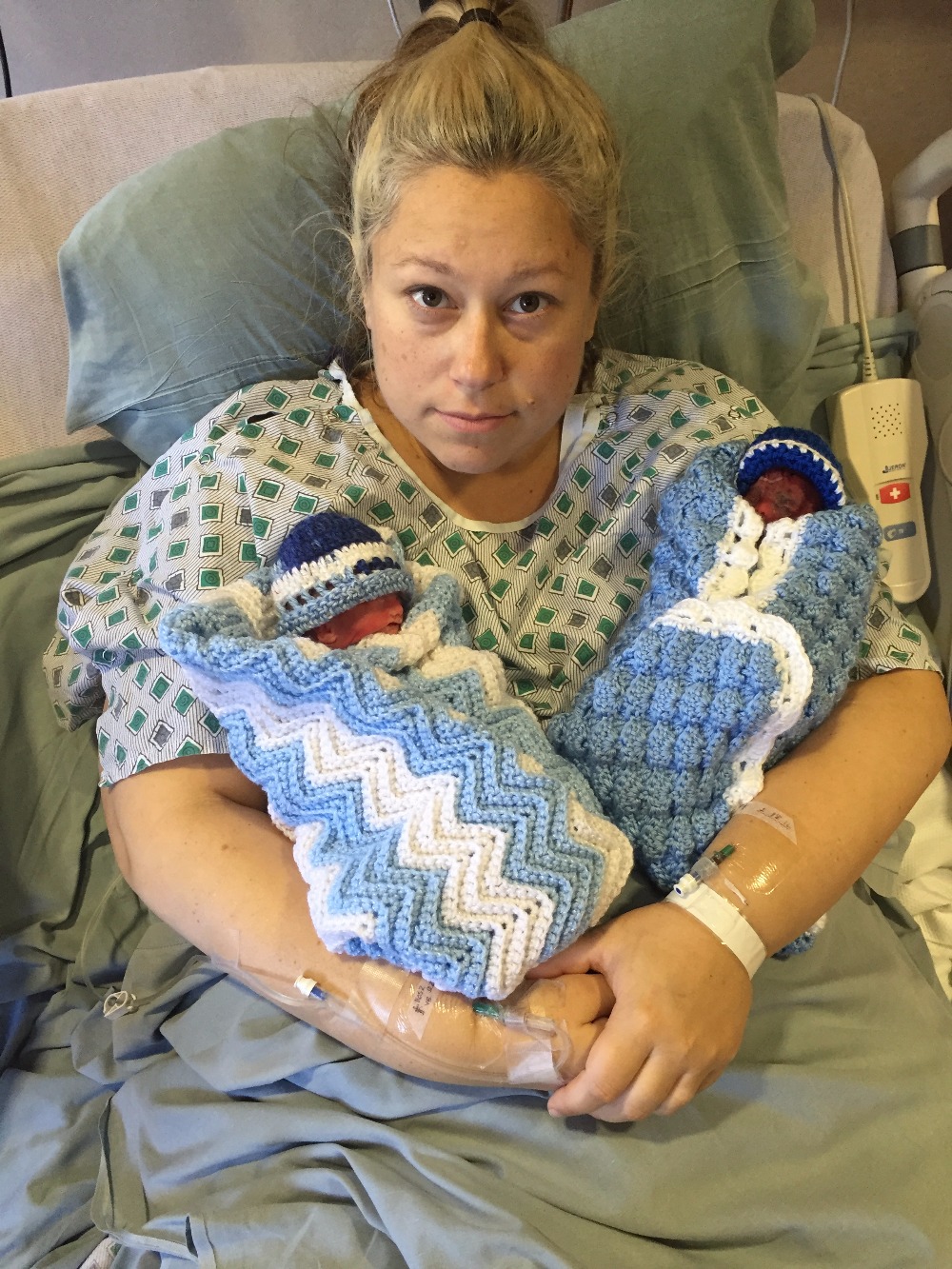 + Read More