Crushed Alive
$1,365
of $2,150 goal
Raised by
21
people in 22 months
Crushed by Cants
My name is Paul Henczel and I was crushed alive by large wood cants. 
It was my son's 16th birthday, Feb. 9th, 2010 – the day that changed my life. I was a supervisor in a saw mill, and 3 hours into my shift there was a horrific accident, and I was being crushed by 12,000 lbs  of wood. I could hear my body crackling gurgling and crunching. It felt like my head was going to explode. I thought to myself, "If this doesn't stop, I'm going to get ripped into 2 pieces and die." I was being crushed alive by thousands of pounds of very large pieces of wood. These large squared off logs are called cants. Then I blacked out.
Rescue
My amazing co-workers pulled the wood off of me, with astonishing speed and ability. When they were finally able to pull me out of the machine, I was not breathing. I had now been unconscious for 12 minutes. But, right before they were about to perform CPR, miraculously I started breathing. I was fighting for every breath. I had to tell myself to breathe in, and to breathe out. I was actively choosing to live every moment. I was rushed to the hospital. Blood had been squeezed out of my ears, nose, mouth, and eyes. My whole head was purple and covered in blood. My organs were failing, I had a anoxic brain injury, a punctured and collapsed lung, multiple broken and fractured bones, and my Adam's apple and thyroid were crushed/fractured, and extensive soft tissue injury to my thorax. I was in agony and I really felt I was going to die. But, then I was touched by an Angel…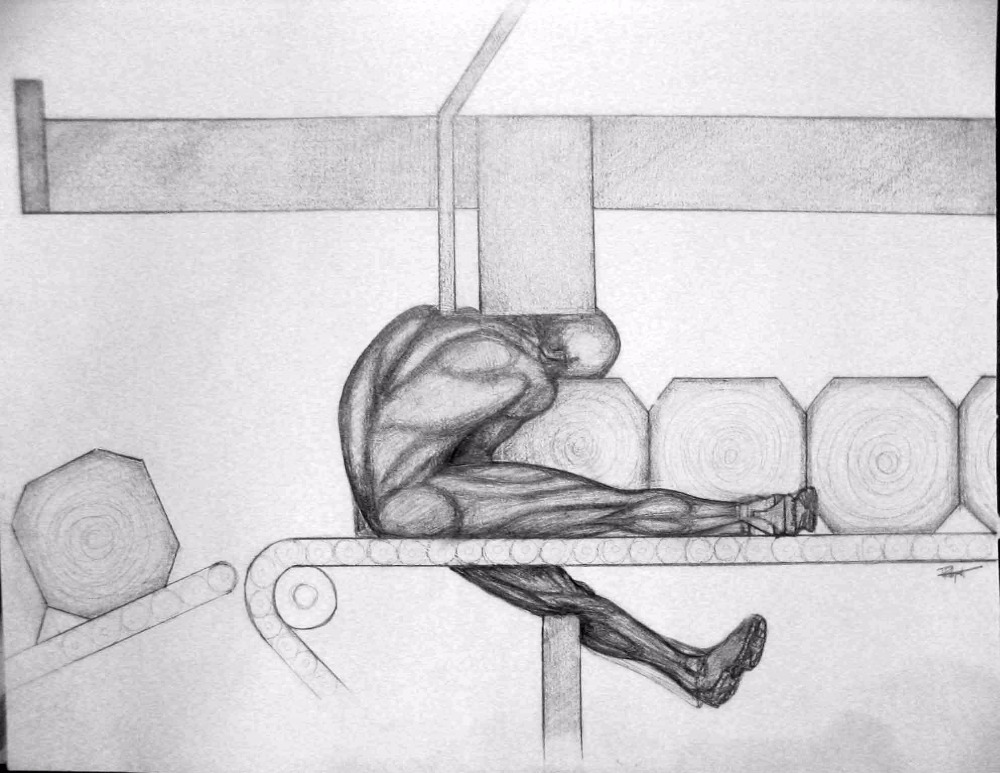 Surviving
It was my wife. She arrived at the hospital and was by my side.  My wife and 2 children have been very supportive of me every day through this traumatic journey, but it has been very difficult financially, physically, and emotionally on all of us. My wife is also injured, and we had several tragedies happen to us before this accident. We have had a long string of unfortunate events spanning over many years.
Recovering
I've had a tough recovery. I have all of the above injuries, plus as the days and months went by, more injuries were identified. I cannot afford all the medical treatments that I need. The process I've been put through has not helped my progress, and my recovery has been very slow. The neglect of several of my injuries has led to permanent disabilities, including:  Brain injury, Cognitive Disorder, Post-concussive Syndrome, Post Traumatic Migraines and Headaches; Severe shoulder damage including torn labrum and torn rotator cuff and tendinosis; My neck and c-spine are very damaged; Thoracic outlet syndrome; Nerve damage; PTSD; and more - I have multiple, complicated medical injuries. Many of my injuries are now invisible, which has created another layer of difficulty.
Overcoming
Every step has been very challenging. I still have many medical problems that have not been addressed. This accident happened 6 years ago, and I am still very injured and recovering.  But, all along the way, I've chosen to stay positive.
Crushing My Can't
I started doing what was necessary, then what was possible, and now  I am  doing the impossible.  I was crushed by cants, but now I am crushing my can'ts. I CAN do it. I want to help others to overcome  and rise above. 
Thriving
Now, I'm ready to help others to crush their can'ts and to move from surviving to thriving. I'd love it if you would help me.
Thank you so much for reading my story so far.
Do you agree that people can overcome and move to new levels in their life, business, and relationships?  Do you believe that people can empower themselves and others by understanding and telling their story?
Why are we raising money?
Our goal is to rasie funds by May 31, 2016 for immediate medical expenses. Plus, I also want to help others to crush their can'ts, move from surviving to thriving, and to tell their story to empower themselves and others. With your help, here is how I'll do it:
Miracle in a Mill: 
I have written a book of my story called, "Miracle in a Mill" and I need money for editing and publishing. I want to share with the world the mindset and other strategies I used to overcome this situation. I need funds for a video, marketing, a book launch, and speaking opportunities.
Story Academy: 
I want to show people that telling their story can empower themselves and others. I need funds for the tools to create a signature talk, workbooks, and support materials for others who want to overcome their challenges. 
Surviving to Thriving: 
I want to start a podcast interviewing other survivors, and talk about ways to overcome adversity of all kinds, and find out how others are "Crushing their Can'ts". Podcast hosting and equipment.
New Life: 
I just need a start. I have always had a great work ethic. When I worked as a supervisor in the mill, I never missed a day of work and I was a very hard worker, day in and day out. I made money for my family.
Uplifting: 
I don't want this situation to crush me completely. I want to be an example of someone who can overcome, and move from surviving to thriving.  Please help me to start my new life and my dream.  Please help me to help others crush their can'ts and tell their story. We will all be uplifted. 
Your Gift: 
Please help us raise funds for this project. Any amount helps. You can donate here on GoFundMe, or go here if you prefer to pay with PayPal :
http://survivingtothriving.ca
Thank you!
     When you contribute, you will receive a digital copy of "Miracle in a Mill" when it is published. You can also keep in touch by subscribing to my email newsletter for my progress and announcements:
http://survivingtothriving.ca
+ Read More
Be the first to leave a comment on this campaign.