5
10
Travelmaking Kai Children's books!
£175
of £700 goal
Raised by
6
people in 10 months

Hi everyone,

my name is Kai Lutterodt, and I'm passionate about diversity and travel! I'm a travel blogger, visual artist and a diversity workshop facilitator. I started this campaign to help achieve one of dreams... Yes, to travel around the world is one of them, however this campaign is for my other big dream - to write a children's book and inspire the younger generation to embrace 'difference'!

'Travelmaking Kai' is loosely based on places and experiences I've encountered during my travels, which I share on my blog Travelmaker Kai ( www.travelmakerkai.wordpress.com).



I had the idea to create a children's travel book series told from the perspective of a little black girl who travels the world, as I didn't see any protagonist characters who looked like me when I was growing up... We all know representation matters, right?! I like to think 'Travelmaking Kai' is how I would have loved to have been when I was little (except I was very shy and insecure), if I had confidence! I think of her as my second chance at being a kid again!

Through meeting people of different ethnicities and nationalities, 'Travelmaking Kai' learns that there is a much bigger world beyond her confinements (pretty much home and school!) She's a curious little girl, which often gets her into trouble! However it's by being brave enough to ask questions that she's able to be transported to various places, cities and countries of the people she meets! She get's to try different food, dances, clothing, and even learn to say things in different languages!


'Travelmaking Kai' children's books are educational as well as entertaining, with an aim to instil empathy! The series will be a great way of addressing diversity. The world is a global village - let's explore it through Travelmaking Kai!



--
Here's a breif break down of budget costs:

Character development:
This involves working with illustrators and graphic designers to refine Travelmaking Kai and create other characters. Budget also includes creating a short animation to go on the website and social media (youtube etc)

Market research.
I will organise 3-5 focus groups for parents and their children aged 3-7 years. This will be at various stages of charatcer development to gain feedback and suggestions.
Printing costs; sample books to be published

Marketing and outreach.
Towards the final stages of development, I will do visits to schools and community centres to promote the sample books of 'Travelmaking Kai'. Budget is needed towards social media marketing, website development, and printing costs.
--

As you can see absolutely no funds will go towards my personal travel expenses! Fear not, flight tickets I fund personally! So please give 'Travelmaking Kai' a kickstart to reach her goal and get around the world, by making a donation of however much you can!

Check out the blog www.travelmakingkai.wordpress.com for more about TMK!

Thank you in advance!
Kai Li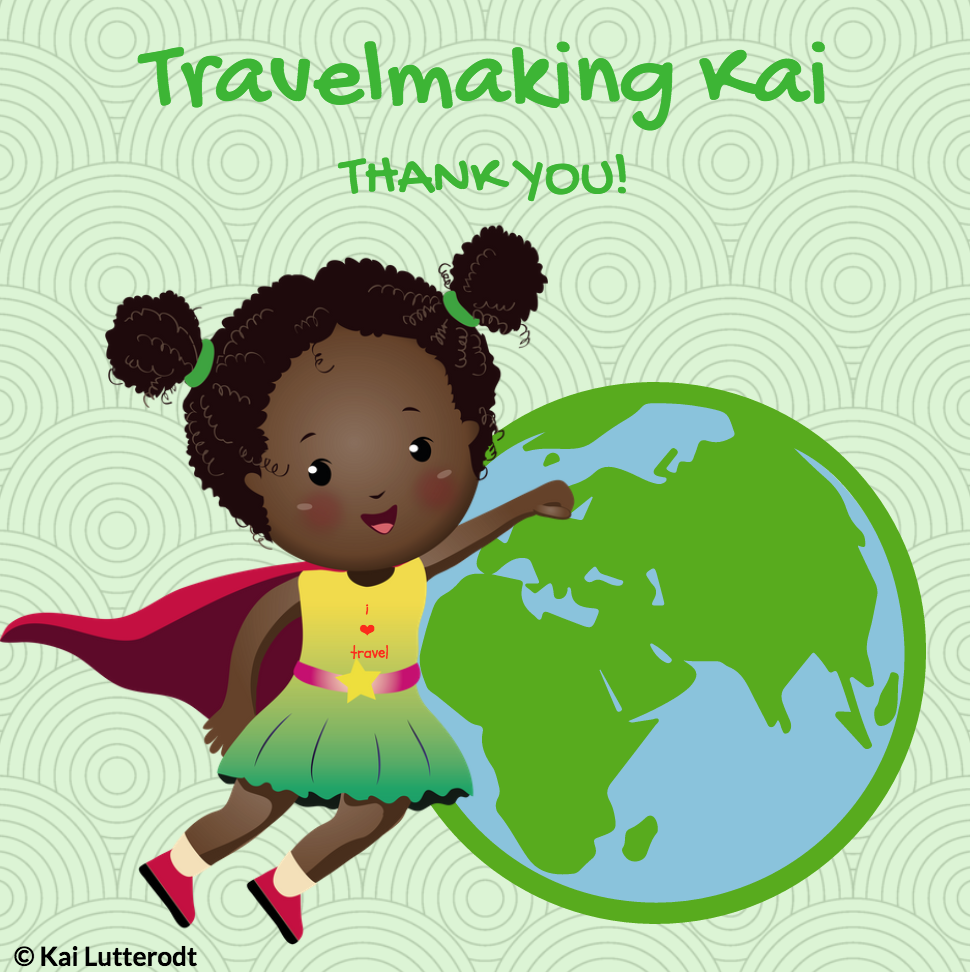 p.s I'm open to collaboration (creatives, illustrators, designers, animators etc, teachers/community centre leaders etc) so please feel free to contact me travelmakingkai@gmail.com or kai@diversity-matters.org.uk 

p.p.s I'm dyslexic so please excuse any typos!
+ Read More
Update 2
9 months ago
Share
Travelmaking Kai is now a .COM! You can find her on the World Wide Web at travelmakingkai.com!

Owning a .COM is simple yet a much needed investment for the Travelmaking Kai brand. It adds to our professionalism, and in return we hope to engage the right type of people to collaborate with us towards developing Travelmaking Kai children's books and more!

Thanks again for your contribution!

Kai :)
+ Read More
Update 1
10 months ago
Share
Thank you to friends and family for the contributions received in Birthday cards over the weekend. That brings the amount raised so far to £110! This will be updated on the campaign!

Have a great day!
Kai :)
+ Read More
Read a Previous Update