End Bullying and Build Resilience
$20
of $72.9k goal
Raised by
1
person in 3 months
Francine Bacchini
for Rasur Foundation International
GILROY, CA
PLEASE HELP US END BULLYING!
Depending on which study you read, rates of bullying in the United States can range from 9% to 98%.  In a meta-analysis of 80 US studies on bullying, traditional bullying for 12-18 year old students was reported at a mean prevalence rate of 35%, and 15% for cyberbullying!  In light of these disturbing statistics, isn't it time we found a solution to the problem?
I'm happy to tell you there is a solution!  I happen to work for a small but amazing non-profit organization –
Rasur Foundation International
(RFI) – that teaches a simple, yet highly effective, skill for combatting bullying (and the shame, pain and suffering that come along with it) called the Connection Practice®.
Scientifically-based
, the Connection Practice not only addresses the unnecessary suffering from bullying (for both the bullied and the bullies), but it maximizes social-emotional intelligence, builds resilience and enhances academic performance.
In fact, children taught the Connection Practice are able to:
-  connect with their feelings and needs
-  release stress, worry, anger and depression
-  access and rely on their intuition
-  resolve inner conflicts efficiently
-  attain emotional balance in times of turmoil
-  become calm and clear when facing conflicts
-  create deep self-confidence
Consequently, RFI wants to reach out to 300 low income parents, as well as teachers, school counselors and other adults that work with children and youth in low income school districts, with full scholarships ($225 apiece) to train them in the Connection Practice.  Will you please help us achieve this worthy goal by contributing to this fundraising campaign?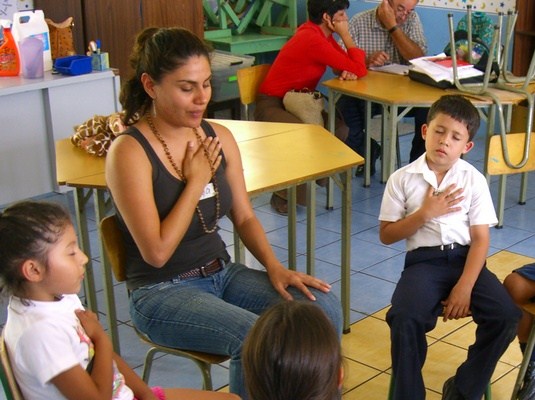 Students with Teacher doing the Connection Practice.
To anyone that donates a complete scholarship of $225, we will provide you with a free copy of "Completely Connected," the guide book to the Connection Practice.
Rita Marie Demonstrating the Connection Practice
Please note that our fundraising goal has been determined by adding the actual costs of training 300 adults plus the Go Fund Me and PayPal fees associated with running this campaign.  All funds will go directly to training low income adults and/or teachers/school counselors in low income school districts who can help the children in greatest need!
MORE ABOUT THE CONNECTION PRACTICE
The creator of the Connection Practice is award-winning author and RFI CEO,
Rita Marie Johnson
.  She will personally be teaching courses in the Connection Practice throughout this year, and hopes to open her courses to 300 additional parents and teachers in need of scholarships due to financial hardship.  
Supported by Nobel Peace Prize Laureate, President Oscar Arias, the Connection Practice has already impacted over 100,000 students in Costa Rican schools (where it was initially developed) and is now being taught in the United States to growing numbers of adults that work with children and youth.  Today, more than 150 trainers have been certified and thousands of adults in the United States and other countries have engaged in the practice and experienced its profound transformative effect.  Eileen Rockefeller, a philanthropist who supports social-emotional learning in US schools, has endorsed this practical, yet highly effective, method.
Costa Rican children engaging in Connection Practice
For far too long, schools and playgrounds have been plagued by vicious bullying.  Across our nation, and around the world, horrific events, such as acts of terrorism and violence, all too frequently make headline news.  Many people feel helpless in the face of this violence and throw up their hands.  Since violence is a symptom of disconnection, RFI's aim to create a world where every person practices the art of connection and passes this gift on, is the clear remedy.  Isn't it time that we looked at the deeper problem and solved it through an innovative, scientifically verified method such as the Connection Practice?
Rita Marie's book,
Completely Connected:  Uniting Our Empathy and Insight for Extraordinary Results
, which won a *Nautilus book award in psychology, offers a guide to the prevention of violence.  Her award-winning book teaches a transformative skill, the Connection Practice, that can deliver us from unnecessary suffering while also enriching lives.
If you would like to learn more about the Connection Practice, I invite you to check out the following videos:
-  
Francine's Experience with The Connection Practice
-  
The Connection Practice at Oakley Elementary School

-  
An Introduction to the Connection Practice
In you are interested in taking a course yourself, please visit:
-  
Find a Course
*The prestigious Nautilus Book Awards honors books that inspire and connect our lives as individuals, communities, and global citizens.  Conferred to prominent authors such as The Dalai Lama, Deepak Chopra, Thich Nhat Hanh, Charles, Prince of Wales and Desmund Tutu, Nautilus Book Awards winners are selected in a three-tier judging process by experienced teams of book reviewers, librarians, authors, editors, book store owners, and leaders in the publishing industry.  For 18 years, Nautilus Book Awards has recognized Better Books for a Better World, books that promote conscious living, positive social change and spiritual growth as they stimulate the imagination to new possibilities.  Selected from hundreds of 2015 book submissions, Ms. Johnson's book won an award in the Psychology category.
+ Read More
Be the first to leave a comment on this campaign.