Computers for Mr. Todd's Class
$11,290
of $14,500 goal
Raised by
33
people in 55 months
HELP US GET COMPUTERS FOR NEXT YEAR
(Update: On September 9th, 2014
San Francisco station KTVU featured this appeal. )
July, 2014:
Some of you heard the story on NPR's
All Things Considered
back in late April that featured my co-taught 6th grade. It was primarily a story focused on the pros and cons of integrating selected special education students in rooms with students who are gifted and talented, and the methods that my partner teacher Scott Booth and I have used to accommodate the variety of demands and needs that result from this. Based on feedback from students, parents, substitutes and administrators, I can state with some confidence that we had quite a successful year.
We were also featured In May 2014
in the San Francisco Chronicle
. There are ten pictures to click through there, plus a rather alarmist headline that seems out of sync with the article. For some people, integrating classrooms still causes some controversy. (I do not approve of Scott's moustache, but he maintains it is a chick magnet.)
Unfortunately (as was also remarked on by the reporter from NPR) our kids have been using very old used Dell laptops running XP... machines that I personally bought online using  my own money -- not a penny from the school or district -- and like certain students, demanded constant attention.  By the end of this school year, all machines were still working, but most of looked pretty sad. Over half of them have external keyboards to replace the flimsy Dell construction, some had failing video cards and required external monitors, numerous broken USB ports, yadda yadda yadda. Check out the picture: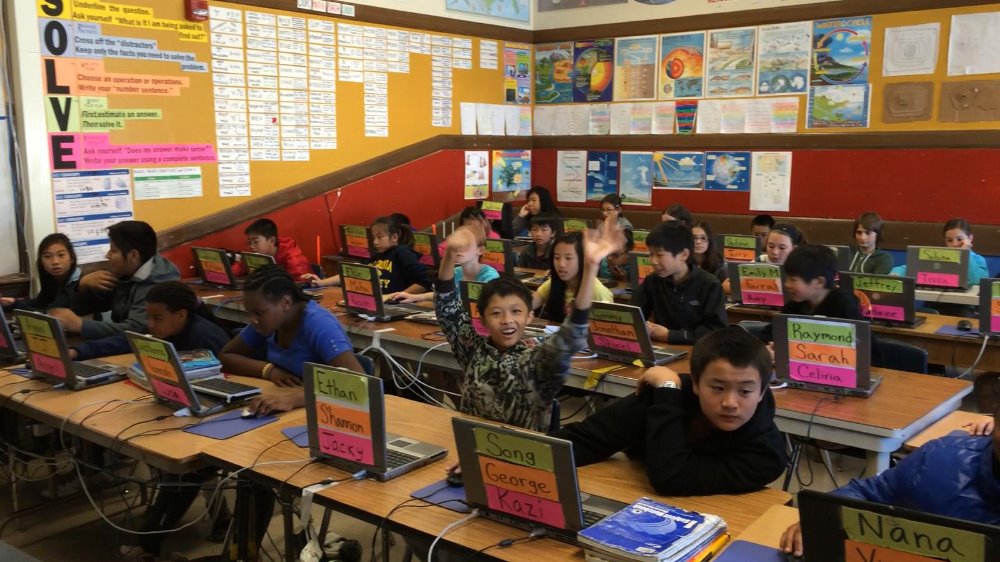 That's my buddy Ethan waving. Sometimes he calls me Mr. Odd. Hey Ethan!
Bottom line ...we realize that these machine definitely won't make it another year. And to clinch it,  XP is no longer supported by Microsoft.
Sooo...We need 32 new computers before school starts in August. I've done many hours of research, including testing 8 different machines/configurations over the past few weeks (Android Tablets,  iPads, Laptops etc) and have concluded that the best combination of durability, price and functionality are Lenovo IdeaPad Flex 15D Touchscreen laptops running Windows 8, at the bargain price of around $425 - $450 each, depending on the vendor.   
UPDATE 9/10/14: The 2014-2015 school year has begun, and we were able to buy about 14 computers with funds from this drive. I have purchased the rest myself so that we can have a full class set, but the campaign is still here to help reimburse me for the $8500+.
Many sincere thanks, 
Grey
P.S. Gofundme states on the site that contributions are considered personal gifts, and thus are not tax deductible. For many of their projects this is certainly true.
However, this is a gray area (pardon the pun) because I will turn around and redirect 100% of your contribution to San Francisco Unified School District, and will also send you a letter on school letterhead with our Tax ID, acknowledging that your contribution went to SFUSD, and that I did not personally receive goods and services. I have spoken to my accountant and he says that this should satisfy the requirements to make it a deductible expense. That said, you may want to consult your own financial advisor if you plan to write off the donation and have concerns.
+ Read More
Update 1
Posted by Grey Todd
55 months ago
Share
Update: Just purchased 5 machines with the money raised so far, with my heartfelt thanks to all of you below who made this possible.

An extra thanks to Hotchkiss '80 classmate George Gibson, who, despite the fact that we have not seen each other since graduation, funded an entire computer based on my original appeal, independent of this gofundme approach. Facebook rah rah. George rah rah!
+ Read More
Be the first to leave a comment on this campaign.