21
7
Cole's Change Jar Challenge to help the horses!
$695
of $2,500 goal
Raised by
23
people in 3 months
Short Version: Cole lost his one eyed pony when he was 5 years old. Shortly after Cole learned about a local mini horse who had gotten shot in the leg. His family needed help paying for his medical care. Cole donated his change jar money hoping it would help save Max so his owner would not feel the sadness he was feeling. Meanwhile his mom had written a tribute to Cole's one eyed pony Cowboy. It went viral and ultimately led to Cole getting an eye injured pony from a feedlot in Louisiana. This pony arrived with a horrific eye injury and Cole, still just 5 years old was so sad at how much pain he was in. He named him Spirit. 
This just turned 9 year old learned that  this past March, 18 horses were seized from the same feedlot Spirit had come from.  4 have already died they were in such awful condition and 14 are fighting for their lives! These horses need funds to help cover their feed and medical bills. Cole quickly asked if he could donate the only thing he has..his change jar money.  
But theses horses need a lot more funds! Can you help Cole by donating a small contribution or changing in your change jar? Any amount is needed and appreciated! 
Long version:
4 years ago Cole Devlin innocently knelt beside his one  eyed pony"Cowboy"
A pony that came into his life at the age of two and sadly passed a few years later unexpectedly.   Upon his passing his mom wrote this tribute "
"COLE AND COWBOY"
Lessons learned from a one eyed pony!
Here is the link
Cole and Cowboy
or read below. 
While making a last minute trip to the grain store I was shown a pony who had just been dropped off at their barn. He was to be added to their truck and heading to a high kill auction that evening. BUT he had a nasty eye injury and I could purchase him for $75
He arrived that same night on their way out to auction. It was late, Cole should have been sleeping but couldn't. He went with me to get this pony off the trailer and walked with him through the dark to the barn.
I flipped the lights on, stepped back and looked at this nobody cared for, nobody loved, unkept, aged eye injured little pony.
Then I looked to my kids and said well now, what shall we name him? Without missing a beat my son pointed right at him and said "MINE"....and so began one of the most beautiful relationships I have ever seen.
"Lesson's Learned From a One Eyed Pony"
Cole noticed right away his eye was injured, you could barely see it as it had started its journey of withdrawing back into the socket. But you could see the inflammation, the drainage and it was clear he could not see. My two year old practiced and practiced closing one eye. He wanted to experience his world.
Cowboy taught him empathy....
Together, we would tend to Cowboy's eye. He would help hold compresses and hold the lead line while I applied ointment. All the while telling "His" pony it was going to be ok, that we were helping, not hurting!
Cowboy taught my son compassion...
My young boy quickly learned the ropes of owning an animal that relies on YOU for life. You make sure he has his meals and drinks, that you clean his room (stall) and that he is shown love everyday.
Cowboy taught my son responsibility...
As Cowboy stood in our barn isle under standing sedation we watched his surgery as the surgeon carefully and skillfully removed his injured eye.
When Cole was at the hospital soon after for his own surgery and was scared to put the mask to fall asleep, we reminded him about Cowboy and how strong he had been. Cole quickly complied.
Cowboy taught my son bravery...
As Cole got older, he would spend forever trying to mount his pony, he insisted on doing it himself. I would giggle from inside the barn as Cowboy would walk off leaving him at the mounting block, or maybe the saddle would slip, or he'd get half on or at times fall over the other side. But he didn't get mad, he didn't give up and he would eventually find himself in the saddle grinning ear to ear.
Cowboy taught my son perseverance and patience..
When Cowboy tracked left in the arena, he could not see the rail. He depended on my son to be his sight where he had none. Cole would have to navigate him safely around the ring, through the woods and around obstacles.
Cowboy taught him trust....
Ohhh these two through the years, two peas in a pod. Everything was always "my Cowboy" he was not afraid to hug and kiss his pony and just the other day he told me he wanted to give this most cherished one eyed pony to his kids someday.
Cowboy taught him love and affection.....
Today, Cowboy taught him his last and final lesson, one you never want your kids to learn...The one that when you lose something you love there is nothing, just nothing that can fill that great big hole in your heart. No Bandaids, or ointments or mommy's kisses can make your pain go away. You can't understand it, you can't make it stop not even for a second. That you cry all your tears, stop to let them refill and then cry them all again, it hurts that bad.
Cowboy is teaching my son to Grieve.....
10 days after losing Cowboy,  Cole and his family heard on the news about a miniature horse who had been shot in the leg. The family needed help paying for his care. Cole disappeared and when he returned a few moments later his mom could not believe what he was holding. His CHANGE JAR! 
The money he'd saved for over a year for something he had really wanted. He refused to spend it not even a few dollars for something small. He motioned it to his mother. She asked are your sure?  Yes, he replied..  I want to help save Max, I don't want his owner to have feel like I do.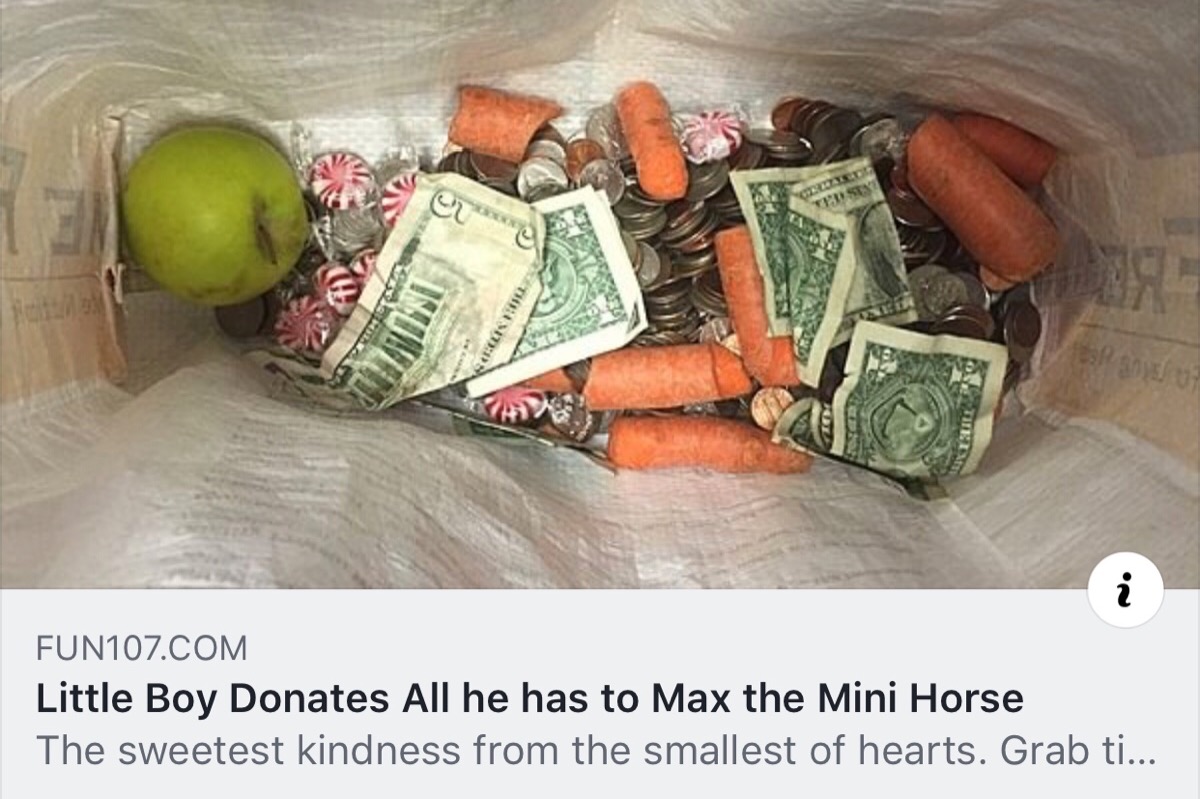 Click to see 
Local coverage of Cole donating his change jar
It was approaching  Christmas time at this point and  when you asked Cole what he wanted for Christmas his answer was the same every time. 
To have his Cowboy back....his mom explained that's what she wanted too, but it just couldn't happen..not in the way he wanted to anyhow. 
Cole thought on it a bit and said if I can't have Cowboy back for Christmas then I wish he could travel the universe so that the world could meet and love him like I do....and with that Cowboy's tribute started to gallop the universe.
A comment from Cole's mom.
He travelled every state in the U.S., Europe, England, Scotland, Italy, the UK, Canada, Peru, China, Japan and so many others! People left kind comments, they wrote  about their "Cowboy" and people even started telling stories about Cowboy and what he was doing.  
Cowboy was seen playing with Kangaroos in Australia, he was admiring the architecture in Germany, he was grazing with horses on lush green pastures in Ireland and a soldier was even bedding down with him in Italy giving him pizza, cannolis, persimmons and sharing a bottle of wine. 
But while Cowboy galloped the universe his mom kept getting messages about an eye injured pony for sale in a feedlot. As much as this family wanted to help this pony they didn't want to support an industry they are opposed to. You see there are dealers that buy horses to sell for slaughter and often they buy extra to post online saying they are going to slaughter if not sold.
Not only do they ask hundreds of dollars more than what they would get per pound for meat the feedlots are notorious for NOT providing veterinary care allowing horses to die from injuries, illness, starvation, dehydration and so on. 
If you support these feedlots, they just buy more and that is more horses that are put into jeopardy.
Cole had received a few kind offers of  lovely one eyed ponies and horses but declined knowing that someday Cowboy would send just the right one. But that little eye injured feedlot pony kept coming back around and soon Cole's mom got a message from someone who had read Cowboys tribute. What if she could ask the feedlot to "give" the pony to Cole. At this point Cowboys tribute had gone viral, Cole's mom each night read every comment to him and although it brought comfort maybe helping an eye injured pony in memory of Cowboy was the right thing to do. She said that if they would be willing to donate the pony, they would be delighted to accept.  
Now Cole knew his eye was injured, they could see in the video the feedlot had made that it was open, you could see the pink and almost thought you could make out an eye.  But weeks later when this pony actually arrived for 5 year old Cole  it was swollen completely shut, it was draining, it looked like a black piece of charcoal had been embedded in his eye socket!
Cole was horrified that this pony was in so much pain, his mom could not understand how a vet could have signed the health certificate and let him travel this way and yet had to be grateful that this feedlot donated the pony and his shipping So he could get proper care and help heal the heart of a little boy. 
Right away this pony received pain medication, antibiotics, warm compresses followed by eye ointment and within just a few days they had this pony feeling so much better.
Cole asked his mom, why didn't they do that for him Mom?  And so she explained that feedlot and kill pen dealers often buy cheap animals, sometimes meant for slaughter, sometimes to resell like Spirit. They buy them cheap and If they invested vet care it would increase their cost and they would make less money on them when they sold. Sometimes it's more cost effective to them to just let the animals die. 
Cole was 5 at that time, he's 9 now. He didn't understand then, but sadly he's understanding now!
The first week in March of 2019 his mom saw this post of a decomposing horse on the SAME lot Spirit had come from.
.
Decomposed horse
She called Cole over to look and he was so angry. Why Mom Why? That's so sad.  How can this keep happening? 
18 horses were seized.
The picture of the decomposing horse launched and investigation and 18 horses were seized. One had to be put down on the spot and three others passed shortly after. Each day they were saddened as they learned more about the ongoing cruelty and neglect of this feedlot  
See full video here
Thompson pen evidence gathered
No longer able to take this Cole looked to his mom what can I do? I want to help! I have to help them.
Can I give them my change jar money? I think there's a lot in there he said.
Well, Cole she replied, they need that for sure! But they need lots of money to pay for the vet care, the special food to re feed them, farrier care and so on. It's expensive Cole, there are 14 horses to care for but of course every little bit helps.  
Following photos are from Susanne at Swany Creek Ranch and are just some of the horses that were seized 
His mom could see him thinking, she knew he had come up with an idea. What if....he started to say slowly with a little smile forming...what If EVERYONE would Turm in their change jar money and give to help the horses!!!
With tears in her eyes Cole's mom said I think that is the perfect way for you to help! 
She couldn't help but reflect upon the little boy who once knelt so innocently beside his one eyed pony with the wrong hand over his heart...and now, now this young man is standing tall and strong with his one eyed "Spirit" trying to make a difference. Can you help him?
Please consider cashing in your change jar or make a small donation!  
Thank You so so much for supporting this effort! 
We will be adding updates, sharing info and attaching links as we go and update on the money that is being sent, what it's going towards and the horses condition. 
Lastly,  Cole would love you to share any pictures of yourselves, kids, (he really hopes kids will get involved too) etc with their change jars...it's always nice to put a face to some of the most amazing, kind and generous hearts!!! 
NOW GO GET THAT CHANGE JAR!!!!!'
"We would like to truly thank the people who work diligently and selflessly to be a voice for these horses and animals in need all over the world. Each of you are truly heroes!  Thank you for what you have done, what you are doing today and what you do in the future. YOU do make a difference! Cole hopes this plea will engage youth...after all they ARE the future of our animals"
                              ~Cole's mom 
And to our dearest Cowboy, we miss you everyday.  I can never thank you enough for the unwavering  foundation you built for my sons heart to grow strong and kind on.  
I hope your journey continues, that you continue to Gallop the universe and most of all I wish that each and every person at some point in their lives could have a "Cowboy" because I'm pretty sure if we did, the world would be a better place!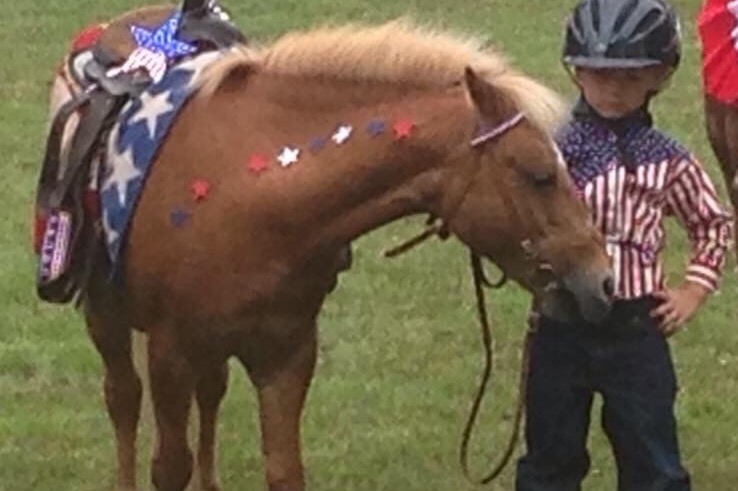 + Read More
Update 2
3 months ago
Share
Because you were all
So amazing and generous...or as Cole would say, they must have some really BIG change jars!! We have sent our first payment out to Oakdale Aninal Clinic for $600.00
Many, many thanks from Cole and a special thanks from me (mom) that you have supported him to help the horses!

10 of the 14 horses have found homes! The pregnant mare has made it to her new home and has not flowed yet! The Oakdale Aninal clinic messaged how thankful they were for the $600 check, so thank you all again. Cole's go fund me will use any additional funds to put towards transporting thee horses to their new homes!
+ Read More
Update 1
3 months ago
Share
Thank you all so much for your help!!! Out of the 14 horses who have been seized it appears one is very pregnant. We are hoping she has a little more time to get stronger before the foal is Born. Sadly one started showing signs of a respiratory infection possibly strangles and had to be pulled from the herd and isolated. As of yesterday the balance at the vet office is $1600. We been asked to send Cole's money there at the moment. I'll be doing a withdrawal and sending whatever funds have been generated Shortly. I will take a picture of the money order and post it before I send it out!!
+ Read More
Read a Previous Update