CLIMB FOR MOBILITY
$5,425
of $10,000 goal
Raised by
92
people in 28 months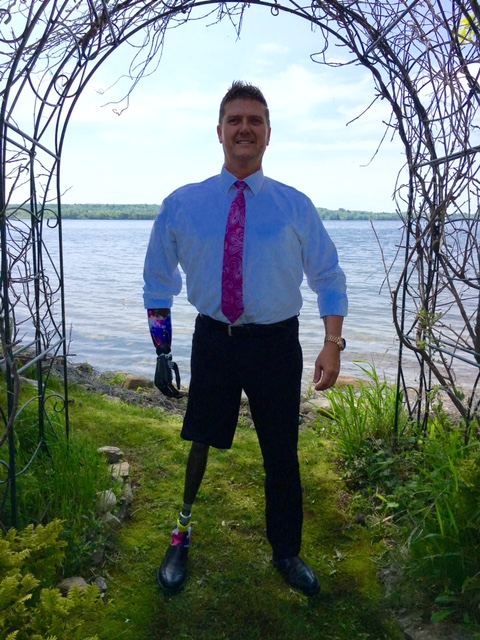 My name is John Cairns. On November 30th, 1992, I was involved in a serious workplace accident.
My entire life took a transformational, pivotal change. Never again would I know the way it used to be.  On this day, I was run over by a 68ton railcar resulting in the loss of my right arm and right leg.  On this day, I beat insurmountable odds. On this day, I received a miracle!
After years of rehab, learning life all over again, I knew I could not unscramble what happened, but I had the power to choose my attitude and became determined to overcome and refused to succumb to being a volunteer victim. I know what it is to climb out of the ashes of depression, despair, discouragement, disillusionment, fear, and the burning urge to give in and give up.
With laser focus of dedication, determination and a winning attitude, I chose to change the trajectory of my life of circumstances and tragedy to success, impossibilities to possibilities, despair to hope, and disabilities to abilities. 
Today, I share my journey and miracle with others to live life with power, passion and purpose. I live by example of the power of the human spirit, the living proof of what is possible despite the circumstances.
My "why" of my own miracle is to "aspire to inspire."
My life has become altruistic and philanthropic. I am the President and Founder of Wheelchair of Hope Foundation, a registered non-profit organization. The Foundation provides individuals with "free" mobility by select mobility devices such as manual wheelchairs, power chairs, scooters and rollators, to recipients in need who otherwise could not afford on their own. 
By providing mobility, this opens the doors to new opportunities, new roads towards developing a sustainable future where there was no future. 
I have a dream. I have an enormous goal. In my continued quest to fulfil my life's purpose towards aspiring to inspire, I am climbing Mount Kilimanjaro August 1st, 2016. As a double amputee, this will be a challenge of a lifetime, moreover, turning the challenge towards rising to greater heights to achieve awareness while raising the bar of what is possible, despite the circumstances. 
I need your help and support. Funds raised will support the sustainable efforts of Wheelchair of Hope Foundation and a portion used to offset operational climb costs. 
I know in my heart this is what I am supposed to do. My entire life has been met with mountains of challenges, each I have met with unwavering fortitude, persistence and positivity.  So shall I conquer Mt.Kilimanjaro and leave a path of hope and representation of what is possible.
Your support will assist towards making this a reality. Your support will help me, help others and bring freedom through mobility.
It's not what happens to you in life, it's how you choose to respond that will make the difference. John Cairns.
Please respond by making a difference, by making my Climb For Mobility a reality! 
I CAN. I WILL. 
This means so much to me and I am grateful beyond words for your support. I thank you in advance.
John
+ Read More
Be the first to leave a comment on this campaign.