Chrissy's Child Breast Cancer Fund
$96,451
of $120,000 goal
Raised by
1,957
people in 40 months
Chrissy was just eight years old in November of 2015 when she was diagnosed with an extremely rare form of breast cancer called Secretory Breast Carcinoma. Generally, 1 in 1,000,000 adults are diagnosed with this cancer in the U.S. with only a handful of cases to compare hers to.  Not only this but hers was unique in the fact that her tumor tested 14% positive for estrogen which is also very uncommon.  Her case was presented nationally and was reviewed by top oncologists and breast specialists in the country along with being taken to the Utah state tumor board. Chrissy underwent a full mastectomy of her right breast in December of 2015.  True blessings came about when her lymph node biopsies came back negative and, as of today, she is in remission but still has a long road ahead of her.  She continues to visit her oncologist team to receive scans and tests that are needed every 3 – 4 months.  Chrissy will need several surgeries in her future, as well as ongoing oncologist visits for the rest of her life.  As you can well imagine, the medical bills won't be stopping anytime soon. 
To add to the journey, Chrissy's daddy, Troy, a Decorated Veteran of Foreign War who served in Operation Desert Storm, also remains under close watch for his cancer.  In August of 2008, Troy was diagnosed with Non-Hodgkin's Lymphoma.  After several surgeries, biopsies, and eight months of rigorous chemotherapy; Troy's cancer went into remission. However, in July of 2011, a PET CT scan revealed cancer activity.  The difficulty with his cancer is that it has not become aggressive enough to respond to therapy, so we are currently in a "watch and wait" state as cancer slowly grows, visiting the oncologist every three months for a full exam and blood work. All the while, medical bills are continuing to pile up, forcing us to file bankruptcy in July 2013, but even after bankruptcy, bills continue to flow in.  Even with insurance, co-pays add up very quickly!  Scans alone can run anywhere from $300 - $1000 for our portion, depending on which one is requested by the doctors and other services, surgeries, and medications which may be needed vary in cost as well. 
Tears stream down my face as I sit to write this.  One for the overwhelming outpour of love and support received from friends and family all over the world; and two, to think that this is our life, this is our norm and we still have many challenges ahead of us.  Still, we remain filled with hope, faith, and joy, clinging to one another and growing ever closer together.  Your support and love continue to penetrate deep into our hearts and we are eternally grateful for everyone! 
Below are a few articles where our Chrissy has been featured.  We appreciate you all and pray that sharing Chrissy's story will serve to help others and fill them with hope!   
People: 
http://people.com/human-interest/chrissy-turner-10-year-old-breast-cancer-survivor-embraces-life/
Refinery 29: 
http://www.refinery29.com/2017/10/175526/youngest-breast-cancer-survivor
Romper: 
https://www.romper.com/p/this-10-year-old-beat-breast-cancer-her-story-is-incredibly-inspiring-2776364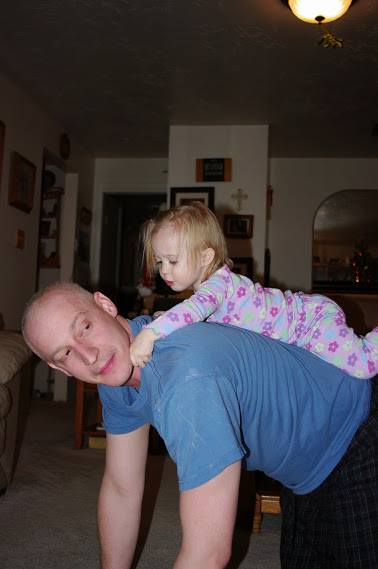 A photo of Chrissy getting a piggy back from her Daddy, Troy as he was going through chemotherapy for Non-Hodgkins Lymphoma.  She and her big sister Brianna kept him smiling and fighting through!
Chrissy's Alliance Facebook page


+ Read More