Spay, Neuter & feed feral cats
$40,085
of $5,000 goal
Raised by
1,273
people in 25 months
       
                Blackie is one of Willie's nightly regulars.
This account was setup for Willie Ortiz.  We are honoring the work that Willie has been doing for feral and stray cats in the Hartford and East Hartford, CT areas.
Willie Ortiz has been spay and neutering feral and stray cats as well as feeding them nightly, for the last 22 years.  He collects and sells scrap metal everyday, no matter the weather.  He relies on donations so he can continue his mission. He has not missed one night of feeding despite the rain, snow, freezing weather or his own health issues. 
This video says it all.  Please join me in helping Willie as we are trying to raise donations to help him continue doing such great work for the stray and feral cats in Hartford and East Hartford, Ct.
Here is the video:
http://www.courant.com/community/hartford/hc-willie-ortiz-hartford-s-feral-cat-feeder-20160208-premiumvideo.html
Here is his story: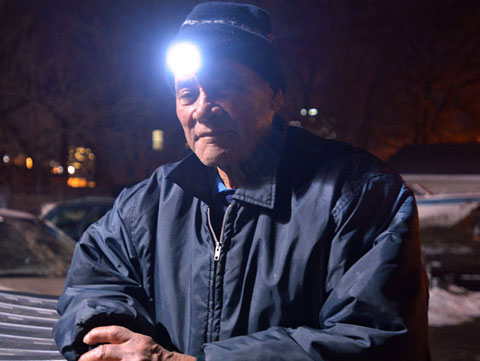 http://www.courant.com/community/hartford/hc-harford-feral-cats-willie-ortiz-20160125-story.htm
Many people are nervous about donating their hard earned money to someone they don't know or have never met and with good reason.  Hopefully by the time you have read Willie's story you will no longer have that concern.
Willie is a very loving, caring and honest person.  He believes very strongly in God and all of his goodness, despite the pain and sadness he sees.  He is a Veteran of the  U. S.  Army, a husband of 52 years  to his wife Alaja, father of two and grandfather of four.
He loves all animals, but recognizes the problem with the feral and stray cat population in Hartford.  Presently he feeds 16 colonies of stray and feral cats, a total of 68 cats, everynight, 365 days a year and has never missed a  night in 22 years.  I can guarantee that 100% of your donations will be used to buy cat food, Vet visits for spay, neutering and medicine for the few that need it.  He won't even take gas money from your donations.  
Willie's cats are all very healthy because he makes sure they get what they need to have as good a life as possible.  But the cat colonies are constantly changing.  New cats wonder in or get dropped off by people that won't or can't care for them, and unfortunately some existing cats get hit by cars, don't survive the winter or even worse.......there are some people that think "their way of controlling the population" is the best way. The new comers get spayed and neutered as soon as Willie can trap them (with a "Have a Heart" trap of course). This is the MOST important thing to Willie. Slowing down the feral and stray cat population as soon as possible is the only real solution.
He's on the search everyday for disguarded scrap metal. People also call him to donate it and he has connections with various businesses that so kindly donate scrap metal on a continues basis. If there is anything that he can sell for a higher dollar, he sells it on Craig's list.  Whatever it takes to continue his mission.
As you can see, Willie is totaly dedicated to his cats. Knowing Willie  has been a very humbling experience for me. I am so thankful to call him my friend.  
Please support Willie and his cats if at all possible.  Knowing that you have not only helped these innocent cats have a healthy meal everyday, but also knowing you are helping solve a big problem for the Hartford and East Hartford Communities. Thank you for reading Willie's story.
+ Read More