Chefs for Oceans Cookbook
$2,475
of $25,000 goal
Raised by
16
people in 36 months
As a chef and the father of three sons, I continue to dedicate my career to inspiring seafood lovers to become part of the sustainable seafood solution in support of healthier oceans for generations to come. In twenty years, I want my boys to still enjoy healthy lakes, rivers, and oceans as well as the same seafood that we are so fortunate to have today. For many years, I have used my voice as a chef to be an ambassador for our lakes, rivers, and oceans.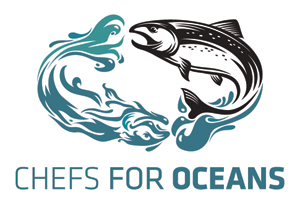 In 2014, I founded Chefs for Oceans to raise awareness about the importance of making responsible seafood decisions by riding my bike over 8,600 kilometers across Canada. Chefs from coast to coast to coast have joined my efforts to impact the way Canadians think about the seafood they eat, where it comes from, and how it arrives to their dinner plate. The Chefs for Oceans collaborative continues to bring chefs across North America together in support of healthier oceans.
My latest project is developing a series of cookbooks, dedicated to celebrating the many sustainable seafood choices we are so fortunate to have in North America. The first book focuses on the Pacific Ocean and is scheduled for release in fall 2017. All of my recipes aim to be inclusive and approachable, ideal for the at-home chef. The cookbook will be co-authored by Valerie Howes, a Scottish-born, Toronto-based food and travel writer with a huge appetite for adventure. 
I am working on this cookbook, because the health of our oceans, lakes and rivers are under threat and the fish that rely on these habitats are struggling to survive. We need better management, more sustainable fishing and aquaculture practices, and even more demand for seafood that is sourced responsibly. This cookbook is an invaluable tool for shifting seafood practices at home in support of healthier lakes, rivers and oceans.
By supporting my first cookbook, you will be supporting an amazing tool that makes cooking a wide array of ocean-friendly species simple, exciting and no longer intimidating at home. The cookbook will allow you to expand your horizons and take your cooking to the next level with new seafood preparation techniques. Most of all, you'll be helping protect the oceans, the fish species and our fishers' livelihood as well as joining a community of seafood lovers that cares about what we are leaving for future generations.
To date, I have already invested both financially and with many hours of my own time for publishing fees, photography and writing. I have also managed to fundraise enough money to get this project well on its way, but I am needing to raise another $25,000 for publishing and distribution costs. I am also planning another cross-Canada book tour to help educate greater numbers of Canadians on the importance of making ocean-friendly seafood decisions.
As an an activist and big dreamer my goals are always lofty. I am telling an important story of our country's lakes, oceans and rivers, and creating a cookbook dedicated to the health of Canada's oceans is an integral piece of the puzzle where every single dollar counts. Thank you in advance, for any support you can offer.
With hopes of inspiring some fundraising, I am offering the following incentives for the following donations:
¤ Donations over $150 will receive a signed copy of the cookbook from me.
¤Donations over $500 will receive a signed copy of the cookbook from me as well as 2 VIP tickets to the closest book tour event near you.
¤Donations over $1,000 will receive ten signed copies of the cookbook.
¤ Donations of $2,500 will receive a Seafood of the Salish Sea Cooking Class with wine pairing for 16 People (4 Hours) at North Vancouver Cook Culture 
This is your unique chance to purchase a private hands on cooking class and 4 course dinner for 16 people taught by the most celebrated sustainable chef in Canada, Chef Ned Bell. Chef Ned will take you under the depths of our local waters, teaching you how to choose and make the best of what the depths have to offer. The menu will be completely seasonal and customisable depending upon the requirements of the purchaser.
Each attendant will receive a signed copy of the book and special pricing will be available from Cook Culture for the specific cooking gear used throughout the class.
¤Donations over $5,000 will receive dinner cooked by me for 4 adults in your own home.
All proceeds and profits  go to
Chefs for Oceans
 and our initiatives, including building support for making March 18 National Sustainable Seafood Day in Canada. 
Many thanks in advance for your support! 
Ned Bell
*All money raised is for the costs associated with the cookbook. The Chefs for Oceans project is a not for profit project.
+ Read More
Be the first to leave a comment on this campaign.