Caren's Medical Treatment
$40,520
of $60,000 goal
Raised by
353
people in 45 months
As many of you know, my wife, Caren Dandreo has been going through some very difficult times over the past 3 years, which have been filled with sickness and tragedy. Caren has suffered from a persistent bacterial infection in her brain, a rare pain disorder which is known to be the most painful chronic condition that exists, has developed epilepsy, lost her job, grieved the death of a dear friend, and lost her beloved father due to terminal brain cancer. Despite all of this, we've grown closer as a couple, which I'm so thankful for because so many relationships fall apart during such tumultuous times.
Before getting ill, Caren worked as a pediatric therapist treating children with various developmental disabilities, but her true passion was working with children on the autism spectrum. She had a remarkable gift as a therapist, and was able to reach children whom others couldn't. She left a lasting impression on both the children and their families. It became clear to me that Caren's happiness was often measured by her ability to influence the happiness, confidence, success, and independence of the children she served.
In March 2012, Caren was diagnosed with advanced late stage neurological Lyme disease, Babesia, and Bartonella.  This occurred following the sudden death of a dear friend, and after learning of her father's terminal cancer diagnosis. Her decline was rapid and harrowing, and as a result, she lost her ability to work. She was challenged with extreme cognitive impairments, including prominent memory loss, had difficulty walking, debilitating arthritis, slurred speech, visual disturbances, and tremors.  Often, she was bedridden and was so sensitive to sound, touch, and light that she was unable tolerate a simple conversation, a sheet on her body, or be in a room without the blinds drawn.  She also developed epilepsy with seizures so severe that she would end up in the ICU, and on two occasions nearly lost her life.  Next came another devastating blow - she developed centralized Complex Regional Pain Syndrome (also known as Reflex Sympathetic Dystrophy), which spread throughout her body. Finally, after months of suffering, it seemed her only option was a highly specialized celiac ganglion nerve block, typically used for patients dying of pancreatic cancer, to help control her intractable nerve pain. For maintenance of her pain she has to continue with ketamine infusions twice per month. In short, this once vibrant, amazing woman has spent months in 5 different hospitals over the last 3 years, has endured over a year of intensive IV therapy, undergone multiple surgeries, and has gone through periods where she was completely dependent on me for every aspect of her life. In essence, she had totally lost her independence – at only 34 years of age.
During these 3 years in which my wife has been sick, we have spent over $90,000 out of pocket on her care.  We recently went to see a renowned Infectious Disease Doctor who specializes in my wife's condition, and he recommended that she resume intense antibiotic therapy. He believes, based on decades of experience, that with this additional treatment he can bring my wife back to enjoying a fulfilling life with family and friends instead of simply surviving. My wife desperately needs this treatment, but between this and her ongoing ketamine infusions the costs are over $5,000 per month, none of which is covered by insurance. We have extended our finances, credit, and savings - spending everything we have to try to help my wife get better, but we are out of resources. 
I am doing everything I can to take care of her, provide for her, and ensure her well being. At this time I'm no longer able to do this on my own. As uncomfortable as I am asking, we need help.
The world desperately needs this amazing, gifted, special woman I am privileged to call my wife. She has a unique ability to help those who need it most, but this illness is keeping her from doing so. Now she is the one who needs help, so she can get back out into the world and do what she was put on this planet to do. So, if you could find it in your heart to contribute to her care, it would mean more than words can express. Hopefully, with your kindness and donations, my wife will be able to get back to helping those that need her the most. Be assured that 100% of all contributions received will go directly to the care of my beautiful wife, Caren.
I am blessed to be sharing my life with Caren and I am blessed with your consideration.
Thank you.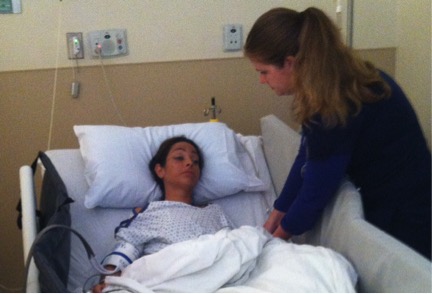 + Read More
Angela Rich
38 months ago
God Bless and so sorry you are going through this. My son continues Lyme treatment at this time and has the chronic pain component. I pray this will work quickly for Caren
+ Read More
Tina Regina
29 months ago
My prayers are always with you both. I pray every night for her to get well quickly. I asked God for her miracle. To get well!
+ Read More