100
3
Mom & Home Lost in CampFire - Christina Taft
$6,725
of $10,000 goal
Raised by
95
people in 2 months
My mom Victoria Taft died in the CampFire in Paradise, California on November 8th when our home burned down. She was a single mother and my only family.

It's devastating that my mom is gone, along with our home and anything in it.
Current Challenges/Needs
:
-Funeral/cremation costs for my mom
-Longterm housing to finish last year at CSU Chico 
-Gas/Grocery/School materials funds
Funeral / Cremation Costs:
My mom, the only family I had, passed away in the Campfire on November 8 (please see below for my tribute to my wonderful mom, Victoria Taft). Our home was lost in the fire as well. Losing my mom is absolutely devastating. I now need to cover the cost of cremation/funeral expenses while facing homelessness and grief.
Need housing near CSU Chico
: 
Our home was lost in the fire as well. I am currently changing locations frequently and running out of options. I go to CSU Chico for Business Administration and will graduate in fall 2019. If you know of anyone who can offer semi-permanent housing near there, I would be grateful.
Living Expenses
:
My mom and I lived together my entire life, the past 10 years of which was in Paradise. We were dependent financially on each other. In addition to funeral costs, I need funds for housing, food, school, gas, utilities, etc.
Thank you for any time, help, or donations.
❤
My Tribute to My Mom
❤
Victoria Taft was nice, generous, social, independent, honest, trustworthy, caring, facetious, dependable, sarcastic, modest, smart, stubborn, and loyal. She cared about other people more than herself. She always thought the world was better than it was. She was liked by whoever knew her. She mostly went by Vicki. We had lived together in Paradise for 10 years. She loved the community, had volunteered in it, and did not want to leave it.  I wish we had.
Victoria, my mom, was 66 and born November 11, 1951 in Pennsylvania. Her birthday was just 3 days after the fire. She grew up in Los Angeles. She was a single mom who mostly stayed at home after I was born in 1993. We then lived in Arizona for 12 years and moved to Paradise in 2008.
In her life she did acting, real estate, and other jobs in Los Angeles and Southern California. Her last job, aside from a temporary caregiving one for several months in Paradise, was as a stunt double in Dick Tracy in 1989/1990.  In the 1970's, she went to UCLA, but did not finish. In her 20s or 30s, my mom wrote a book called Tara about her life and traveling with her friend in Europe. I was not able to not read her book before it was lost when I was younger. She also was disabled at the end. I loved her. She deserved a longer life and I miss her. 
Because we didn't have mandatory orders from authority or any warning to leave, my mother didn't know it would be as bad as it was and didn't evacuate with me. I feel pain, guilt, shame, loss, death, and anger about what happened. I wish I had stayed longer and that the emergency response was better. The fire was deadly.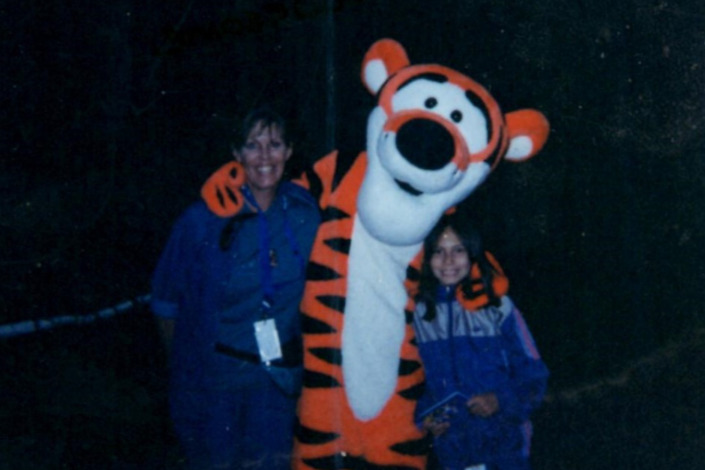 + Read More
Update 1
Posted by Christina Taft
1 month ago
Share
Join us in the memorial and
Celebration of Life for Victoria Taft
Mother, Stuntwoman, Actress, Inspiration


January 12, 2018
3:00 PM
East Lawn Memorial Park
4300 Folsom Blvd.
Sacramento, CA

RSVP to VickiTaft.RSVP@gmail.com

Victoria Taft - Paradise, CA
November 11, 1951 - November 8, 2018


You are cordially invited to the celebration of life and memorial for Victoria Taft of Paradise, California by her daughter Christina Taft and friends of her beloved mother who tragically perished in the Camp Fire. She is no longer with us in physical form but Victoria remains with us in spirit. This event is to remember who she was and to realize she is with us all, bigger than ever.

The celebration of life and memorial are being held at the beautiful East Lawn Memorial Park location at 4300 Folsom Blvd. Sacramento, California 95619 on Saturday January 12, 2018. Attendees who only knew of Victoria as a victim of the Camp Fire are welcome.

We do ask all attendees RSVP to VickiTaft.RSVP@gmail.com by January 2 for the service which will begin promptly at 3:00 pm.

A group dinner at a venue is planned for 5:00 p.m. after this event with attendees provided a meal. Those who RSVP will be told the location of the dinner and those who cannot attend the ceremony, but want to attend after are welcome.

It is our wish to keep up the memory of Victoria.


Transportation to East Lawn and Accommodations:

Below attendees will find embedded maps for both Google and Apple Maps to East Lawn driving, from Amtrak and from the Sacramento Greyhound.

Hotels with bereavement rates, both within 2 miles:
Courtyard Marriott Midtown $110 - No Breakfast 10.00 Parking
Hampton Inn and Suites $130 - Breakfast included Parking waived

Recommended budget motels
Super 8 (84$)
Motel 6 Downtown $6o (average)

Driving directions from major metropolitan areas:
From Chico California
From San Francisco
From LA


Bereavement rates and scheduling transport:
We have been informed by Amtrak because of limited travel back and forth from Sacramento to Butte County rates are quickly escalating. Train schedules are also not well coordinated with the time of the service so overnight accommodations are recommended.
Greyhound is the most well-timed method of travel from Butte County as Amtrak times would require attendees to book an overnight stay.

Because of the sensitive nature of this celebration of life and memorial we ask questions be directed only after RSVP. All RSVPs will receive a separate email for questions about coordinating your meaningful time with those who loved Victoria Taft. Again, please RSVP before January 2, 2019 so we may have an accurate attendee estimate.


Victoria Taft as Candi in the b-movie classic staring Kevin Costner (in cowboy hat to left) Malibu Hot Summer, (re-released as Sizzle Beach)


Acknowledgements:
We want to graciously thank East Lawn for the generous donation of their services and the space. We would also like to thank Seasons of Life for their donation of floral arrangements, E49 Corporation for their venue, and Sacramento Kindness Campaign for the dinner. Other acknowledgements will be in the service program.
+ Read More