Butte Creek VEX IQ Robotics to Iowa
$1,750
of $5,000 goal
Raised by
18
people in 15 months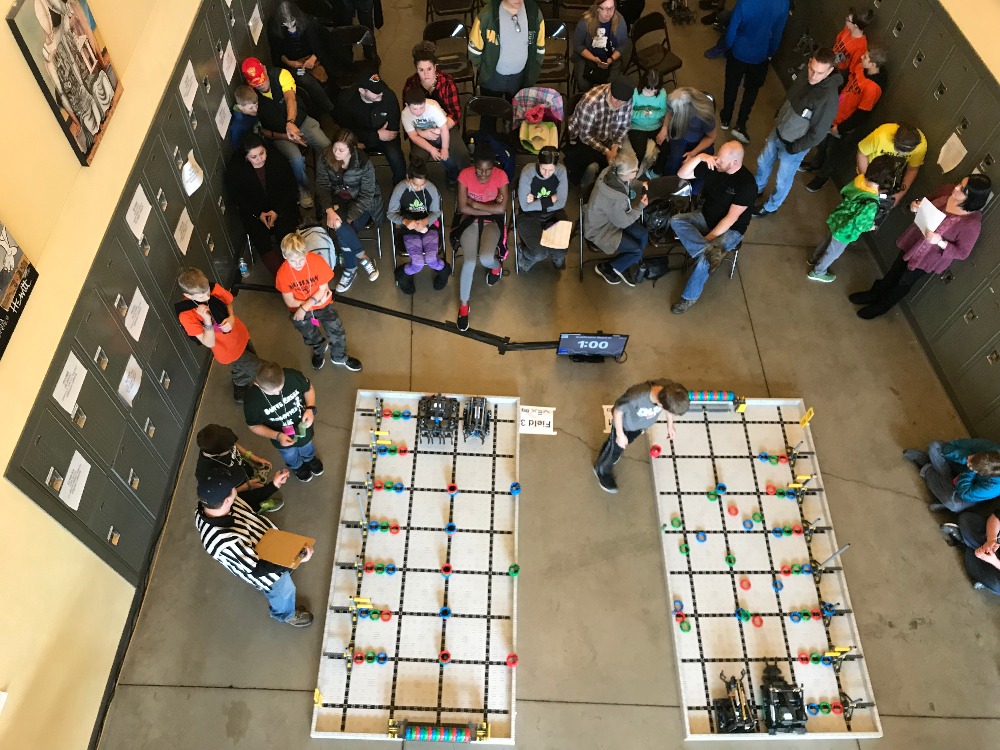 Here we are again! This year our after school Robotics program has grown so much and the kids are RAISING THE BAR daily! We now have 8 VEX IQ teams who have made it to State, ONE VEX EDR team who has made it to the Platinum Division to compete at State, and FOUR VEX IQ teams who have made it to Nationals in Counsil Bluffs, Iowa from April 2-5!
This year, we have added a Tech and Manufacturing After School class where students are creating vinyl designs and making shirts, vinyl clings, hats, banners, and signs, and even designing and creating 3D printed items; all using the Rhino program. This class was added to give students more opportunities in programming and use of technology to create meaningful things using skills that will help them for a lifetime. It has also been developed as a way to help fund our ongoing Robotics and Tech After School programs.
Our kids' progress and success has surpassed our ability at this time to keep up financially to send them to Iowa. We are having bake sales, making and selling shirts/banners/etc., we host several robotics tournaments, sell items in the snack bar, held a Robo Dance, collect cans, sell Robo-Grams at school, contact businesses, are planning a 'Drive Through Pulled Pork Dinner" for our community. We will be having a rummage sale in May as well. With all of our fundraising efforts as well as general robotics work, we are still in need of donations/support/help to send the children who have made it to Nationals....to Nationals. We have 14 children and three coaches who have qualified to represent our amazing school and community. If you know of anyone, or you yourself would be in a position to help with any amount, we would deeply appreciate it!
Earning this opportunity to travel to Iowa is a huge accomplishment and we are honored to be invited.  Many of these 4th and 5th graders  are doing robotics for the very first time.  They have worked very hard since September.  Please help us fund this trip.  This money will help to pay airfare, hotel, food, and transportation.  The children will have the opportunity to compete with teams from all over the United States as well as three teams from China!  It is one of the World's largest robotics tournaments.  Over our robotics season so far, our teams have brought home an incredible amount of metal: The Robo Rings  have won awards for: Robot Design,  Robot Skills, and multiple times this year, and have also were the Teamwork Champions.  Team VEXcellent has won awards for STEM Research, the Excellence Award, as well as the Teamwork Champion Award, The Lord of the Rings team has won, the Teamwork Champion Award.  The Warriors have won a Judge's Award.  The Ring Flingers have won Teamwork Champion awards, as well
 The Robotians have won the Sportsmanship Award.  The Lightning Bots have won a STEM Research award.  Robo Wizards has done an outstanding job this season as well. 
Most recently The Thunderbolts have won an award for Robot Skills currently holding the highest score in the state.  The robot skills award involves scoring the most points combined between the team driving the robot for one minute scoring points, and the robot driving as programmed for one minute scoring points.  To win this award, the team members must have a strong understanding of computer programming, and strong driving skills.
+ Read More
Be the first to leave a comment on this campaign.