BUILD NEPAL TOGETHER-FAMILY SHELTER
$35,283
of $30,000 goal
Raised by
46
people in 46 months
Earthquake
On Saturday 25 April 2015 a magnitude 7.8 earthquake struck Nepal without warning followed by a magnitude 7.3 on 12 May 2015. Over 500 aftershocks up to Magnitude 6.7 have been experienced. Subsequent landslides have swept away entire villages in the Himalaya. There has been a loss of over 8,600 lives, 20,000 injured, close to 3 million people needing assistance and around 600,000 buildings damaged. 
Adverse wet and cold weather
The torrential rains of the annual monsoon season commences in June. There have already been heavy rains since May. Towards the end of the year extreme cold of winter will be evident with snowfalls in the Himalaya. 
 Family survival
Families without proper shelter will not be able to remain warm, dry and healthy under adverse weather conditions. The construction of new homes will take a long time and the weather will not wait. Many families will not have sufficient funds to pay for construction works as it would take quite some time to build up savings. In addition, the local media in Nepal have indicated that the government may ban the construction of new buildings for a period of six months. This has been attributed to concerns over further earthquakes as well as evidence of a wide scale breach of building codes and sub-standard, poorly constructed buildings which have contributed to the extensive damage and which must be prevented in future reconstruction.
This is a crucial time for the people of Nepal. There is no quick and easy solution for everything. Yet there is much that we can do. This initiative can make a real difference to ordinary local Nepali families struggling to survive by giving them some breathing space including time to recover and rebuild. This is about how we can all help together …..
Access to a weather-proof shelter will be a key factor for family survival
This is the basis of the
BUILD NEPAL TOGETHER
fundraising initiative
What preparations have been completed?
The following preparations have been completed in readiness for the provision of temporary emergency shelters to Nepali families whose homes have been damaged or destroyed and who no longer have access to a suitable, safe shelter:
1. Secured the services of local Nepali volunteers to manage and coordinate relief work
2. Identification of 4x 'No-or-Low' income families in the Kathmandu Valley to receive the first batch of shelters
3. Preliminary identification of an additional 9 families.
4. Preliminary planning for identification of 20 -40 additional families (subject to availability of shelter funding)
5. Identification and selection of a 'dome-tunnel enclosed sheet metal weather-resistant shelter' configuration (SEE PHOTO) as the most appropriate design based on ability to provide safe, secure and weather-resistant enclosure at a reasonable cost (following extensive options review including tarpaulins, tents, bamboo frame shelters, rectangular sheet metal shelters, prefabricated insulated shelters, open tunnel metal sheet shelters)
6. Identification of a local Nepali fabricator to manufacture and assemble the shelters on site
7. Agreement to place an order for the manufacture of the first shelter
8. Launch of this fundraising initiative
9. Agreement for local progress reporting including photographs for communication to donors 
Families to be provided with Shelters
The following sample indicates family members who have been selected to receive the first batch of shelters once funding becomes available:
FAMILY 01#
Male Age 50, husband, unemployed due to injury
Female Age 40, house wife
Daughter Age 24 employed (retail)
Son Age 21 Student
FAMILY 02#
Female Age 63, widow and alone (no family members), unemployed
FAMILY 03#
Male Age 42, husband, factory labourer
Female Age 40, housewife
Daughter Age 15 Student
Son Age 5 Student
FAMILY 04#
Male Age 55 approx, husband, hotel staff
Female Age 40 approx housewife
Daughter Age 18 approx parental support
Daughter Age 15 approx 
Privacy and consent
Note that names and photographs of families have been withheld due to individual family sensitivity and privacy concerns on placing material online. Some photos are however approved for display to donors by face-to-face meetings which can be arranged where this is of interest. Family names and photos may in future be placed online where consent is provided.
An additional 9 families are known to be in a similar difficult circumstances in the same local area. This is only the start. There is a very high demand for any kind of shelter across the Kathmandu Valley and in rural and remote areas. There are many examples of flimsy, exposed, weather-prone and insecure shelters being assembled by local people making use of debris, plastic sheet and spare metal sheeting. Bamboo which was commonly and cheaply available is now more scarce, expensive and subject to seasonal scarcity. There are additional urban and regional areas which are planned for support when funding becomes available.
How far will my money go?
Your donation will enable the provision of temporary weather-resistant metal shelters for local Nepali families as the main priority. Shelters will be fabricated in two sizes to cater for different family sizes to include either a single or double room configuration. Shelters will be customised to include design safety features such as sharp edge hazard reduction and ventilation considerations. The costs including fabrication, site preparation, delivery, construction, minor fit-out including basic LED solar lighting and readiness for occupation is currently estimated at:
$1,130 AUD - single room shelter for a small family (12 x 10 x 7 feet approx.)
$1,470 AUD - double room shelter for a larger family (20 x 10 x 7 feet approx.)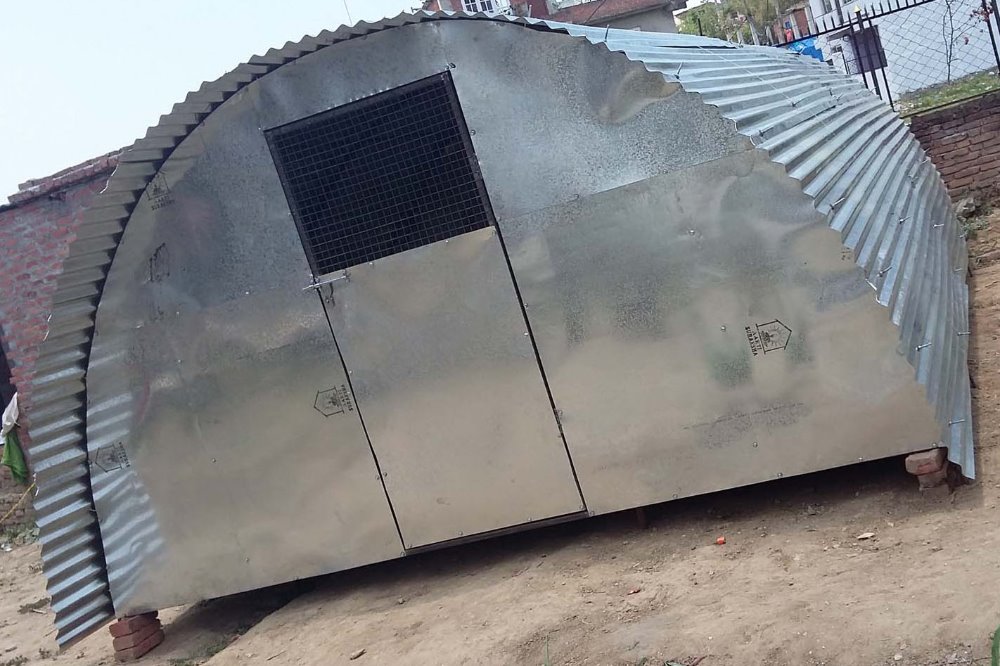 Note that material costs are escalating continually due to shortage of supply, high demand and the delay in restocking. The more donations received, the more this will assist in reducing cost escalation through early or bulk purchase arrangements.
Targets
An initial target of $30,000 AUD has been established which is sufficient to provide 26 shelters suitable for a small family or 20 shelters suitable for a large family. Should the funds received exceed $60,000 then the scope and scale of support will be extended including the development of additional transparency and accountability measures. Progress will be communicated with donors through this web site and / or other means to provide additional understanding of what is happening on the ground. 
What else would my funds buy?
Materials for minor building repairs, tents, tarpaulins, food, medicines, essential services and survival related material may also be needed on a case by case basis for each family depending on their circumstances. 
In what geographical areas will support be provided?
Your donated funds will go to support niche pockets of families and communities whose homes have been destroyed or damaged and who have received little or no aid. This will include those in urban and rural areas in and around the Kathmandu valley and in remote areas in the Himalaya (subject to safety conditions and access). The extent of support provided will depend on the amount of funds donated.
Transparency & Accountability
Transparency and accountability will be provided on several levels including advice on donor funds received, donor funds transferred, local field reports, external field reports and where practical - independent field reports.
The money donated through the fundraising website will be visible to the public on the site automatically. This includes the donations made by each individual donor - unless the donor opts for their name not be displayed. This means that you will be able to see how much money is coming into the fund as well as how much has been removed for transfer to Nepal.
Funds from the website will be transferred into a dedicated bank account to be used only for the relief purpose intended. Any interest accrued on the account will be used only for relief purposes. 
Progress reports based on information received from Nepal will be posted to provide an update. Photographic records of shelters and materials being acquired and distributed will be sought and posted as they become available. 
Major items such as weather-resistant shelters will be affixed with and identified by serial number with records managed to identify recipients for follow up review and accountability purposes.
An on-site visit is proposed for 2016 (possibly earlier TBA) with this to include a review of outcomes and expenditure; conduct of local recipient interviews; preparation of first-hand progress reports. Outcomes including photos will be communicated to donors. The cost of conducting this visit and review will be privately and separately funded. 
ADDITIONAL INFORMATION
More Earthquakes and Landslides?
There is significant possibility of further earthquakes and landslides. There have already been countless aftershocks. 
Disease
There are currently frequent rains which will become torrential when the monsoon commences in June. The monsoon will last for a few months and during this time transport and rebuilding will be very difficult. The risk of disease is extreme due to reduced hygiene resulting from the loss of basic sanitary infrastructure, the decomposition of animal stock lost in collapsed buildings and landslides including risk of cholera, dysentery, pneumonia particularly with the wet weather.
Winter
In September the monsoon should be clearing and there will be a window of a few months to rebuild and consolidate before the onset of winter around December. Winter in the Himalaya is not like that of many places in Australia. Freezing cold, snow, iced up streams and rivers are commonplace. Kathmandu will not be so harsh, being a large city at lower altitude but it will become very cold. Flights to Nepal are inexpensive in winter because no one wants to go there as a tourist. The local Nepali people have no choice, it is their home, there is nowhere else to go.
Can businesses or companies donate?
Absolutely. Many organisations have an in-house program for giving to the community such as when disasters arise. Corporate giving demonstrates the heartful aspect of an organisation which may contribute to staff regard and sense of belonging and motivation within the organisation. A meeting and presentation can be conducted to assist in deciding as to whether this initiative may be suitable for your organisation.
How much of the funds will go to those in need?
All funds received will go directly to 'No-or-Low' income families in Nepal in the form of temporary emergency shelter and survival essentials,
MINUS
the fees charged by the GoFundMe fundraising web site (6.75% plus 30 cents on each donation plus fees for donations from outside Australia or by AMEX);
and
international fund transfer fees to Nepal. Unlike many aid organisations, the funds you donate will not be used for staff wages, salaries, remuneration, administration purposes, commissions and similar deductions. This is provided on a purely voluntary and non-commercial basis
What is your motivation for starting this initiative?
I have travelled often to the Himalaya and have appreciated the people, culture and the dramatic natural environment. My circumstances in life have changed such that I have more flexibility. My professional background and experience lends itself well with what is needed now. I am at the right place and time so this is somewhat of a natural progression. 
Is the fundraising web site fee too expensive? 
The service is not so expensive when considering the alternatives and what the site offers. The costs are much less than the total fees and costs which are taken by most Domestic and International Aid organisations whether they be large or small. In addition the website provides significant financial transparency and accountability features and details which would not normally be provided by most Aid organisations.
Why not organise this relief initiative through an established Aid Organisation (NGO)?
There are many established NGOs who have their own vision and priorities and are typically very busy and overstretched in running their own programs especially in Nepal. This fundraising initiative is looking at providing a more agile and flexible reach by identifying the gaps where there are families and communities with an immediate emergency need and which have received little or no support. 
Are donations tax deductable?
Donations are not tax deductable. Acquiring tax deductable status can be quite a time consuming, resource intensive and expensive process. Small to medium size aid and relief endeavours can find the requirements too onerous and the process can distract attention and efforts away from urgent relief effort. 
The Fundraising organiser: Experience and Qualifications
+20 years experience in construction systems and construction procurement related to Public Works, community buildings and services
Project facilitation: Design concept development, Value & Risk management, Business and project development, Stakeholder engagement, Construction performance monitoring & management
Construction industry development and Communication initiatives
Supporting Not for Profits including Strategic planning, Business model, Remote site review and Local stakeholder relationship development
Bachelor or Engineering, Master of Education Adult Education, Master of Management (in Progress), Diploma Project Management 
Involvement, Ideas and Networking
Please advise of your interest and suggestions. Donors seeking a greater level of involvement are encouraged to advise of any specific way that they can offer to assist.
+ Read More
Be the first to leave a comment on this campaign.