Build a school in postwar Liberia
$20
of $25,000 goal
Raised by
1
person in 8 months
In October 2018, Akshay Nanavati the founder of the Fearvana Foundation traveled to Liberia to run 167 miles across the entire country from the Guinea, Liberia border to the capital city of Monrovia to help bring clean water to those that need it, raise awareness for notable projects on the ground and build the 1st sustainable vocational training school in postwar Liberia.
The Cause

Liberia is one of the poorest countries in the world that is rebuilding after 15 years of a brutal civil war. It is a primarily Christian country where the practice of faith is a major source of hope for a brighter future. Most of the population is under the age of 30, teachers make less than $30 a month, and there are many without access to clean drinking water or proper education.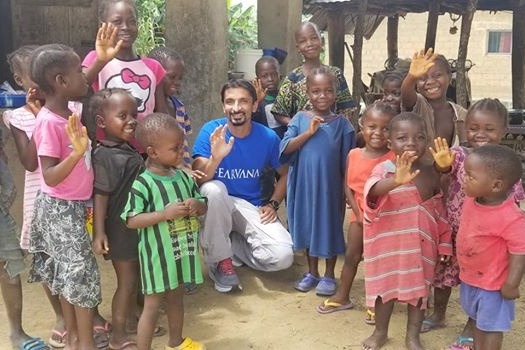 The Fearvana Foundation has partnered with acclaimed child rights activist, and winner of the World Children's Prize, Dr. Kimmie Weeks, who launched the Child's Disarmament Campaign and is credited for freeing 20,000 child soldiers by the age of just 15. 
He has been likened to iconic leaders such as Dr. Martin Luther King, Gandhi and Nelson Mandela. Dr. Weeks has been the honored guest of kings and queens, and is a frequent speaker at the World Economic Forum and Harvard Business School.  He has directly impacted the lives of more than 200,000 people in ten post war African nations via education, micro-finance, clean water and empowerment and academic training.
​
In partnership with Dr. Weeks, we will be working with Jeremiah Burgess, a Liberian civil war survivor, who found a copy of Napoleon Hill's, Think and Grow Rich while living in a Ghana refugee camp. Jeremiah applied the book's principles when he returned to his home country after the war to build a vocational training school from the ground up.
250 students graduated from Jeremiah's school last year with skills in architectural drawing, auto mechanics, carpentry and more. He also successfully trained and graduated 9 teachers.
However, last year, Jeremiah lost his major international donor.
One of the key problems in charitable giving is that it doesn't create sustainable change. The Fearvana Foundation seeks to reverse this trend by supporting projects that become self-sustaining, thus guaranteeing a long lasting impact for generations to come.
Your contribution to this cause will help fund the first fully scalable Agro-Business model in Liberia.
With chickens, fish farms and agriculture, we will be funding jobs, creating needed food resources in the area, and will create a model for independent sustainability in a country that has traditionally relied on hand-outs.
Once thriving, Jeremiah has all he needs to build a lasting tribe of empowered people to make their own way in a country rebuilding after war and Ebola.  
This school will be able to:
Train and graduate 250 vocational students per year
Teach up to 200 elementary students
Train up to 300 teachers per year in Empowerment and Leadership Training 
Our goal is to get Jeremiah into a sustainable position within 6 months. He has mapped out budgets and timelines for us that have been corroborated by Dr. Weeks who will help manage the project.
+ Read More