Bringing Jackson Home
$48,868
of $100k goal
Raised by
389
people in 18 months
Who is Jack ...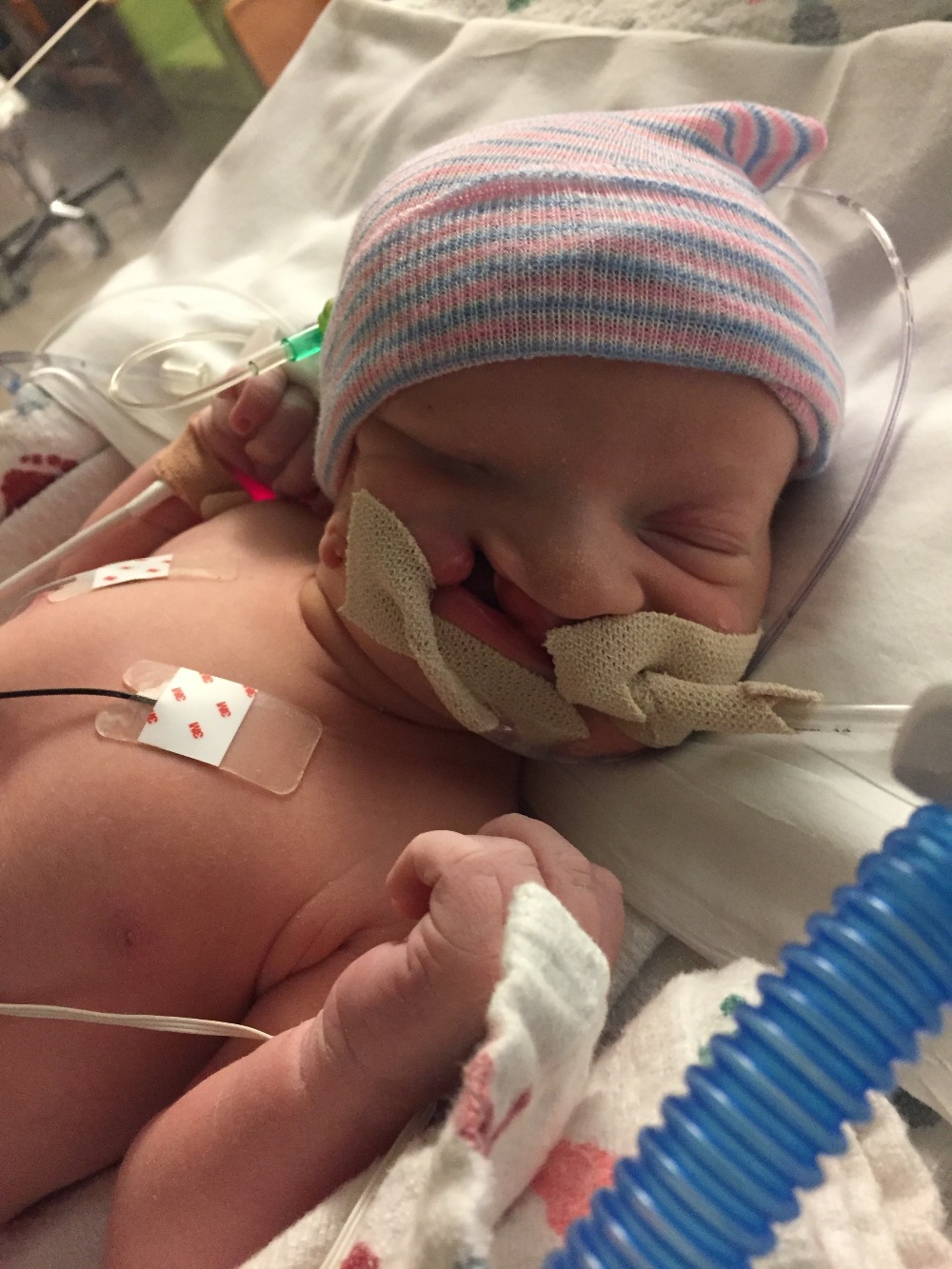 Jackson was born on September 28th to two parents who could not be more expectant for his arrival. We have waited for him eagerly and prayed for him constantly. Prayed, specically, because we knew Jack would have some challenges if God did not intervene. At our twenty week ultrasound, we learned that Jackson had what was thought to be a severe facial cleft that caused his right eye not to form. Several weeks later, at a fetal MRI, we were told his right ear had not formed as well. They were watching his chin, because it seemed a bit small, but this was only to be a precaution.
Then, Jack was born, and what was assumed to be a facial cleft appears to really be a craniofacial microsomia. This means that Jack's right side of his face is smaller and underdevloped when compared to the left. This is what caused the eye not to form and the ear to be displaced. Worryingly, this also caused his lower jaw on the right side to not form properly, which creates difficultly when breathing and complicates his ability to swallow.
From the beginning, we have been ready to receive Jack with whatever he had or needed help with. (Read about that on
Preston's blog
 or
Hilary's
.) At the same time, we felt compelled to pray that God would bring about a miraculous healing. (
Preston's words on this
,
Hilary's
.) We still feel compelled to pray for that, because even when it seems impossible, nothing is too wonderful for God. At the same time, we have to make plans, trust that there is a faithfulness to preparing with the information we have been given, and knowing that God can still come into the midst of it and surprise us all.
A craniofacial microsomia is a lot more complicated than what was first supposed to be a complex cleft. Jackson will need a feeding tube and a trachestomy, which are expensive procedures and needs on top of what is already a long NICU stay.
We want to bring Jack home. We want to bring him home and hold him and remind him of all of you who have prayed and watched and waited and who now keep the vigil with us.
Would you help?
Love, and thanksgiving,
Preston and Hilary
Who are Preston and Hilry? ...


Hilary is a second year PhD student in philosophy at Baylor Univeristy. Most importantly, she is Jackson's mom.
Preston is an author and the process of becoming a priest in the Anglican tradition. Most importantly, he is Jackson's dad.
For Jacks, a reminder ...
Dad wrote this to you
, Jacks, months ago. It's still true. Even as we ask for help, it's sitll true:
"Jackson, I want you to know something. I want you to know that we'll keep praying for your healing until Jesus says stop, but your mom and I don't attach healing to how you look. What we want for your life is for you to be whole in the sight of God. We don't know what that means. We don't know if that means by miracle you'll have both eyes and no gap in your face, if that means you'll have both eyes and a gap they heal through surgery, or a glass eye, a surgically healed gap. Or maybe this other thing. Or that other thing. We don't know. We're not scared of that. Regardless of what happens, regardless of what miracles are still yet to come, you were healed by Jesus, you were made to be able to breathe. Can I tell you how that's enough? Can I tell you how much that already is?
We have just over three months until you're born. We've spent a lot of these past months trying to talk as openly as possible about you to help other people get a sense of the language we want to use. Most people, almost all people, want to say the right thing and are so afraid they won't. (It's those people, as it happens, who usually say the right thing because they bothered to wonder that in the first place. It's a sign of moral character. It's the people who quickly tweet you a photo of the 'kid who had the same thing' so 'feel better' that should ... pause before proceeding.) People want to know how to pray, they want to know what they can do. We tell them to both pray for your miraculous healing and pray for you to be whole in God's sight. How we read it, no matter what happens with your face, both of those prayers have been and are being answered.
Jack, well-meaning people are going to say some silly things in your life. They're going to read healing passages in the New Testament and assume that physical healing is superior, is the sign of something exclusive and the property of God. Be kind to these people. Help them read slowly. Help them see how often Jesus only heals when he is asked to. Help them see how what Jesus heals people of is often culturally damaging, not personally. It's really hard to live in the ancient world if you're blind. It doesn't have to be so today. We live in a world that caters to able bodies and defines those able bodies very narrowly. But we don't notice because we assume our own experience is the normal one. So people may say things about how you still need healing if you don't have that eye, or if you need surgery to help finish forming your face. But you can remind them, gentle as you can because sometimes it will be hard to be gentle, that Jesus has already made you whole. You're like Violet, Jackson, no matter what is happening with you physically, God already sees you wholly, as you are. Your mom and I look at 3D ultrasound images, Jack, and we see the same."
Why we need help ...
NICU costs are expensive. We're easily going to have two to three weeks in the NICU alone, not to mention the possibilities of surgeries, therapies, and many years to come of appointments and coordinating medical teams.
While we continue to pray that God will do miraculous things, even beyond the miracle Jack already is, there will be high costs to his first several weeks of life regardless.
Trachestomy requires a great deal of care, including at home nursing, which our primary insurance will not cover much of. We're in the process of applying for Medicaid, but may make just a bit too much for it. We'll still need help.
With student loans, limited funds from our jobs, and being rather young in the midst of saving for our future, we are in need of help. We are not proud people, but we are devoted people. We wouldn't ask unless it was necessary to do so, and there aren't other viable options.
We need financial help. It's that simple.
Our promise to you ...
This donation is an investment in Jack's future and we respect it as such. We're still figuring out how much of his life we'll ever share online. Beyond these first weeks of reaching out to our large communities of digital friends for support, we'll want to protect him as much as possible from having his story told on his behalf. So while we might not post as publically or as frequently in the future—because, God willing, the days are normal and boring and without much to report!—we'll keep you updated by an infrequent email newsletter about Jack's progress, upcoming surgeries, and how you can pray for him in the months to come before the next update.
Learn more ...
You can read more of Jack's story and how we prayed, believed, and trusted on our blogs.
Preston's
 and
Hilary's
.
Please remember ...
GoFundMe takes 5% and an additional 3% in processing fees from your donations. That's 8% total. They're the most competive rate for individuals, but this means if you give $10, Jackson only receives $9.20. That adds up over time. If you are able to adjust within your donation, that's there for your consideration.
+ Read More