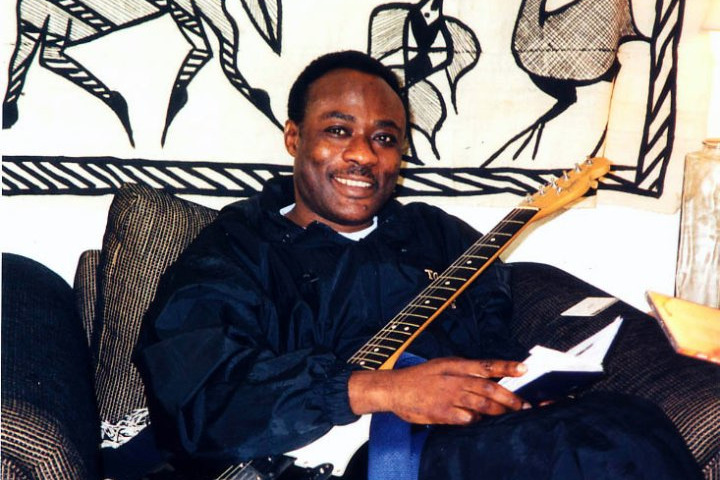 20
5
Bopol Medical Fund
$1,150
of $3,000 goal
Raised by
22
people in 1 month
Dear friends and fans of Bopol: we have a message of thanks from Mrs. Pelagie Mansiamina (Bopol's wife), and their daughter Cassandra, and some heartfelt words from Bopol himself, translated in both English and French:

First of all, I want to convey to you the personal message of Bopol, who is very moved by the support he is receiving, in his words: "To you my dear friends, it's so good to know you're here by my side. Know that your outstretched hands will remain forever in my heart." Bopol MANSIAMINA.

Pelagie writes: To Madame Claudia SMITH, to Samba MAPANGALA, to Ricardo LEMVO and to all those people I do not know, but who have mobilized themselves to join Bopol Go Fund Me Medical Campaign: Our children and family members join me to say thank you. We are very touched and grateful for your moral support and for your financial support at this time of our life as a couple and our family life.

Tout d'abord, je tiens à vous transmettre le message personnel de Bopol très ému dans ses paroles "A vous mes chèrs amis, c'est si bon de savoir que vous êtes présent à mes côtés. Sachez que votre mains tendues restera à jamais dans mon coeur" Bopol MANSIAMINA.

A Madame CC SMITH, à Samba MAPANGALA, à Ricardo LEMVO et à tout ceux gents que je connais pas, mais qui s'est sont mobilisés pour rejoindre Bopol Go Fund Me Medical Campaign. Les enfants et les membres de la famille se réjoignent à moi pour vous dire merci. Nous sommes très touché et reconnaissant pour votre soutien moral et pour votre aide financière à ces moments si particulier de notre vie de couple et notre vie familiale.



Required Campaign Transparency Statement re Delivery of Funds

I am CC Smith, a long-time acquaintance and fan of Bopol Mansiamina, on whose behalf I am raising funds for his hospitalization and medical expenses. My co-team members, Ricardo Lemvo and Samba Mapangala, also have a long-standing relationship with Mr. Mansiamina as a touring and recording musician. As Mr. Mansiamina is presently incapacitated, the GFM funds will be withdrawn by me, and transferred to the bank account of his wife, Mrs. Pelagie Mansiamina, via international bank transfer, on May 19, 2019.


Fundraising for medical expenses to assisted care for Bopol Mansiamina

Dear friends: You may not have heard the sad news that Bopol suffered a serious stroke about a year ago. He is paralyzed on his left side, and has been in the hospital since. Samba and Ricardo have been in touch with his wife, and the financial situation is getting dire. He has been removed from the hospital as the insurance has run out, and is now in a nursing home, which must be paid for out of pocket by the family, which of course is extremely costly. We have some encouraging news that he is recovering slowly, but still has a long way to go. I don't believe this has been public knowledge at this point, other than through friends of the family.

Samba Mapangala and Ricardo Lemvo, two Congolese musicians who have worked with Bopol in studio and on tour for many years,  are joining the team to mount a fundraising campaign to assist Bopol's family in this tough time, and his wife and family are on board. We are also pleased to welcome to the team, Banning Eyre, Senior Editor of Afropop Worldwide and Afropop.org, and deeply thank him for his support.

Biography of Bopol courtesy of africanmusiciansprofiles.com

Bopol was born in Congo-Kinshasa in 1949. He is a guitarist, vocalist, arranger and producer. His long and varied career as a musician started when he joined Orchestre Bamboula with Papa Noel 20 years later, in 1969. He has been associated with some other bands, namely Rock A Mambo and Africa Fiesta Sukisa with Docteur Nico. Bopol was one of the co-founders of Orchestre Continental in 1971 and at this point began to compose and released 3 singles. 
During 1973-1976 Bopol was with Tabu Ley's Afrisa then in 1976 he went on to found the group Ya Toupas with Ray Lema and Manuaku. He decided to go to West Africa in 1978, joining Sam Mangwana, Lokassa and Dizzy Mandjeku in Africa All Stars first in Abidjan, then Lomé. A year after that he went solo and released the albums Pitie, je veux la reconciliation, Marriage Force and Manuela. 
In 1982 Bopol settled in France and, with Syran Mbenza, Nyboma and Wuta Mayi, formed the very well-known Les Quatres Etoiles. Later in 1998 he recorded an album, The Very Best of Bopol on which he is accompanied by several other top Congolese musicians. 
More recently Bopol has featured as composer, guitarist and producer on Samba Mapangala's recordings, Ujumbe (2001) and Song and Dance (2006). The year 2002 was a year of lots more successes for Bopol, including touring with Mose Fan Fan's Somo Somo in Britain. Bopol played rhythm guitar on Déesse Mukangi's new album, Lettre Anonyme, 2002, and composed the title track.  Another musician Bopol has worked closely with is Ricardo Lemvo - he was the guitarist on many of the tracks on Ricardo's São Salvador album, and composed 'Manuela' on Mambo Yoyo.
+ Read More