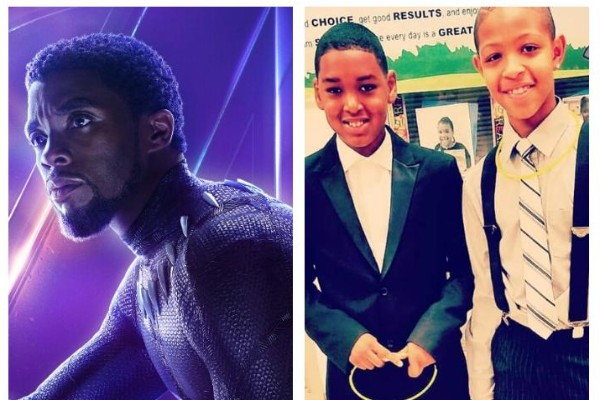 668
24
#BlackPantherChallenge Richmond, VA
$24,071
of $24,000 goal
Raised by
687
people in 7 months
Thank you for taking time to check out our #BlackPantherChallenge #InfinityWar GoFundMe campaign. My name is Lance Cooper (Youth Program Director & Activist) based in Richmond, Virginia. The release of Marvel's film the "Black Panther" is a great opportunity for young students (primarily of color) to finally see a black major cinematic and comic book character come to life. This representation is fundamental for youth, especially those often underserved, unprivileged, and marginalized nationally and globally.
The youth I'm raising funds for are students in our youth program and kids in the RVA community. Two kids in our youth empowerment program convinced me to participate in the Black Panther Challenge (originally launched by Frederick Joseph) and expressed unforgettable interest in seeing this film. When I asked the two boys (seen in the GoFundMe photo) why they felt the need to see Black Panther, they replied "because we finally have a black superhero."
My goal is to provide the opportunity for underprivileged children to get the experience of seeing this movie in theaters. It is extremely important for them to see characters that look like them portrayed in positive, powerful ways on the big screen.
Clarkisha Kent of TheRoot.com writes about the importance of the Black Panther film "Black Panther remains socially and culturally relevant because it imagines a world where black people continually triumph over the influences of capitalism, Western imperialism and white supremacy."
Read more:
https://www.theroot.com/wakanda-forever-on-the-importance-of-black-panther-1820459283
I strongly feel it's necessary to counter the negative images of black people on television with something heroic and positive for African American boys & girls.
The release of the film is February 16th, 2018, and I plan to get local media in Richmond, Virginia to cover our #BlackPantherChallenge as well as post video and pictures of our results, youth reactions and experience in theater upon viewing this film.
Your donations will go to paying for tickets for children and chaperones, as well as refreshments. We will distribute tickets within the SM Youth Empowerment Program and throughout the Richmond, Virginia area. Being that I am the youth program director & organizer of this RVA event, all donations will be securely directed to my personal account and withdrawn to purchase the tickets on behalf of the SM Youth Empowerment Program. Our ultimate goal is providing 1,000 youth with the opportunity to experience this historic film.
Ticket cost breakdown:
$10.85 per adult ticket
$7.85 per child ticket
*Due to the success of our Black Panther Challenge we are extending the goal to include the Avengers: Infinity War movie in theaters April 27th. 
Thank you for joining me in supporting our youth, who need us now more than ever. All donations appreciated. All amounts help reach the goal.
Sincerely,
Lance Cooper
(SM Youth Empowerment Program)
+ Read More