BGBJ Style Seed Money
$6,465
of $5,000 goal
Raised by
92
people in 32 months
Hello!  

Please take a few moments of your time to read about our exciting project at Bantar Gebang just outside Jakarta, Indonesia.  Bear with us, this is our first GoFundMe campaign and we hope to give you a quick overview on who we are and what we have achieved with our project so far.

The story so far

Since 2014 a growing group of friends from around the world have been coming together to help our good friend Resa turn her neighbourhood into... "The Best Dump Ever".

Resa lives in the biggest dump in the whole of South East Asia! That's not us being harsh, it really is in the middle of a huge pile of garbage.  When Resa's family moved to Bantar Gebang she was only 8 years old and her house was surrounded by rice fields. Over the last 20 odd years this site has grown to cover 108 hectares and encompases 4 villages.  The view out of her windows is now of 50 metre high mountains of rubbish.

Check out this video to get an idea of how much crap is being dumped on her doorstep.



Despite having opportunities to move away Resa has stayed and run the Sanggar Satu Untuk Semua (One for All studio) since 2004, dedicating her adult life to providing education and inspiration to the local children and young adults who live at the landfill.  

There are over 3000 families that live on the dump where the parents earn a meagre income by picking through the 8000 tonnes of rubbish that comes everyday from Jakarta.  As you can imagine the conditions there are extremely challenging - poor quality housing with little or no sanitation, unsavoury smells, flies, bacteria, - all compounded by low income and lack of alternatives.

Every week Resa invites the children into her home to learn, play and socialise in a safe and healthy environment. When anyone arrives at the Sanggar they are always blown away by the positive spirit of this place. The kids, who are so polite, friendly and curious to learn, have heaps of potential to make the most of their lives.

However, one of the major things that has continued to be a problem is that when the kids grow up into teenagers they often have to drop out of education and extra-curricular activities in order to support their families, either earning money doing odd jobs on the landfill or helping with domestic duties.  

So to overcome this the parents need...

a) work they can take pre-school children to, so teenagers can go to school and,
b) jobs that pay well enough that kids dont have to work at all...

and

the kids need education and fun! 

In response, Resa and I have gathered our friends and developed the BGBJ concept as a way to expand her existing efforts to start providing better facilities and create sustainable pathways out of the poverty trap through education and employment, aiming also at young adults and parents.



The BGBJ is born!

BGBJ is short for Bantar Gebang: Biji.  Biji means seed in Bahassa Indonesia and biji-biji means lots of seeds.

So BGBJ stands for The Seeds of Bantar Gebang.

Our belief is that these children are the seeds for a positive future for this area, all they need is the right kind of nurturing to succeed and a conduit to the outside world.  Given our experience we know that educating one or two kids to a point where they can find employment outside of the landfill is nice but not enough.

To make a big difference we need to raise an empowered generation that can organise themselves effectively to demand better conditions and create value for themselves and their families from the many resources that abound at the dump.  And we also need to make serious improvements to the facilities in the villages.
As such BGBJ is developing into a unique community asset functioning as both Hostel and Hub - a place that serves both visitors and the local community.

For about one year now we have been working with our good friends at the Six Degrees Backpackers hostel in Cikini to build a four-bed dorm and improve the building down there.  Each week we bring groups of backpackers to the BGBJ to take part in the lessons and go on adventures around the landfill.

Check out the Facebook page here

We been lucky to have legendary English/Irish speaking teachers to lead interactive English lessons that go down really well with the kids and guests (Shout out Donal, James, Stu and all the others who have been teacher).  These lessons get mixed in with the selfie-fest that is Jalan-Jalan (walkabout) and now we also have boxing, music, smoothies, and all sorts going on in the Ship of Dreams (Courtesy of Ian B, Chris, and The Lappins/ConnectedSelf).  

Thanks to a wonderful opportunity from Rob Crocker and Chris Thornton at UniSA we even displayed pictures that the kids had taken on these days at an international photography exhibition which will soon travel to China and the USA.





These action-packed days provide a unique opportunity for eco-tourism and cultural exchange. The children at BGBJ have made friends with people from all over the world, as far away as Mexico, Africa, and many other places. Last year we had over 100 international visitors.

Each tour is different but every visitor comes away with a new understanding of scale regarding the global consumption/pollution problem and deep feeling of admiration for the people who carry out their lives in the midst of this human-created adversity. 

So far, BGBJ has been completely independent, funding improvements with our own personal savings, money generated from the day trips and overnight stays, and donations from individuals and groups.  

The graphic below shows some of the progress we have made over the past year.





Whats next?

Despite this awesome progress we recognise the time has arrived where our personal funds have run dry and in order for us to take this project to the next level we need help.

For us to be able to work on this project full time we need to establish a sustainable social enterprise that will be able to provide employment for some of the parents of the BGBJ kids and generate an income so we can continue to pay for and improve the services we provide.

Launching BGBJ style!!!

BGBJ style is the name of our brand and social enterprise, representing the funky, colourful attitude that we have down there.

BGBJ style will eventually cover a range of merchandise, upcycled products, grooming products, candles and more.

Obviously we live amongst a great deal of waste, much of which can be used to create upcycled products, so we plan on getting into all that soon.  But our first product is about something else more noticable and pressing at the dump - flies and mozzies.

Being reluctant to drench ourselves in horrible chemical repellents every week we became pretty keen to find a solid, reliable natural alternative.  We couldn't find a decent product so we decided to make one ourselves. 

After much research and experimentation (respect to Dom Harley) we have made ourselves experts on combating large numbers of flies and mosquitos, over-powering pungent smells, and protecting ourselves from little cuts and scrapes going dodgy.

For about half a year now we have been prototyping (testing on backpackers) a range of balms and candles made from all natural materials that are perfect for travellers, outdoor workers, or anyone who goes outside.

So far we have been selling the Biji Balms at the Six Degrees hostel, down at the BGBJ and in market stalls in Adelaide, South Australia - hometown of some of our team...  Big up Gareth Rick and the Hills crew! And thanks to Gillies Street market for the free stall.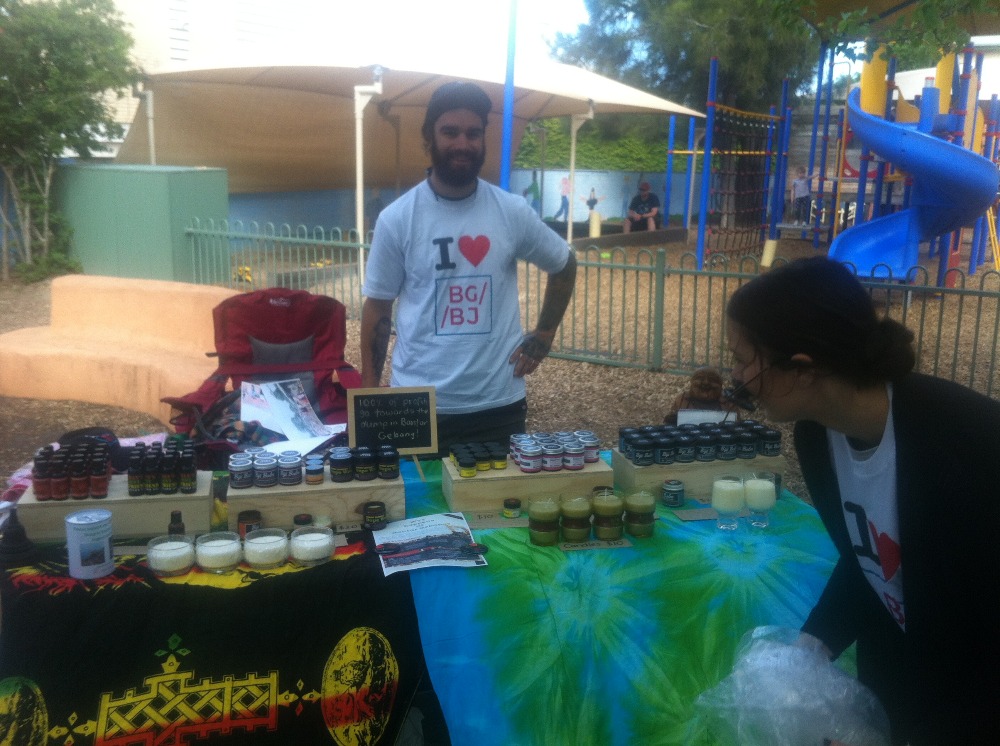 We now have a succesful recipe locked down, a design for packaging and other branding (Thanks Mel!), and a reliable supply chain of essential oils, waxes, oils, and containers.

All we need now is the seed money to get this operation up and running by purchasing sufficient stock and equipment, start training up our local team, signing up retail and hospitality partners to start selling our products, incorporating a legal entity, and building a small workshop.

What are we fundraising for?

To kickstart our 1st business on the dump and offer local employment we need the following:

- Workshop: Roof, work benches, storage, tool rack, and safety fencing to keep kids out.

- Equipment and tools: Stove tops, slow cooker, pans, jugs, measuring jugs, funnels, pipettes, storage containers

- Supplies: Essential oils, carriers oils, waxes, tins

- Labels: Already designed but needs printing

- E-commerce/legal:  Upgrading website to take orders, registering company in Australia (Thanks to Nicole and Nick at CowellClarke for helping us out so far) - COMPLETED!!

- POS displays: We need to design and print POS packaging so we can distribute orders to retailers and hospitality customers.

Whats else is happening?

We're going to get this thing scaled up as soon as possible so keep your eyes out for products available to buy in 2017.

At the same time we have several other exciting projects including the New Years visit by the Adelaide Hills Crew - these guys are gonna come over and build us something amazing on the rooftop.

We also have plans to launch a newsletter to keep everyone in touch with BGBJ and also highlight other cool things to do in Indonesia. 

And of course we will carry on with the Sunday Funday madness and keep our doors open throughout the week for anyone who wants to come and hang out.

Thanks for reading this long description...

Our unofficial catchphrase at BGBJ is.. better than nothing.

So dont be shy, even if you can invest only a little bit of money in this campaign, it doesnt matter, its all good and all going to a good cause!  If you're broke but still want to help out get in touch with us, there's plenty to do.

Any questions, just ask :)

Big thanks from Johnny Sampah, Queen Resa, Donny Nongkrong, Jimmy Iblis, Om Dave, Gary and all the BGBJ family!



(Thanks Rida and Mike for this classic video!!) 


+ Read More
Update 2
29 months ago
Share
UPDATE!!!

Many thanks to all the amazing donors for investing your precious time, love and money on BGBJ.

We've raised over 60% of our goal in 2 months, if we get $5000 by the end of this month we can finish our workshop area on the second floors, make the downstairs area completely kid and guest friendly and begin installing our vertical vegetable garden.

Help us get there so together we can make the dream comes true!

We have already switched into production mode with balms, pallets and tyres and will begin posting regular updates to keep you all posted on our progress and schedule at BGBJ.

With your help and investments since December 2016 we did some activities with the kids and also built
something new at The BGBJ, including:

* Made our first official batch of "Made in Bantar Gebang" biji balm including a special edition for the people donating on Gofundme (we are still figuring out a cost effective way to post these to people - hold tight!)
* Built 10 pillars on the roof
* Music performance and kids party with crew from Adelaide
* Printed out new BGBJ Style T-shirts for the kids
* Built new 7 meter fence/bar on rooftop with help from our Adelaide crew and the young lads from the local area
* Landscaping the downstairs chilling area ready for opening of BGBJ cafe
* Bought a decent beginners selection of tools for the pallets workshop
* Taking The BGBJ kids to swimming pool
* Making some tables, benches and a picnic table using pallets and tyres
* Taking the kids to meditation course
* 2X Taking the bgbj kids on air on national TV in Jakarta to promote BGBJ style and raise awareness of situation at landfill.

Feeling so much love right now and sending it back at each one of you!!
Thank you all so much, hope we can keep the ball rolling!

Much love,
Johnny Sampah & Queen Resa
+ Read More
Update 1
31 months ago
Share
UPDATE

Thanks to everyone who has shared and invested in our campaign so far!

We are 3 weeks in, a 5th of the way to our target, and work has already begun on building the classroom on the roof. Two local builders plus a Canadian volunteer have erected some huge concrete pillars ready for the South Australian construction crew to arrive shortly after Christmas.

Also, thanks to the heroic partying of the Adelaide Hills gang the administration fees associated with setting up BGBJ style as a legal entity has now been raised separate to this campaign. This means all the money from donations to Gofundme can go towards activities and resources at BGBJ HQ on the dump.

Please keep sharing and consider investing even a small amount to our cause.

Thanks for your attention!

MESSAGE FROM SISTER RESA

To all of our amazing BGBJ lovers around the world...

Many thanks for your love and support to BGBJ. Your investments brought something new and happiness to people at BGBJ especially to the kids who lives among the dump.

I do believe lots of amazing people out there who has golden hearts and willing to help and work together to make something cool at the landfill.

BGBJ is only one sample where people exist and live on the dump and they also have their own dreams for their future. Our part is to motivate them and help them to reach their dreams.

My words can't express my gratitude to those people who have invested their money for helping this beloved BGBJ growing at the landfill. I imagine one day the BGBJ growing with some fruits of love and we can share with everyone. BGBJ is nothing without your love and support. Again, from the bottom of my heart i say thank you very much and i wish all of you more happiness..see you at our home BGBJ soon.

On behalf of The Kingdom Of BGBJ.
Much love,
Resa
+ Read More
Read a Previous Update
Be the first to leave a comment on this campaign.