Introducing The BENTMEN Slush Fund
$500
of $2,500 goal
Raised by
9
people in 12 months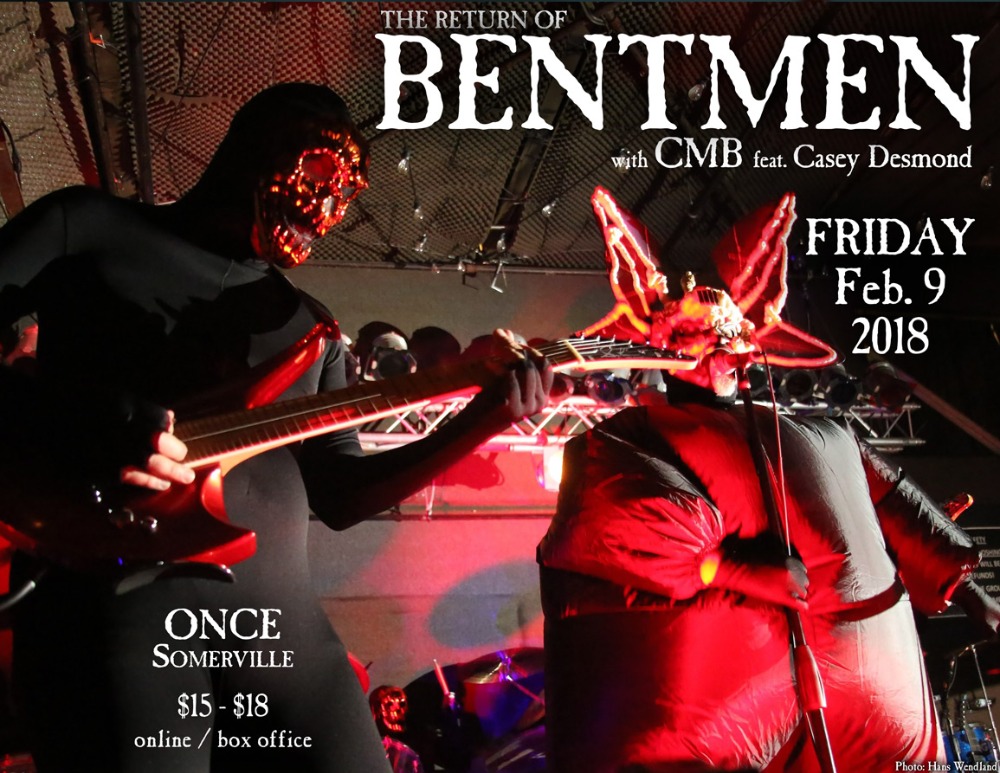 Tickets are available
HERE
from Ticketfly.
The Bentmen -- the legendary Boston ensemble known for apocalyptic live shows that unleash a sonic and visual mashup of tribal alt-rock and theatrical performance art -- reunite for their first full performance in 11 years at Somerville's Once Ballroom on Feb. 9.
The band is launching The Bentmen Slush Fund on GoFundMe to help bring even greater outrages to the stage and into your face.
It's a momentous occasion, and the band aims to make it as artistically unsettling as possible.  The Bentmen have always maintained tight security around their process, but it's true that any project is defined by its  resources.
The Bentmen will put on a show for the ages, even if it were entirely made of duct tape. But a Slush Fund will give us the power to do MORE! More lights! More cameras! More action! More help with travel expenses for certain former members who live in other parts of the country!
In return, we are offering some rare baubles from Tooky's Basement at The Magic Room as our way of saying be careful what you ask for. If you can't join us in person and want to contribute anyway, just enter any amount you like.  EVERY donor will have their name listed in the credits projected onstage at the end of the show! We appreciate every red cent!
Founded in 1984, the enigmatic group wreaked havoc across the local music scene into the '90s and '00s, playing venues from Chet's Last Call to the Institute of Contemporary Art -- and leaving tens of thousands at the Mass-Cann Freedom Rally on Boston Common dazed and confused by the band's provocative presentation.
Every Bentmen show is a one-of-a-kind event incorporating new stage designs, props and costuming, and the Once show will incorporate a broader group of alumni/guests. The band also plans a Bandcamp re-release of PATIENT ZERO -- which includes guitars from former band member Reeves Gabrels (David Bowie, The Cure) and guests Adrian Belew (King Crimson, Talking Heads) and David Tronzo (Lounge Lizards, Club d'Elf) -- to mark the recent 20th anniversary of that album, which includes such classics as "Swanee" and "Bloody Benders."
The group last appeared onstage for a stripped-down 2014 set at the Brighton Music Hall, joining such other reuniting bands as the Flies, Men & Volts and Anastasia Screamed in one of several shows that celebrated college radio station WMBR's Pipeline! At 25: 50 Years of Boston Rock.
Bentmen progeny Casey Desmond will open the Once show, sharing the stage with her parents for the first time. Casey has recorded with bassist Tony Levin (Peter Gabriel, King Crimson) and performed for 14 million viewers on the inaugural season of NBC's "The Voice." Her newest project, CMB, explores the darker side of electronica with a wall of lush grooves and hypnotic vocals.
"Long before Blue Man Group, there was Bentmen!" -- The Boston Globe
"One of the most outrageous rock shows in the country!" -- The Village Voice
"Excellent musicianship… supremely weird stage show!" -- The Boston Herald
"Even I wouldn't wear what those f***ers were wearing!" -- Steven Tyler
To hear some music,
VISIT OUR WEBSITE
!
+ Read More