5
7
beJOYed Art and Design Studio Naples Florida
$1,752
of $60,000 goal
Raised by
5
people in 1 month
For those of you who do not know me, I am an artist and designer.  To see more of my work visit 
www.robinjoy.com.
Here is my story and just so you know, we have some beautiful gifts for you when you donate! See photos of them on my blog -
http://www.robinjoy.com/blog-forte/
In a flash moment, many years ago, I had an out of body experience. I knew at that moment why I was here in this human form. My life was to be an expression of the love that is inside me and my life purpose was to bring a moment of Joy to those lives I touch through what I create as an artist.
For the past 20 years, I have created a body of artwork, the core being my miniature drawings of characters and patterns. Combined together, I have created a whole world where the art is on everything from note cards to books to couture clothing. Having had a gallery in NY City and Naples Florida, and a major one woman exhibit at the renowned museum just outside Paris, the La Musee de la Toile de Jouy, I have returned to Naples to partner with a dear friend and colleague Marilu Holmes.
Marilu is an accomplished artist, writer, filmmaker, dancer, and graphic designer. She's owned a Naples based print shop, for over 14 years with rave reviews for her impeccable work.
I met Marilu 5 years ago through Tango (we share a mutual passion for this dance) and through working together our friendship and business relationship grew. We have now decided to form a partnership combining our talents so that we can bring forth our passion to bring beauty and JOY into the world and then give back through charity.
If, for a moment in time, we can evoke pure JOY through the images and words we present, a moment when the viewer's soul is touched, when the light of Joy shines in one's eye as they discover the miniature worlds within worlds of incredible detail and fine line in the art, we have done our work.
We are looking to open a "beJOYed Art & Design Studio" in Naples, Florida. We believe that the combination of our complimentary talents and ability to customize work for clients will be hugely successful with interior designers and galleries, not only in Florida but throughout the US and worldwide.
We'll also be a place where people can connect to each other through art, a cup of tea or coffee, a healthy sweet, and wonderful conversations. In this high tech world we live in, people are isolated and lonely. There is a huge need for human connection and we want to provide a beautiful environment for people to browse, talk and feel a sense of wonderment and Joy as they experience the art and the products that the art is on.
It has been my dream to someday have my own charity foundation to help older woman at risk. I felt years ago there would be a major increase in their numbers never thinking I would be one of them. I know the shame we all feel being in this position at this stage of our lives. Most women at risk are too embarrassed to talk about it until they are on the street homeless or living out of their cars and desperate. But when I opened up and shared my experience, they felt they could do the same. This is a cause very close to my heart and that's why we'll donate 10% of our proceeds to the Women's Foundation of Collier County.
At this stage of my life I'm not ready to give up because I've witnessed the joy and hope that my art has brought to others. By helping us, you are making it possible to continue our work of giving back to the community and building a more beautiful, Joy filled and loving world for all.
It would be much appreciated if you could please forward this to your social media family to help us extend our reach.  We thank you in advance for all your support and any help you can give.
"beCourageous, beKind,  beJOYed!"
+ Read More
Update 2
9 days ago
Share
Hi everyone! We are so excited to announce our first sale today after launching our online shop yesterday as well as new donors to our Go Fund Me campaign! Thank you all for your support and for sharing us with your FB friends. Take a look at our first capsule collection of T-shirt's and leggings at
www.robinjoy.com
in the beJOYed Art and Design Studio.
+ Read More
Update 1
24 days ago
Share
Time has come for the next stage of my work as an artist. With my dear friend and colleague, Marilu Holmes, we're running a Go Fund Me campaign to open the 1st "beJOYed Art and Design Studio" in Naples FL, AND to eventually support senior women at risk by giving 10% of the store's proceeds to the Women's Foundation of Collier County.
Together, Marilu and I can create anything—small, large and custom size wall art, large murals, any color way you would like… on canvas, archival watercolor paper, metal, wall covering, you name it. Every piece is derived from my original artwork that is hand painted or drawn. Soon we will have our online boutique up as well.
You would help us tremendously by donating, even if it's a small amount, BUT ESPECIALLY by spreading the word. You can do all of that at gf.me/u/nsbrc4
As a token of our appreciation to our donors, we'll gift:

$10 to $50 - 3 repositionable fabric stickers with Robin's artwork.

$51 to $100 - 4 limited edition hand signed note cards by Robin Joy.

$101 to $200 - 1 hardcover book "Birds on a Wire" hand signed and numbered by the author, Robin Joy.

$201 to $500 - all of the above

$501 and up - all of the above and a hand signed limited edition print on archival watercolor paper.

In advance I want to thank you all for your years of support.
beCourageous, beKind, beJOYed…
Happy Thanksgiving!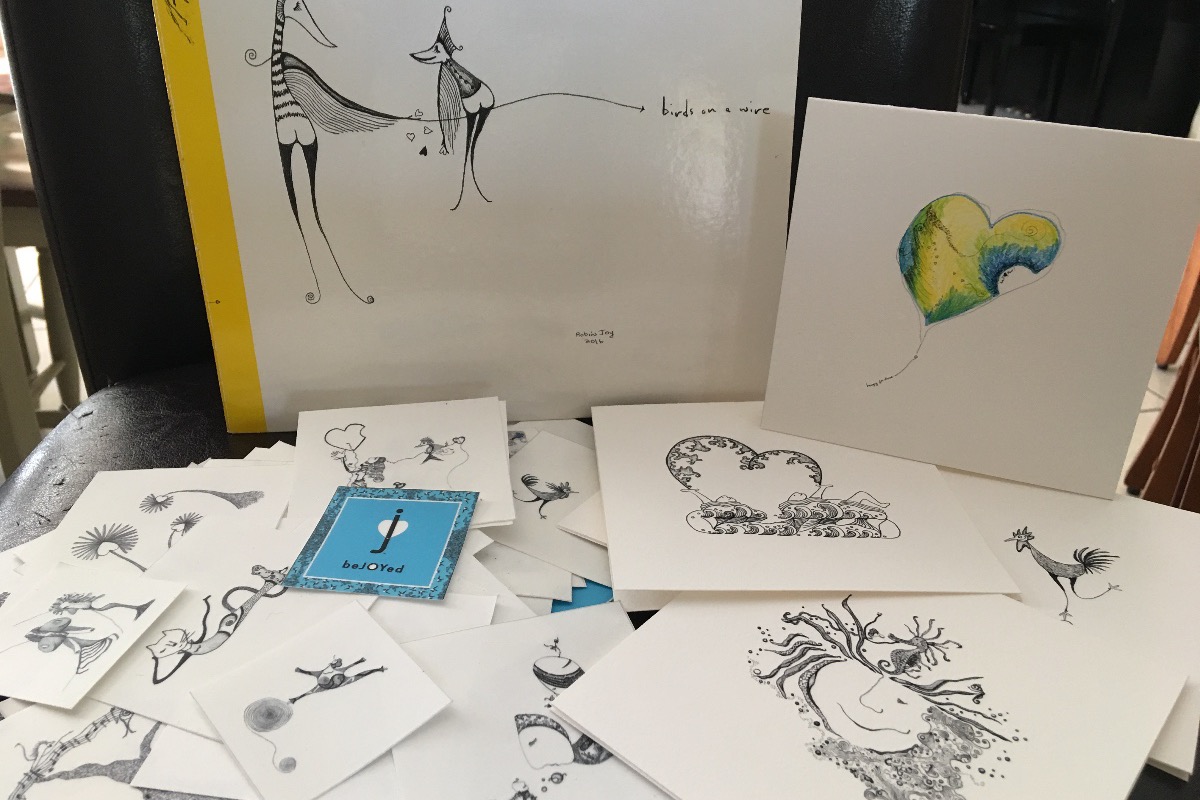 + Read More
Read a Previous Update