29
14
Bee Sanctuary Lost in Creek Fire
$11,360
of $80,000 goal
Raised by
29
people in 12 months

With heavy hearts, we are saddened to say that on December 5, 2017, our honeybee sanctuary burned down in the Creek Fire in Sylmar, CA. One of the worst fires in California's history, which has left thousands devastated, with the loss of their homes and so many animals. Multiple fires broke out in SoCal, within a couple of days of each other and one is still burning terribly, and is only 40% contained. My name is Nicole Palladino and I'm the founder of Bee Catchers and the Beequilibrium Foundation. We are located in the San Fernando Valley in Southern California and have been removing and relocating bees for close to 17 years. We lost 118 hives, and all of our equipment that our non profit, the BeeQuilibrium Foundation, raised to be able to make this dream possible. Many years of hard work went into building this foundation into a working and thriving sanctuary.
We help farmers pollinate their crops by delivering bees throughout California during different times of the year. California is our nations leading farm state, and is home to over 100 vital crops of fruits and vegetables. We were on our way to pollinating so many more California crops, from berries, avocados, alfalfa and stone fruits. We would have had more than 400 usable, healthy, established hives for pollination by the end of next year, separate from all the hives we donate weekly from our removals, to people like urban beekeepers, smaller local farmers, beekeepers that have lost their hives, etc. We lost our honey production equipment and a lot of other equipment for our removals.
From our company Bee Catchers, which has been removing and relocating unwanted bees in SoCal for almost two decades, we wanted to expand our giving capabilities and the BeeQuilibrium Foundation a 501(c)3 non-profit, was created a few years ago, which receives the rescued hives and works to keep these hives healthy and to put them back into the comminities, where people can and want to care for the bees. We've been teaching the public about the importance of the honeybee to adults and children for many years. We have setup thousands of hives throughout California, for residential and commercial properties. This was so much a part of our everyday life. We had over 200 new hive boxes ready to receive our rescued bees come spring. Everything happened so fast, there was nothing we could do. We were the first ones hit when the fire broke out around 4 am on the 5th. A fierce windstorm sent the fire ablaze and there wasn't much that could have been done during those first 12 hours. There was no way to get in to move and save the bees. The sanctuary was located on a four acre parcel of land that was gifted to the foundation to use, while we raised enough funds to be able to purchase it. It was a dream come true. We do not live on the property and we got a call at around 5 am, from a facility owner very close by, to tell us that there was a fast burning fire coming their way. Never in a million years would we have thought this could have happened. I know once the temperature reached around 140-145 degrees inside the boxes, that the hives burned quickly, because once the wax inside catches fire, there's no way to stop it. It's a fire starter. I don't have the words to express how all of us feel and I can't stop thinking about all of our beautiful bees we lost. Millions upon millions of .
Our non profit, the BeeQuilibrium Foundation is a non profit 501(c)(3), that works to preserve natural resources, save farmlands and protect pollinator habitat. We are setting up this campaign to raise awareness about the bees and to hopefully help us start to rebuild. The reality is... we just can't do it alone. There's been so much going on since the fire, that we are just starting to feel the impact from it all. Please share the campaign for us and please know that any bit of help is MORE than appreciated and will be remembered forever and ever. Any contribution or donation is 100% tax deductible. The tax information for the foundation will be listed at the bottom. It took us many years to finally make our sanctuary a reality and we were on our way to the sanctuary being a place for learning, relaxing, research, field trips, internships, inner alchemy and everything in between. All funds raised will help purchase new beekeeping quipment, supplies like wood for new boxes, top and bottoms, new wax frames, feeding equipment, and materials for the removals and relocation for the bees, so we can try to be ready to go as soon as possible. We lost our centrifuge for our honey and all of our stainless equipment which we need to replace. The funds will help purchase new blocks and the materials needed to build the foundation that we keep our bees on, as they are elevated off the ground to help against pest infestation and weather. Anyone who keeps bees, knows it's not an inexpensive hobby at that. We will be looking for some new land, but it's tough to find. This location was PERFECT that we had, and it took us over two years to procure. I know in my heart, we will rebuild, it's just going to take a little longer and we will need some help. Thank you for taking the time to read this.... we love you for it and so will the bees. Bee safe... bee happy.... bee strong.... bee resilient. ❤️❤️❤️
BeeQuilibrium Foundation Non profit 501 (c)3Tax ID 81-1703825
Love teaching 

Story on us from the Los Angeles Zoo
Teaching kids about bees during pollinator week at UCLA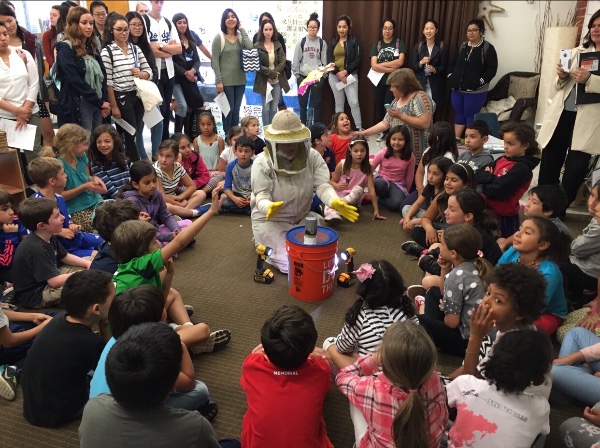 Beeutiful healthy hive relocated from an apartment building in Los Angeles. 
You can visit our website for Bee Catchers, Inc., at  
www.BeeCatchersSoCal.com
‌
Beequilibrium Foundation at  
www.BeeQuilibriumFoundation.org
‌
Some pages on the foundations site is under some construction, but will be updated as soon as possible. 
Our Facebook page is:
Bee Catchers Inc Live Bee Removal
and Twitter
@BeeCatchers


Very large, gorgeous hive saved and relocated from a Metro freeway overpass in Long Beach, CA 
Saving bees from a roof structure 
+ Read More