34
5
Support Bartu's Historic Debut
€10,412
of €24,000 goal
Raised by
39
people in 12 months
About Me
"Still very young, only 14 years old, the violinist Bartu Elci-Ozsoy is one of the most promising artistic prodigies, already gifted with impressive maturity… the young violinist also composes ... and dreams of becoming a great conductor. With enthusiasm and commitment, his passion and talent know no bounds."
ClassiqueNews, December 2017
This is how French magazine ClassiqueNews introduces me in a recent
article
…
I am studying music in Paris, where I was invited, due to my talent, two and half years ago. I have been
playing the violin each and every day of my life for ten years and composing for nine years
. Music has always been the center of my life. Ever since I was little, I have always loved classical music and dreamed of becoming
a great violin virtuoso, a great composer and a great conductor
. When I first started to speak, my parents remember I said my first full sentence as I was listening to a work of Beethoven (Six Variations, Op. 76 for orchestra): "
this piece smells like a flower
." I remember taking my classical music CDs with me everywhere and listening to them all the time, unlike other kids who would take their favorite toys. I also remember I was always saying, "
my head is full of music and I just can't stop it
".
For you to know me better, let me also share with you the words of Mr. Alexis Galpérine, soloist and professor of the Paris Conservatory. He describes me as "
… one of those exceptional talents that reflect the infinitely mysterious powers of music, precisely because they reveal themselves in all their innocence. This child prodigy, in fact, far from being just an entertainer, moves us by a sort of ageless wisdom and by his way of naturally appropriating the highest human aspirations. It is certainly his ability to pick up all of his being in his art, cultivated every day as a vital and divine thing, which immediately strikes at one's ear. And I do not doubt that the promise of the dawn that constitutes his playing will be received by the public as a precious gift, able to revive the flames of confidence in the future.
"
Je vous propose de lire mon interview ici pour mieux me connaître.
Why Crowd Funding?
When I was interviewed by journalists a few months ago, I told them about my dreams… The dreams that I hoped would come true when I grew up… Maybe in ten years or more… But a MIRACLE has just happened!!! A miracle so unbelievable and so awesome!
Very recently, Mr. Dominique Fanal, the principal conductor of Sinfonietta de Paris, offered me an
breath-taking opportunity
shortly after I was introduced to him: to appear as
a soloist, conductor and composer at the same
time in a concert setting with the orchestra. He plans to organize two concerts like this in Spring 2019, which will also include the world premiere of my Symphony No.1: the first concert in Le Mans and the second in Paris. Below is his letter in French and in English.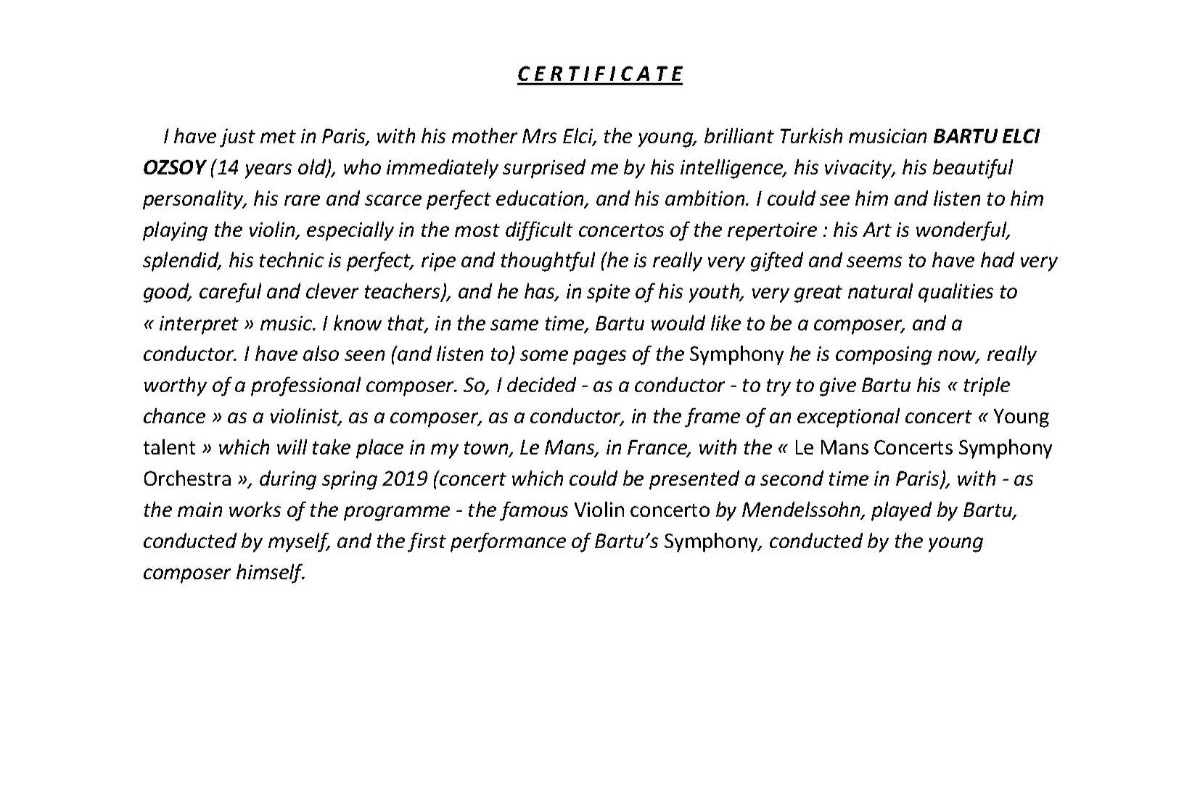 I believe that when I make my debut with these two outstanding concerts, it will be
a huge step in my career
. I want to build a brilliant career
to bring joy and hope with my music
, and to use my status for
good causes to improve lives
. For example, nowadays I am very much concerned with children's (UNICEF says "in the least developed countries, around one in four children are engaged in labor") and women's rights (I am shocked to learn women earn 25% less than men doing the same jobs even in developed countries), as well as climate change and pollution which threatens billions of lives (scientists say 90 percent of seabirds are eating plastic trash due to pollution in oceans). Even if music makes me most happy, these issues are making me just as sad.
My "Historic Concerts" is a project that involves 40+ musicians and requires a considerable amount of preparation. Mr. Fanal has generously started giving me conducting lessons (for free), and I am working hard on my symphony and on Mendelssohn's beautiful concerto.
These two exceptional concerts will be extras in the next season's program. Although Mr. Fanal is kindly covering nearly one-third of the expenses from other sources, I need funds to realize the other two-thirds. So,
I need your support
.
The funds to be raised here will be used to cover the cost of the orchestra (rehearsals and concerts with 40 musicians, and their transportation), for rent of the concert halls in Le Mans and in Paris, and for rent of some of the instruments, as well as miscellaneous expenses like publicity and score printing. The total budget requirement is estimated as 33,390 euro and I need to raise a total amount of 24,000 euro. All your contributions will go directly toward the project. If the total amount of funds collected exceeds the required amount, I will use it for my education and other concert activities (financing private lessons, conservatory fees, master classes, accompanists, violin and bow maintenance,…).
With sincere thanks from the bottom of my heart for all your support!!!Merci à vous tous, du plus profond de mon cœur!!!
Bartu
P.S. To help me get the word out, please share my link on your Facebook Timeline and on Twitter, etc.
Rewards
Unlike other crowd funding campaigns, I decided not to propose a range of rewards to my supporters, as I believe it is important for me to invest my time in my studies and preparations.
I will, however, build a "
Wall of Supporters
", a dedicated page on my concert website, to express my special thanks
to all my supporters;
 will send an
Autographed Copy of my Symphony No.1
after its first performance in 2019 to those supporters who donate
1,000 euro
, and a
Dedicated First Edition of my Symphony No.1
to those who donate 
5,000 euro or more
to my campaign
+ Read More
Update 1
8 months ago
Share
Hello,
Conducting lessons with Maestro Fanal are going great and all other preparations are underway... Thank you so much again for your highly valuable support!
Sincerely,
Bartu
+ Read More