Ballet Teacher for African Children
$8,416
of $18,000 goal
Raised by
52
people in 16 months
My goal is pretty simple.  I want to bring a talented young African ballet dancer, aged 17, to Australia so she can embark on full-time training to equip her with enough skills to return home and become a dance teacher for her community.  She will attend dance lessons at my studio each day as well as studying for a teaching practice with highly regarded Examiner and Teacher Karen Malek.
My name is Josephine Woodberry.  For 20 years I have run my ballet school,
Brunswick School of Dance
, in Melbourne Australia.  Many beautiful children have passed through the doors.  Dance has given them joy, discipline, confidence and love.  It stretches possibilities, allows dreams to come true!
So when I heard about gifted young dancer Perla Anthony, living in poverty in West Africa, and her dream to become a ballet teacher, my heart broke.  Here was a girl with passion and talent, but with no access to high school let alone ballet lessons.
In 2016 I raised $2,300 to send Perla back to school.  The campaign was called
Promise with a Pirouette
.  Thanks to the generosity of the Australian dance community, she is currently in her final semester.  A young woman empowered by education.
'I must tell you that being back to school is having half of my dreams accomplished. I am so excited and full of life returning back to school. Is like my hope is alive. I called it a miracle! This positive energy has helped my studies a lot.' - Perla Anthony
Perla's advocate is her local church leader, Pastor Davids O'Keah.  I have come to know Pastor Davids and his family as dear friends through this project.  His work is tireless, far reaching, driven by hope for change.
'Perla's story connects with pains and frustrations prevailing in Nigeria. In the midst of frustrations one has to give hope and help people connect with the brighter side of life. 
'Perla is an intelligent girl and can be a great ambassador for Nigeria, an ambassador of hope.' - Pastor Davids O'Keah
For over 1 year I have been sending filmed ballet lessons to Perla. Pastor Davids and his wife Rita helped Perla to facilitate holiday dance classes for the local children.  My lessons were projected onto a large screen in their church hall. At the end of the holidays an emotionally charged concert was staged. I only wish I could have been there!
'The people here love to dance as dance gives them hope or they dance away their sorrow and pains. There are no organized ballet dance schools here. The people love ballet.' - Pastor Davids O'Keah
It is not going to be easy, we need $18,000 by January 2018 to make this a reality.  The funds will cover –*
Return airfares Lagos to Melbourne
$2,500*
Homestay accommodation, 1 year in Melbourne
$13,000
. Homestay through
Ozhomestay
or similar organisation.
*
Fares, pocket money for 1 year
$2,000*
Student Visa, medical, sundry costs
$500Note -
All dance tuition costs, dancewear and related costs to be donated by me! (Josephine Woodberry, Brunswick School of Dance). 

Formal academic teacher training facilitated and donated by Karen Malek (8 hours per week).  

Dance schools create community.  Ballet teachers educate the human spirit.  Your gift will change lives.
'I see myself reaching out to others in Nigeria with ballet. The pains I go through everyday is not remembered anytime I step into my world of ballet.
'Please do not let my dream die.' - Perla Anthony
..................................................................................
Giving
-
$50
 buys a week of food at Perla's home stay.
$100
 buys 10 weeks of internet access for Perla's studies.
$150
buys books and stationery for Perla's studies.
$200
buys 2 months of public transport fares.
$300
buys 1 week of home stay accomodation, all meals and private bedroom included.
$500
pays for Perla's Student Visa.
Want to give in other ways? Consider becoming Perla's host family for a minimum 2 month period. Donate by giving her free accomodation and meals in your home! (Applicable to people living in Northcote or surrounding suburbs).
.....................................................................................
To thank you for your donation you will recieve:
$50 - $100
  Special 'Thank You' Fridge Magnet.
$101 - $500
 As above plus 'Thank You' Certificate of Appreciation.  
$501 - $1000+
 As above plus performance tickets to see Perla dance at a BSOD Concert (travel and other expenses not included).  
***
Donate accomodation and receive all the above thank you gifts.
.....................................................................................
Authentication Documents -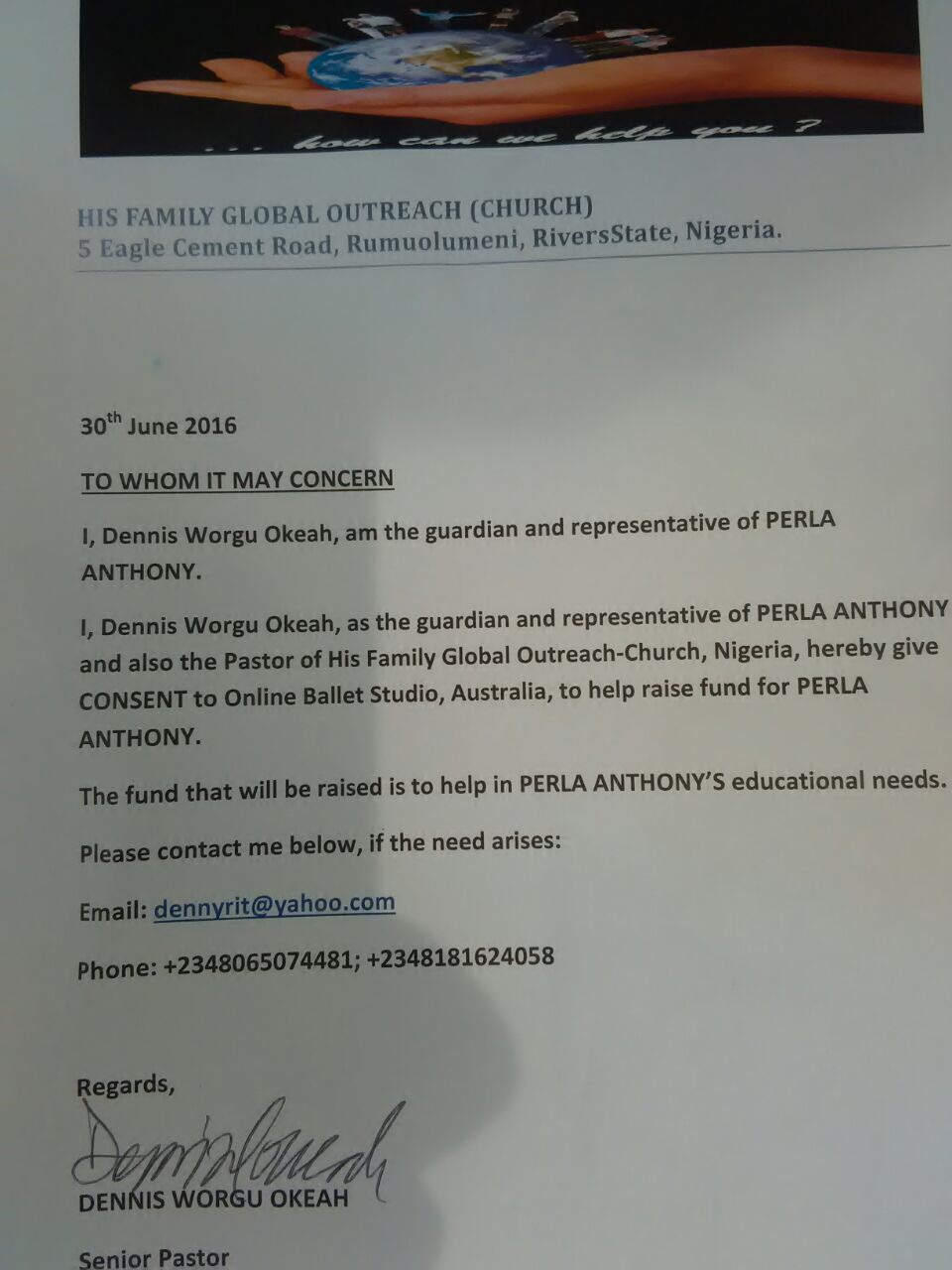 + Read More
Update 2
1 month ago
Share
Dear Donors,

I am writing with another update about this project. It's been a tough start to the year with Perla's Tourist Visa being rejected for no good reason other than "ballet lessons are the same as work".

Following this disappointing outcome I sought the advice of an immigration lawyer. He suggested seeking sponsorship from a member of parliament and resubmitting another tourist visa application. Unfortunately, despite visiting 3 local politicians, I have discovered that no politician will put their name on a sponsor form for fear of legal implications.

As the difficulties have unfolded, there has also been quite a bit of press coverage about tightened regulations for African visas in particular. Very unfortunate timing for our campaign.

I have been in constant contact with Perla's advocate Pastor Davids and we are currently investigating alternative options for Perla's future. One idea is to have her travel to South Africa for dance training.

In any case, we hold Perla's wellbeing as our highest priority. We do not wish for her to place her life on hold while she awaits lengthy and expensive visa decisions which will most likely be another negative outcome.

And so I am writing to let you know that the money raised may well be put to a different use. I am proposing to donate the funds to His Family Global Church in trust for Perla Anthony's future. Pastor Davids, in consultation with me and Perla's family, will determine the best use of the funds to secure a positive future for Perla. This will take the form of training, future employment and hopefully dance and teacher training within Africa.

Because the specific use of the funds has now changed, I would like to give you the opportunity to request a refund. Should you wish to receive your money back, please reply to this message or contact me at josephine.bsod@gmail.com

With warmest wishes and thanks for your belief in this project, Josephine
+ Read More
Update 1
4 months ago
Share
Hello everyone,

I'm writing with an update about our campaign for Perla Anthony. But first, thank you again for your kind and generous donations for this excellent cause and beautiful young person.

In July/August last year, some of the funds were put to good use for Perla to obtain her passport, biometrics and health checks. In September, I submitted Perla's Visa application. As she is ineligible for a Student Visa (not studying at a CRICOS registered institution) we applied for a Tourist Visa instead. This Visa seemed to be the best fit for her reason for visiting Australia. The time frame indicated a 2 month processing time. In fact, it has taken much longer and I only received the decision yesterday...5 months later!

Very unfortunately, her Visa has been declined. The reason given is that dance lessons are the same as 'work' and so a Tourist Visa is not the correct one. We are all very surprised and disappointed with this news.

However, we will not give up! We are investigating alternative Visas through an Immigration Lawyer in the hope that there is a suitable one for Perla. It will mean more waiting time though, possibly a fresh start for Perla's time in Australia to commence in January 2018 so that she may benefit from a full year here.

Should things not work in our favour, then please rest assured that the money you have donated will be put to very good use. I will ensure that your donations will be utilised to benefit Perla, her future, and the future of children in her community.

Perla is doing well, she remains hopeful and has the support of her family and friends.

Below is a breakdown of expenditure to date (AU) -

Visa agent $187
Identity cards (parents) $312
Certifications $375
Biometrics/health check including travel costs $1400
Visa application $140

Please stay tuned for updates in the coming months.

Warmest wishes and thanks, Josephine
+ Read More
Read a Previous Update
Be the first to leave a comment on this campaign.