304
5
Knee Surgery - Back to Walking - Mountain Accident
€24,500
of €23,000 goal
Raised by
297
people in 7 months
Hi, 
I'm Tim, a Sports Scientist and Mountain Ultratrail Runner from Germany...
Back in June 2018, while training for the Tor des Geants I had a terrible accident with a 150-200m drop in the Karwendel mountain range.  One misstep, which turned my life upside down and left me with a bunch of serious injuries.  Polytrauma with broken neck, shoulder, hands, knee, foot and luxation of shoulder and hip plus neurological problems! Rescued by helicopter I went through three clinics (Innsbruck, Murnau, Bad Heilbrunn) and really am lucky to be alive...
Since I woke up from coma I'm working hard every single day to get back on my feet, get back to my job as a sport therapist and hopefully back into the mountains. Overall things improved a lot, but unfortunately some disabilities seem to be permanent if not adressed accordingly soon. Every step hurts! As a Runner and Sport Scientist (working as a trainer) being able to walk without a limb is crucial. Currently this isn't possible because of pain, malposition and severe limits in range of motion of my right knee. Although I really give it my all with additional therapies and training - without complex surgery I'll be forced to live with it or face a knee prothesis at the age of 35.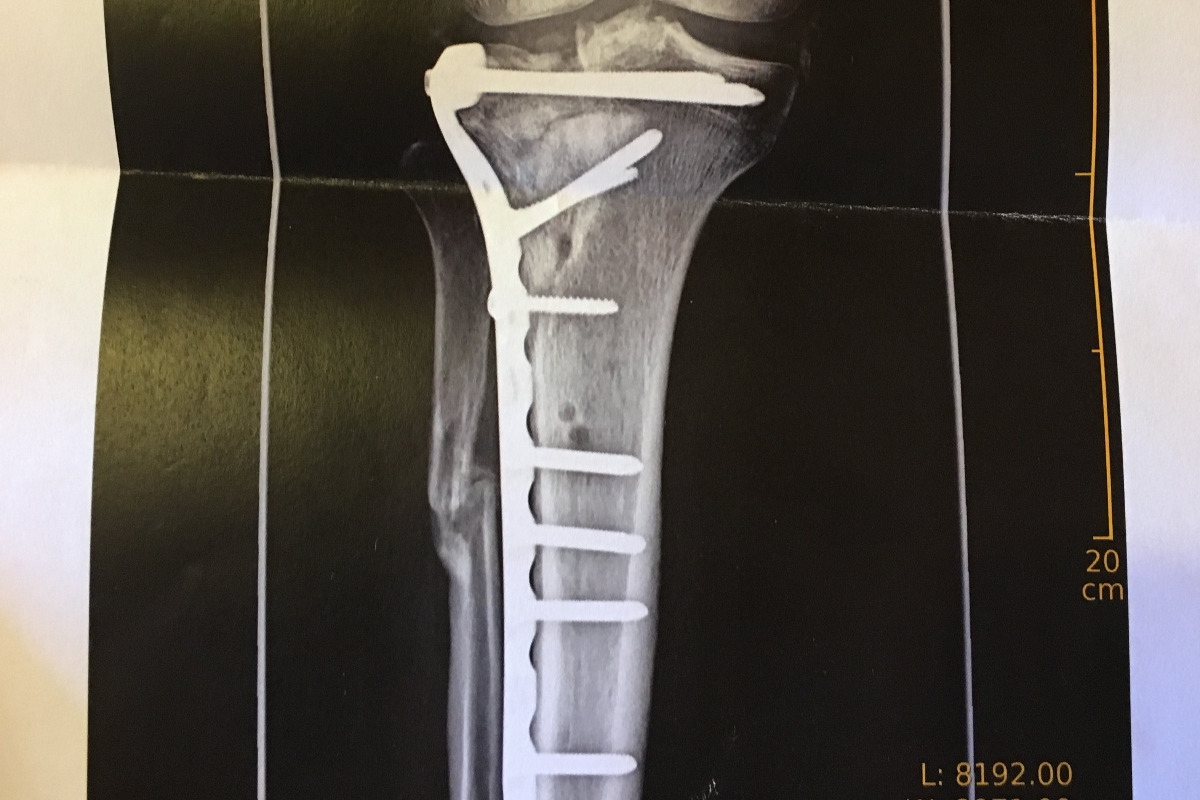 I'm lucky that I found a specialist who is confident in fixing my knee, but unfortunately my insurance company will not cover all costs for this urgent surgery which will take place on december 20, 2018.
I feel kind of helpless and lost in the german healthcare system. You always have to fight for everything. Don't get me wrong - I'm really thankful that I'm alive and that they put me back together, but just being alive never was enough for me. I'm determinded to never give up on my dreams. I found an opportunity which will give me a good chance being able to walk again, ride a bike, maybe even run...and just because it'll take place outside of Germany, the insurance company won't pay!
Thus, I'm asking for your help!
To be honest, this is a hard one for me. I'm pretty aware that there're a lot of bigger problems in this world, nobler causes and/or other people with problems far worse than mine...and everyone is asking for help this time of the year.
Nevertheless, being in motion is my life! Since I was a small child moving (in nature) was a fundamental part of me and my well-being. Today it's my career - job and semiprofessional runner. That's why I'm going public with this hoping for your help...every penny counts!
Thanks for your attention and help!!!
For my story & to follow my journey, please click here: 
https://www.instagram.com/timwortmann/
+ Read More