83
6
Ayudemos a Elias / Let's help Elias
$5,415
of $15,000 goal
Raised by
83
people in 4 months
ENGLISH VERSION (en Español luego de la version en Ingles)
We are asking for your donation to help Elias Perez Ramirez, a 9 years old kid from Isabela, PR that was born with cerebral palsy, peptic bleeding ulcer, have had a heart surgery, osteomyelitis, and depends of a mechanical feeding system, tracheotomy and nasogastric tube.  Before Hurricane Irma and Hurricane Maria, there was going to be a fund raising event to help raise funds to cover Elias needs.  This event was cancelled due to the hurricanes and today he needs our help.
During the hurricane, Elias and his dad had to go to a shelter in order to have power to operate all the necessary living support equipment.  There were not able to go back to their home due to the lack of power and while there the generator of the shelter stopped working and he was airlifted in the US ARMY helicopter to the San Juan PR main hospital (Centro Medico). While watching this video, that was going around in social media and without having any previous relationship with them, we decided to contact Guilberto Perez, Elias dad to ask what he needed.  During that call Guilberto let us know that he has been taking care of Elias by himself since he was born.  Guilberto only asked for help to be able to bring Elias to Orlando, FL so Elias can receive a better care given his conditions. Just through a few phone calls, we realized his humbleness and that he needed someone to help him.
Since our first conversation with Guilberto we have been working with various organizations that will be providing the necessary help to them. 
Today, thanks to Patient Airlift Services (palservices.org), Guilberto and Elias were transported to Orlando, FL.  A MILLION THANKS!!!!
All money raised will be deposited in his account at Chase Bank.
We count with your support and may God bless your generosity!
ESPANOL
Hoy quiero pedir tu ayuda para Elías Pérez Ramírez, niño de Isabela de 9 años con perlesía cerebral, ulcera péptica sangrante, operado del corazón, y operado de osteomielitis, y depende de un alimentador mecánico, traqueotomía y tubo nasogástrico.  Antes del Huracán Irma y el Huracán Maria, en el pueblo de Isabela, PR se estaría celebrando un pasadía familiar en pro-fondo Elías.  La actividad tuvo que ser cancelada por tales motivos y hoy Elías necesita de nuestra ayuda.  Elías estuvo junto a su padre durante el huracán en un refugio donde el generador dejo de funcionar y  fue aerotransportado por el US ARMY a Centro Médico en San Juan, PR.  Viendo el video de su traslado y sin conocerlo decidimos contactar a Guilberto Pérez, papá de Elías, para preguntarle que necesitaba para Elías. Guilberto nos contó que es padre y madre desde su nacimiento y solo pidió ayuda para traer a Elías a Orlando donde tendría asistencia con sus cuidados. Sin conocerlo y solo por algunas conversaciones telefónicas nos dimos cuenta de su humildad y de que necesitan de nuestra ayuda para costear sus gastos médicos en San Juan, PR y cuando sea trasladado a Orlando, FL.  
Hemos estado trabajando con varias organizaciones que estarán haciendo el traslado a Orlando, FL.
Un millon de GRACIAS a Patient Airlift Services (palservices.org), por transportar a Guilberto y Elias a Orlando, FL. GRACIAS!!!!
El dinero recaudado irá directamente a la cuenta de banco Pro-Fondos Elías Pérez Ramírez en Chase Bank.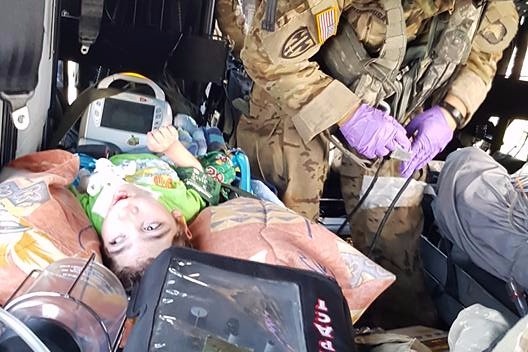 Cuento con ustedes y que Dios múltiple su generosidad! Dios los bendiga!
+ Read More
Update 1
4 months ago
Share
Thanks to all that have contributed to Elias and his dad. Thanks God, Elias started getting the treatment that he needs. Guilberto is very grateful with all the support received. Continue sharing so Guilberto continue getting some monetary help for their day to day expenses.

Gracias a todos los que han contribuido con Elias y su papá. Gracias a Dios, Elias comenzó a recibir el tratamiento que necesita. Guilberto esta muy agradecido con toda el apoyo recibido. Continuen compartiendo el link para que Guilberto siga recibiendo la ayuda monetaria que necesita para sus gastos diarios.
+ Read More