Ayden Carter's 10th Birthday Party
$300
of $275 goal
Raised by
13
people in 40 months

Hi! My name is
Jolie Abreu
 and I am the Director of Development for
crowdFunnit.
Our second crowdFunnit birthday party is for soon to be 10 year old Ayden    Ayden is an amazing child who is having trouble making friends.  His mother Rebecca says  "It's heartbreaking when he comes to us just about every day saying he's so lonely. He says everyone thinks he is weird and he has no friends." 

Party:  Sunday, October 4th , 2015
12:00pm – 4:00pm Falling Creek Park 1257 Country Farm Rd Bedford, VA 24523  RSVP here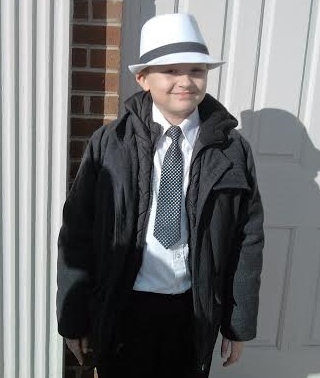 Ayden has been diagnosed with autism, ADHD, and sensory processing disorder.  His one friend at school is his counselor who tries to help teach Ayden how to socialize .   Outside of being with his counselor he spends his days at school alone.
Ayden has a loving, close knit family who tries to help him socialize by involving him  in numerous activities.  His mother says, "We throw Ayden a birthday party every year inviting multiple kids and only one little girl shows up every year. It breaks our hearts as his parents to see him upset and hear him talk about how he feels so alone."
Ayden recently attended the birthday party of
Daymien Manus
, a 10-year-old autistic boy who celebrated the milestone with a
crowdFunnit party
, inviting the community to join in the celebration.  He was so excited to meet another child that was like him, and he had so much fun at Daymien's party.  His dream it to have one that is just as amazing!   
Ayden loves music and dancing.  We are looking to raise 275 to cover basic birthday party costs, and perhaps to hire a DJ so everyone can join in
Ayden's birthday dance party
.  
Every dollar helps and any money over our goal can also go to help other children in need of support. Ayden's party is coming up soon and more than having a super fun dance party for his birthday,  he hopes that friends show up.  Sunday, October 4th , 2015 12:00pm – 4:00pm 
Falling Creek Park 1257 Country Farm Rd Bedford, VA 24523
RSVP here
 More information about Ayden can be found on the crowdFunnit website, and you can RSVP Here and also send a Happy Birthday message to Ayden who keeps checking the wall!
crowdFunnit Foundation, is organizing to be a 501(c)3 nonprofit devoted to building friendships, while reducing bullying and alienation through community supported birthday parties for friendless children.
Children all over the world, including your neighborhood, go year after year without anyone showing up to their birthday parties because they are either alienated, bullied or both. Founded by members of the Cherab Foundation along with like-minded souls who simply care, crowdFunnit fosters acceptance and compassion for those children that need a little help making friends. Following on the heels of Camden Eubank's successful "open-invite" birthday party in the summer of 2015, the pending 501(c)3 nonprofit for the crowdFunnit Foundation was created, serving as a proactive measure to help these celebrations come to life.
Having friends helps build confidence and self-esteem and you can help by making these special children the focus of a birthday celebration full of fun and friendship. crowdFunnit strives to provide a safe way for parents to invite the community and the world for that matter, via social media, along with local businesses to help create a birthday celebration of interest to their child.
Together we can help every child enjoy the simple pleasure all children deserve, a happy birthday with friends.
+ Read More
Warrick Galloway
40 months ago
Hi Ayden, I hope you have a awesome birthday, sorry i cant join you as i live on the other side of the world... I really dig you hat man... that's some serious style...
+ Read More
Lynne Fleming Caballes
40 months ago
Happy 10th Birthday Ayden! Have a great time at your party from your friends in New Jersey
+ Read More