Awkward Silence at Orlando Fringe
$1,400
of $6,000 goal
Raised by
20
people in 49 months
We are Award Silence JAX! Awkward Silence is a comedy troupe that was created to fill Jacksonville's sketch comedy void.  Inspired by The Second City, MADtv, SNL and other sketch comedy groups, we want to bring this overlooked, exciting art form to Jacksonville and the surrounding areas.
By entering into the Orlando Fringe we hope to take our talents and apply them to something that will make our Jacksonville audience proud and help us grow as performers.  
We also would like to bring shows to all areas of Jacksonville and beyond!
To do this, we need your help!
Our BIG goal:
The Orlando Fringe Festival!
What is the Fringe Festival you ask? Well, I'm glad you did! Here is what OrlandoFringe.org has to say:
WHAT IS THE FRINGE?
A 14-day arts festival that is founded on the concept of being: 
100% unjuried,
100% uncensored
100% accessible
And 100% of sales are returned back to the artists!
The Orlando Fringe is the longest running Fringe Festival in the United States, celebrating 24 years as "Orlando's most unique cultural experience".  Orlando Fringe is a proud member of the United States Association of Fringe Festivals (USAFF)
www.fringefestivals.us,
the Canadian Association of Fringe Festivals (CAFF)
www.fringefestivals.com
and The World Fringe Congress
http://www.worldfringe.com/congress.
Now that you know what Fringe is, Here's how it works and how much it will cost.
The Orland Fringe Festival is selected based off a lottery drawing, if we are selected we will have 5 opportunities to present our work as writers and performers to a large group!
Orlando Fringe Entry Fee: $1100
Travel and Accommodations:  15 people traveling from Jacksonville and needing a place to stay for up to 2 weeks- Approximately $1700
Food: We have to eat y'all $1000
Marketing Materials: We want to get the word out at Fringe about ASJ! We need to create posters, postcards, business cards, and merchandise to promote our troupe:
Paper Marketing: $300-600
Merchandise: Shirts, Decals- $800
Tech needed for our multimedia show: Qlab3 pro bundle. $749 We've got sound, projections, and lights!  
Total for Fringe:  $5949
Our Hopes, Dreams, Future Needs:
We want to be our own moving troupe and not be limited by spaces or technical capabilities so here's our wish list:
2 Portable LED Light Bars: $400 each $800 Total
10 SHURE wireless headset systems and receivers: $549 each $5490 total
Sound Board:  $700
Speakers and stands:  $679.94
total wish list : 7669.94
If we are not selected for fringe, we will use the money we raise to bringing the most professional productions to our audiences. This includes purchasing some of the items from our wish list above.  
Not too sure about us yet? Check us out at awkwardsilencejax.com
What do you get for donating?
If you donate between 5-10 dollars:
We will tweet a special thank you to you as well as put your name as a thank you on our website!
$11-30
You will get a tweet and thank you, as well as an Awkward Silence Jax – Window decal!
$31- 50
All of the above plus a handwritten funny thank you note sent to your address from the whole troupe
$51-100
All of the above plus an Awkward Silence Jax T-shirt
$101 and up
All of the above plus a personalized video message from one of us!
$500 and up
All of the above plus and executive producer credit! And 4 free tickets to one of our upcoming shows
$1000 and up
All of the above plus we will show our undying gratitude by writing you into one of our sketches. You will be our guest of honor at fringe! (pending acceptance) or our guest of honor at our upcoming shows. PLUS 4 free tickets to ANY future ASJ show.
Thanks for reading and thanks for all your help!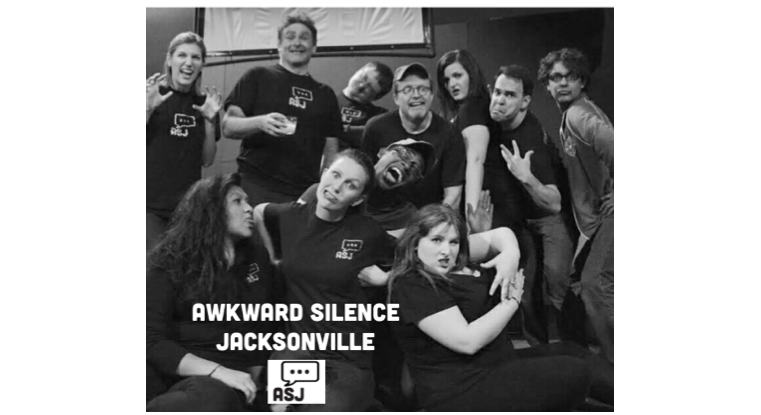 + Read More
Be the first to leave a comment on this campaign.