They Don't Eat Alone in Spain
$4,320
of $4,250 goal
Raised by
73
people in 33 months
Since launching my blog "
A Wandering Jewess: My Journey Back to Self
"  in 2011, I've often been asked "When is your book coming out?" My answer has been a vague, "One of these days." Truth is, I didn't know. For personal reasons, I didn't want to self publish. And I didn't know how to move my writing from blog to book deal. Until now. 
About two months ago, I ended my morning meditation with the words, "Show my work, show me my money, show me my love." I then opened my computer to find an e-mail from my ex-boyfriend, sent exactly eight minutes earlier, just one word — "Interesting?" and a link to the
Rocaberti Castle Writers Retreat in Barcelona
. 
"
This retreat is for you if … You're working on a book/screenplay combination or have an idea for one. You have a book and want to turn it into a screenplay or vice-versa —or sell it directly to Hollywood. You're unsure how to get your book/screenplay in front of agents and producers. You're serious about completing your project and making your dream come true!" 
 Yes. Yes. Yes. And yes. 
I am a big believer in fate. In signs. In messages from the universe.
So this October
I'll be returning to Spain for the Rocaberti Castle Writers Retreat.
Joining a small group of other writers, I'll meet with expert mentors – published authors, produced screenwriters and film producers –
for the express purpose of taking my writing from screen to page to big screen.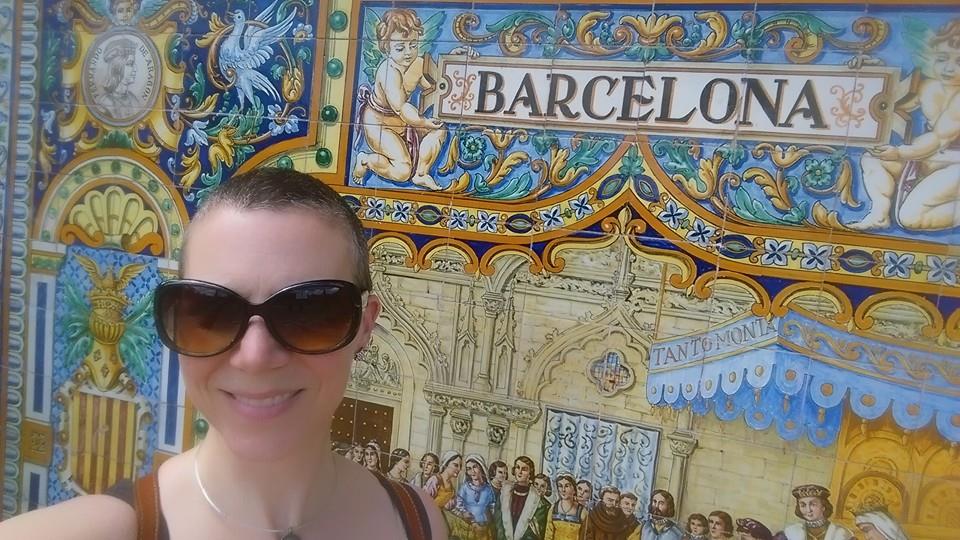 (Taken in Seville ...
before
I knew I was going!)
My proposed project, "They Don't Eat Alone in Spain" garnered a half scholarship to the retreat. I need your help to raise the other half, plus airfare, reward gifts and incidentals
. (See budget breakdown below.)
"They Don't Eat Alone in Spain" is based on posts from "A Wandering Jewess," about my choice to "go it alone" for a year after the dissolution of my 10-year marriage and how Julia Cameron's "The Artists Way" offered me an unintended framework for doing it. 
"They Don't Eat Alone in Spain" is a series of 52 Artist Dates – one-person play dates – which led me on solo sojourns to the opera and the Art Institute, to a three-week stag jaunt in Italy and ultimately an unaccompanied year in Spain (Ironically, a country notorious for togetherness. "Look around," Robert said over lunch on my second day in Madrid. "No one here eats alone. They just don't ...") 
(They don't eat alone, but sometimes the servers will feed you ... literally.)
Whereas the majority of "post-divorce" reads fit neatly into one of two categories – "How To's" for getting back in the relationship game or "Crazy Dating Confessionals" ("I had sex with my boss, my trainer and the bagel boy ... in the same day.") –
"They Don't Eat Alone in Spain" offers another possibility, a happy ending that doesn't end in romance.
"They Don't Eat Alone in Spain" offers no advice, no salacious sex, no Prince Charming – just a weekly "postcard" sent from the road  back to self, a journey taken on the backroads ... stopping to fix my own flat tires, visit old promises – traveling alone, living overseas, writing a book – and becoming the heroine of my own story.
_______
Budget Breakdown
Rocaberti Castle Writers Retreat, Half Tuition: $2,500
Round-trip Airfare from Chicago to Barcelona and Back: $900
Accomodations, Food, Incidentals for 2 nights (pre and post retreat): $200
Rewards: Up to $300
Go Fund Me: 7.9 percent + .30 per gift: Approximately  $350 on $4000
+ Read More
Be the first to leave a comment on this campaign.