Help Expand AuthorsTea.com
$215
of $14,000 goal
Raised by
6
people in 48 months
Who We Are

AuthorsTea.com  is a social network for writers and their fans. But we're more than that. Our mission is to encourage personal growth through the joy of reading and writing. We've created a platform that allows users to discover, read and share the written word. Users come for entertainment and inspiration. Ultimately we aim to be the largest interconnected network of literature-loving earthlings ;)


What We Offer

AuthorsTea launched its free community in April 2014, establishing a location for users to share stories and interact with like-minded artists.

With Publishing, users import, upload and edit their stories. They can share drafts with friends, publish on-line and receive tangible feedback through ratings and reviews. Ongoing stats provide in-depth information about their readers and followers.

Through our Social Network, members create a profile, favorite / follow other users, post status updates and browse their newsfeed.

Our search engine makes it easy to find what you're looking for with more filters and sort criteria than our competitors.

Top Ten Charts rank the week's most popular stories and authors.

Our initial focus has been the niche market fanfiction so that we could obtain a sizeable user base and work the bugs out. Over the last year we've continued to refine back-end processing and have also delivered several user enhancements:

 - Updated landing page
 - Private Messaging
 - Personalized urls
 - Enhanced editor
 - Ability to embed illustrations in stories


Next Steps

With a proven product in hand, we're ready to expand AuthorsTea.com and serve a broader market. That means additional functionality and more traffic through the site.

Phase 2 delivers three components:

1. Enhanced social interaction between users
In the current environment, status updates are text based. Users need the ability to share richer content through pictures, gifs, video and links. We will also add features for tagging, sharing status updates and reposting to external sites.

2. Publish original works
Users want to publish all of their work in a single location. By modifying our database tables, search criteria and results pages, we will be able to support original fiction and non-fiction in addition to fanfiction. That includes short stories, novels, plays, poetry, biographies, essays and more.

3. Redesign
Adding original works requires that we do a redesign. The new look will be less cluttered and make it easy to browse all of the genres. Additionally, members will be able to personalize their profiles and add book jackets to their stories.

In Closing

AuthorsTea.com is a site by writers for writers. We deliver features and functionality based on user feedback and generous donations. We're building this brick by brick so every dollar helps - nothing is too big or too small. With your support, we will continue to develop phase two of our project.
+ Read More
Update 2
35 months ago
Share
Thanks again to all our friends who have continued to reach out in many ways in support of AuthorsTea.com.

This week we announce rich content in our newsfeeds with images, gifs and url links.

Use these features to build enticing stories on your profile. We'll be rolling out the ability to share and repost these stories in the coming weeks. It's a great way to drive readers to your platform on AuthorsTea.com.

Stick with us, there's more to come! :-)
+ Read More
Update 1
39 months ago
Share
It's been a while since we sent an update but we've been hard at work making improvements to the website. A huge thank you to our friends and users for all the support and positive feedback we continue to receive!

We're on the verge of launching our latest round of enhancements and then we're rolling right in to our next big project – expanding AuthorsTea.com so members can publish and promote all of their writing (both fiction and non-fiction) in a single location. It includes a redesign so check out the draft of our new home page below.

In order to move forward with this buildout, we are reigniting our fundraising campaign. Seriously, every dollar helps! We have more than 11,000 followers; if everyone contributed $2, we'd have more than enough to finish this phase. Donations of any size are appreciated.

Thank you again for all your kind words, well wishes, shares and financial support.

We're a site for writers by writers, changing the world with the written word.

~ Tea Master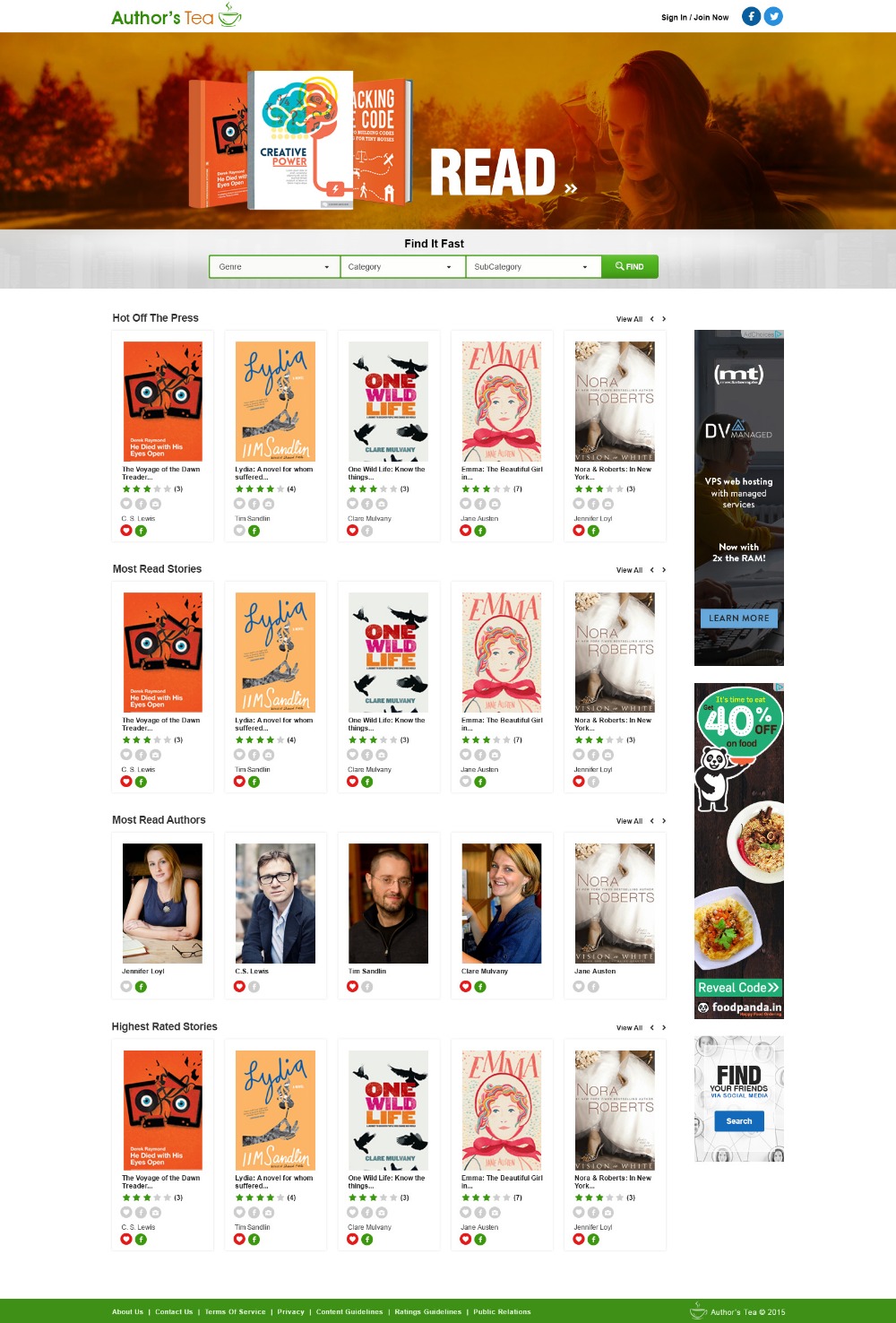 + Read More
Read a Previous Update