356
22
Australians Bring Assange Home: Posters+billboards
$20,607
of $30,000 goal
Raised by
373
people in 2 months
*** We reached the initial goal of $5000 so fast that we doubled it! Then we crashed right through the $10,000 goal and pretty rapidly reached $15,000. With a thousand posters out there already and a mobile billboard on the streets, we're doubling it again and raising the target to $30,000. See Update 7 for more info.

You can download your own posters here. And a billboard file which can also be used to print banners. ***



The goal is to print and paste up a thousand of these #BringAssangeHome giant (A0 size) posters in prominent locations in Australian cities during May 2019.
With every $500 raised, another 100 posters can go up.
We need to get printing and distributing right away to capitalise on the pre-election weeks. Saving Julian Assange should be an election issue.
Let's use the opportunity to highlight the plight of an Aussie hero, push our politicians to wake up on this issue and Bring Assange Home!
A $5 donation prints and pastes one poster. A $50 donation prints and puts up 10 giant posters.


TAKE ACTION


Please also follow the advice on the poster! Act now and contact your local MPs, Senators and candidates.
You can also grab a free download of the poster and get printing yourself:
Giant (print up to A0 size)
A4 size for home printing
Get the facts about the case and other ways to support Julian
here.


WHO'S DOING THIS?


I'm Australian/British graphic designer Somerset Bean and have been making free graphic design resources in support of WikiLeaks and Julian Assange for nearly 10 years now. I'm so grateful to all those all over the world who have organised printing of flyers, banners, posters and most recently the amazing Free Speech* (*except war crimes) van which has been touring the streets of London and Washington DC (see below).
WHERE'S THE MONEY GOING?
As I am currently in the UK the funds are being paid out to a long term supporter and campaigner for WikiLeaks and Julian Assange in Australia who I have also known personally for years. From there the first $5500 will go straight to our printer and distributor of giant posters. You will see photos and reports from the poster campaign. All funds raised over this amount will be going to a billboard campaign. We are currently discussing the best value for money for the most impact, and will report about this as soon as we have something finalised. The design work is freely offered so ALL funds will be going to the printing and distributing of #BringAssangeHome materials.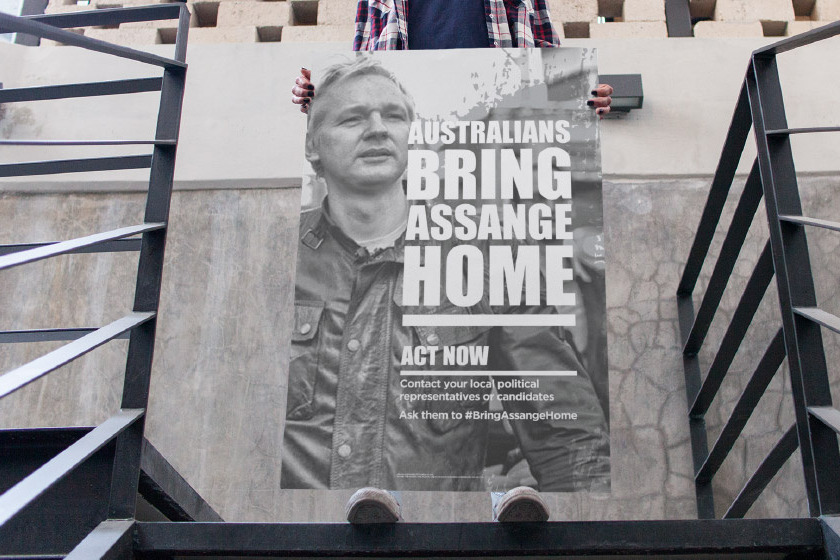 Our collective efforts have already featured prominently online and offline around the world for a decade, proclaiming boldly: exposing crimes should not be a crime!
This is my first time launching a large scale poster campaign and I hope you'll join in and we can make an impact in the lead up to the Australian elections.
Sponsor 1 or 10 or 100 (or 1000!) posters - donate now!


Ecuadorian Embassy, London, March 2019
Washington DC, March 2019
Washington DC, March 2019
+ Read More