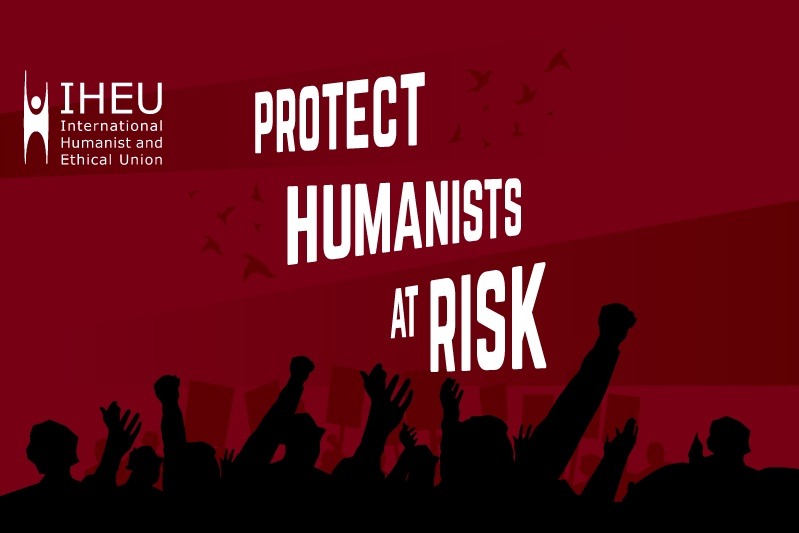 192
5
Protect Humanists At Risk 2018
£20,108
of £20,000 goal
Raised by
245
people in 7 months

12 countries can sentence atheists to death under "apostasy" laws.

In many more countries, "blasphemy" laws are used to stop humanists promoting human rights, including women's rights, LGBTI rights and non-religious rights, when they are accused of "insulting religion".

In recent years, freethinkers have been attacked in countries including Pakistan, Bangladesh, Maldives and India.

Humanists have been threatened with prosecution or violence in countries including Malaysia, Egypt, Afghanistan and Iran.

People have been prosecuted by the state for crimes such as "apostasy" or "promoting atheism" or "enmity against God" in countries including Saudi Arabia, Iran, Sudan and Pakistan.

And in yet other countries including Poland, Moldova, Turkey, Hungary, Bulgaria, Russia and the United States, populist movements and demagogic leaders have coupled with authoritarian religious movements, creating a toxic atmosphere for democracy, threatening secularism and non-religious rights.

But there is hope...

The International Humanist and Ethical Union is working to change all this.

We advise and directly support individual humanists at verified risk, from countries where prosecution or violence threaten their fundamental human rights.

We advocate human rights, and highlight cases where humanists have been persecuted or prosecuted, at the United Nations Human Rights Council and other international forums.

We research, record and monitor discrimination and persecution against the non-religious in our ground-breaking Freedom of Thought Report.

And with the support of our Member Organizations around the world, we unite the global humanist movement: providing information, sharing best practice and acting as a hub and support network for humanists everywhere.

Our record

The IHEU is recognised as a global leader in highlighting the persecution of humanists, atheists and secularists. We have transformed the way that human rights for non-religious people are seen, drawing world-wide attention to the targeted violence and systematic discrimination faced in many countries.

In the past 12 months alone...

* We have supported and advised 24 individuals and groups at risk from 9 different countries.

* We campaigned to protect members of the Malaysian Atheist group in Kuala Lumpur being threatened with prosecution.

* We were involved in direct diplomatic talks pressuring one nationstate to release a detained "apostate" (whose condition we believe has improved though we continue to monitor the situation).

* Through our advocacy work at the UN and elsewhere we have lobbied the governments of Bangladesh, Egypt, Pakistan, Malaysia, Maldives, Saudi Arabia, Sudan and more to drop anti-atheist laws and policies.

* We launched a sixth annual edition of the IHEU Freedom of Thought Report which has grown increasingly influential at the UN and on the international discourse around 'freedom of religion or belief' and non-religious rights.

* We lobbied the European Parliament of the urgent need to show moral leadership and repeal all 'blasphemy' laws across the EU.

* We delivered a new training programme on human rights and the non-religious for the European External Action Service at the European Parliament in Brussels.

When we say "we" did this, that means you and us, together! It's only through our Member Organizations and generous donors like you that this work can continue, and go from strength to strength.

Your part in this

Please support the IHEU and the "Protect Humanists at Risk" campaign with a donation today. 

Your gift could help support and maybe save the life of a humanist at risk in some of the countries that most persecute the non-religious.

You can also help spread the word with our sharing tools at iheu.org/at-risk .

We are a registered non-profit organization and NGO. All donations will go toward delivering our work: protecting those most at risk, and changing the world to prevent the deterioration of human rights for all.
+ Read More
Update 2
Posted by Humanists International
1 month ago
Share
Huge thanks to everyone who gave to our 2018 crowdfunding appeal. Thank you for caring about humanists under prosecution or facing social persecution. And thank you for uplifting our work to campaign for individuals, lobby for policy changes, and directly support those at verified risk.
If not already, you can join the IHEU as an Individual Supporter at:
https://iheu.org/donate/join-us-as-a-supporter/.
+ Read More
Dear Supporters,
We are now over 86% of the way towards our ambitious £20,000 target for Protecting Humanists At Risk.
This fundraising campaign helps us to:
✔ Highlight the cases of non-religious people who are 'disappeared'
https://goo.gl/Au5U6S
✔ Call upon the United Nations to release of those accused of 'blasphemy'
https://goo.gl/AyjQVi
✔ Deliver training for diplomats on freedom of religion or belief
https://goo.gl/N8JK3g
As a small not-for-profit organisation, we can't do this without your help.
We have already raised over £17,000 from over 200 donors.
If everyone of you were able to make a small donation, even just £5, or send this to four friends, we can finish this campaign in the coming days.
Share on Facebook here:
https://goo.gl/qvuk1e
By helping us, you help all humanists at risk around the world.
Thank you for your trust and support,
The IHEU team.
+ Read More
Read a Previous Update