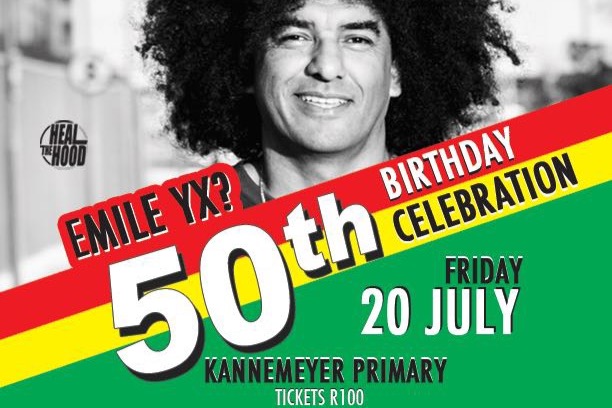 8
4
Artists & Hip Hop 4 Housing & Land
$225
of $10,000 goal
Raised by
7
people in 9 months
Emile YX? of Black Noise Celebrates his 50th Birthday on the 20th July 2018 by launching "Artists & Hip Hop For Housing & Land"
https://www.facebook.com/groups/900460853490060/
Event :-   Emile YX? 50th Birthday Bash & Launch of  "Artists & Hip Hop For Housing & Land"
Date   :-  20th July 2018
Venue:-  Kanemeyer Primary School, 55 Third Avenue Grassy Park, entrance to school hall in 2nd Avenue Grassy Park. 
Time  :- 2:30pm - 7pm - Workshops and Exhibitions , 7pm - 11:30 Performances by Famous Cape Town artists & Emile YX?
Background 
Over the last 15 years, Emile has been working with a group of youth from Lavender Hill. It has changed his perception on creative people and the reason for the them leaving their passion. He has seen thousands of young people sacrifice their passion for the security of a "norm" 9-2-5 job because it is the only way that society sees securing a loan for housing, car and education for their kids. 
Seeing this manifest, Emile decided that it is time to teach these remaning members of Heal The Hood Project practical Hip Hop school, Mixed Mense, how to raise funds to buy their own houses in a shorter period of time and also to assist Heal The Hood Project itself to lead by example in securing funding for this very serious outcome that all artists and youth are faced with. It is also about asking them what it is that they want and how these housing structures can be cheaper, environmentally friendly and off the grid.  
The Plan
We are teaching learners at school that Hip Hop has economic power, yet we have very few examples within our society of people that own their own houses and cars, without owing the banks huge bonds. We have to make our words and reality and show our youth how this is done by helping our first graduates to secure their own houses, while also teaching them economic skills to make their lives easier to follow their passion. Young people learn the best by the examples we set and the practical outcomes we show them daily. I want to show them that my words have power and that this can be done. I know that it can be done, because I did this for myself many years ago. The process and technique takes a great deal of discipline within this consumer society, but it is not impossible. 
Our Creative Power
6 years ago, Emile promised Mixed Mense that he would help them to record their albums (they just released their 2nd album "Kaapse Katte" this weekend) and created a show that would create an international interest. He has thusfar helped them to record 2 albums, write their stories in R.A.P.S.S Volume 2, released 4 music videos and gave them the opprotunities to travel nationally to the Khoisan communities and Moshito and internationally to Sweden and the USA. For the rest of this year Stefan Benting, Charlton Eftha and Emile YX? will work on a book and documentary about the last 15 years. Each person is writing about their own experience, to share this with the next generation. 
The Dream & Reality
Emile is hoping that "Artists & Hip Hop For Housing & Land" will grow to assist many other artists from Cape Town, South Africa, Africa and ultimately the world, who are struggling to find a place to live, yet have international quality talent and creativity. As creatives, we have the ability to create products and opportunities to change our percieved struggle. We are not seeking handouts, but exchanging our talents for economic assistance. I have created many events since 1995, that have helped to fund more than 200 flights to international events in Germany, France, Italy, Australia, Greece, England, USA, Swede, Norway, Denmarl, Finland, Korea, Zimbabwe, Reunion Island, India, Ireland, Holland, Namibia, Botswana and Swaziland. While also helping Heal The Hood Projects free classes and growing the pool of artists in Cape Town. It is time that our community realise that we have the power to change the negative, but it will cost for us to support our own, who will in turn help to get more young people positively active in our communities. These classes kept youth away from drugs, gangs, violence and other social ills. We pay security companies to do that, so why not just our artists to keep our kids away from crime and make them the neighbourhood watch that would be more beneficial. 
"I love to dream big and in my dream I see this taking off globally and helping the most needy people to become free and follow their hearts before doing what they have to do to pay the bills. I see it relieving the societal stress that jobs cause and the return to communal living, where we have artists speaking out for us and challenging social ills and helping our youth to express themselves. It is a dream of mine that this gets international support from famous artists who then help artists in their communities to buy houses and follow their dreams. The truth is that people do not want much, most just want a roof over their heads and to keep doing what they love, versus doing what they feel forced to do. Having a bond, has truly put people back into bondage. We are looking to create a new reality that will free more people to follow their hearts. When I left my teaching job in 1993, it also seemed like an impossible task to survive and thrive outside of the system for the last 25 years. I am proof that this can be done and am here to show others how. This is how we as Africans and humans were, the elders taught the next generation for free."  
Emile YX? 50th Birthday Bash at Kannemeyer Primary 
Emile started as a breakdancer in 1982 and was teaching long before he started studying to be a teacher or teaching at Battswood Primary. Emile started out teaching roller-skating, roller-hockey, soccer and skateboarding before he started breakdancing. It is for this reason that he would like to have a TEACHING & LEARNING element as part of his birthday. Emile would like to see various youth get together at his birthday and learn Arts related skills before witnessing the artists performing on the night. 
All funds raised will go towards buying land and the first containers for the artists. We also expect to draw the attention of international artists and artists communities to participate and grow the initiative. We have a social media footprint of over 100 000 people in various groups. Please support the cause to bring about change. 
Costs
Venue Hire  :-          R   8 500 
Sound Hire :-          R   3 000
Flyers & Tickets  :-          R   5 500
Transportx10 schools :-         R 35 000  = 10 busses needed from the 10 schools we working with
60 kids per school x10:- R 60 000  = 600 kids participate in workshops & skills development
600 kids food & drink :- R 24 000
10 artists @ R1000 - R3000 R 30 000    
Total Needed for day          R166 000 
600 school kids lunches & drinks sponsored … 
1000 tickets in total for the venue thus 400  sold to the general public
We are asking companies and individuals to sponsor schools R10500 per school 
Or R200 per kid for the day of learning, entertainment & food from 2:30pm - 11:30pm  
Programme for the day  (Rough
)
Workshops
2:30pm - 3:30pm :- Arts as Income - Mathematics of Survival 
3:35pm - 5:00pm  :-  Dance - Pantsula, B-boying/Break-dancing / Krump
5:05pm - 6:05pm :-  SAMRO & Beat Creation Money Making 
6:10pm - 7:10pm  :-  CTV presentation etc - job opportunities in TV/ Film
Concert
7:30pm - 8pm  :-  Opening with DJ Easy from Good Hope FM & Welcome
8:00pm - 8:07pm :-  Rap/ Singing Artist
8:10pm - 8:15pm :-  Rap/ Singing Artist
8:18pm - 8:25pm :- Rap/ Singing Artist
8:28pm - 8:38pm  :-  Dance Show 
8:40pm - 8:47pm :-  DJ Willie 
8:50pm - 8:57pm :-  Rap/ Singing Artist
9:00pm - 9:07pm :- Rap/ Singing Artist
9:10pm - 9:18pm  :-  Dance Show 
9:21pm - 9:28pm :-  DJ Thee Angelo 
9:31pm - 9:38pm :-  Rap/ Singing Artist
9:41pm - 9:48pm :- Rap/ Singing Artist
9:51pm - 9:59pm  :-  Dance Show
10:01pm - 10:08pm :-  DJ Ready D
10:11pm - 10:18pm :-  Rap/ Singing Artist
10:21pm - 10:28pm :- Rap/ Singing Artist
10:31pm - 10:38pm  :-  Dance Show
10:41pm - 10:48pm :-  DJ Nantel 
10:51pm - 10:58pm :-  Rap/ Singing Artist
11:01pm - 11:08pm :- Rap/ Singing Artist
11:11pm - 11:18pm  :-  Dance Show 
11:21pm - 11:28pm :-  Closing Thanks … 
Confirmed Artists
:- Mixed Mense, DJ Thee Angelo, DJ Easy GHFM, DJ Willie, DJ Ready D   
Artists Still to Confirm
:-  Vicky Sampson, Youngsta, Hemelbesem, Emo Adams, Emily Bruce, Alistar Isabelle, Clarence Ford, Nigel Peirce,
+ Read More
Update 2
4 months ago
Share
The project was put on hold over the last few months until more research is done and alternative ways of raising the funds can be sought. We have made connection with Gugu's Theba in Langa and are speaking to various other people about the space to build it and how to grow our dream.

Our launch at Emile YX? 50th Birthday exposed the communities lack of awareness of the intent and depth of the project beyond foreign donor money and into solving local crime, drug abuse, skills development, economic development, tourism, etc ... We thus have so much more work to do, in order to really get the community where it will be built, behind it and trlu mobilised.

We are planning to continue our fund-raising in 2019 ...
+ Read More
Update 1
9 months ago
Share
We launch this project on the 20th July 2018 on my 50th Birthday and hope to bring in 1000 youth to learn and raise funds for the first containers/ land/ houses. I am sharing this with peope to sposnor a kid and raise with $10 -$20 each to raise the amount for the initial launch and awareness of the project plus raising R100K for our first event.
+ Read More
Read a Previous Update