Palestinian Children sing in France
€15,395
of €20,000 goal
Raised by
136
people in 11 months
Amwaj Choir website
Amwaj Choir Facebook page
 
JUNE-JULY 2018: FIRST INTERNATIONAL TOUR OF THE AMWAJ CHILDREN'S CHOIR 

An international tour of a children's choir is an exciting opportunity, but also a challenge at both an organizational level and in terms of funding. 

Your support is called for, as a contribution towards travel expenses from Palestine to France of Amwaj's 57 children and 8 volunteers.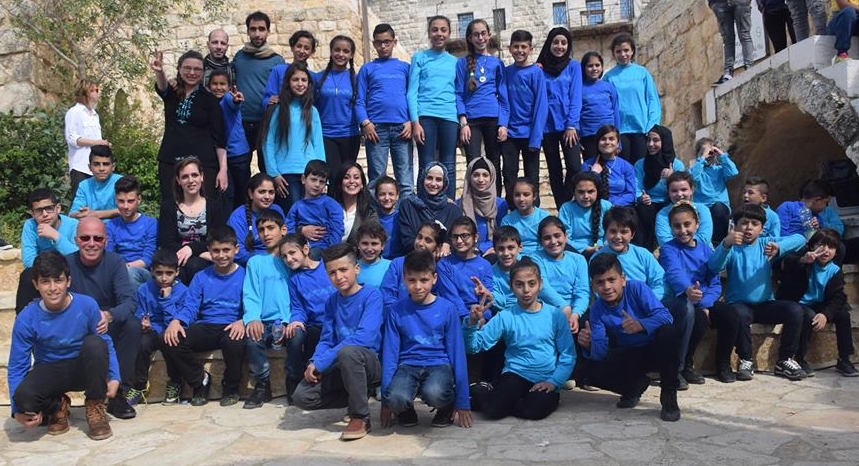 Amwaj 
(the Arabic term for Waves) 
is an intensive choir-based educational program for children
, established in 2015 in Hebron and Bethlehem (Palestine), in cooperation with the
Association d'Échanges Culturels Hebron-France
and the 
Ghirass 
cultural center in Bethlehem. For its regular activities the program is supported by the
Fondation Les Instruments de la Paix – Genève
, the
John-Paul II Foundation
 and the 
Institut Français de Jérusalem – Consulat Général de France à Jérusalem
.
The objective of Amwaj  is to offer quality music instruction 
to a vast number of children.
The children attend 
Amwaj 
after school, free of charge, and benefit from a musical and artistic programme strongly linked to their country. They are offered, weekly, eight hours of varied activities such as choral singing, voice training, foreign languages, music theory and history, conducting, introduction to piano and percussions, theatre and more.
There are no selection criteria, except committing to attending all classes and activities.
Amwaj
counts today 60 children (35 girls and 25 boys), aged 7 to 17, from Hebron and from towns, villages and refugee camps of the Bethlehem governorate.
Thanks to Amwaj's inclusive social vision
 (gender equality, non-affiliation to any specific social, religious or political context), the children have access to a broad range of performance venues, artistic partnerships and music repertoire. The choir regularly performs a mixture of Arabic traditional, Western classical, contemporary and World music, in varied venues (concert halls, theatres, cultural centres, schools, churches, open spaces, etc.), with Palestinian music institutions and as well as with international artists and ensembles.
Since its beginning
, the
 Amwaj choir
 has developed many institutional and personal partnerships in France. 
In 2017-2018,
 those partnerships were reinforced and led to a real intercultural exchange between children's choirs.
Tour in France, June-July 2018: 
Following the success of those many exchanges, the 60 children of the 
Amwaj choir 
will travel to France for a two-week residency and concert tour:
18-24 June 2018: Residency at the Philharmonie de Paris
21 June 2018, 5:30pm: 
Concert at the 
Institut du Monde Arabe
 with the 
DEMOS children's orchestra –Philharmonie de Paris
 (cond. Mathieu Romano).  Free admission without reservation
23 June 2018, 5pm: 
Concert at the church Notre-Dame des Vertus at Aubervilliers, with the 
Children's choir of the Orchestre de Paris
 (cond. Lionel Sow). Free admission without reservation 
24 June 2018, 4:30pm: 
Concert at the 
Philharmonie de Paris,
Grande salle Pierre Boulez, with the 
DEMOS children's orchestra – Philharmonie de Paris
(cond. Nicolas Simon). Free admission with
reservation Online
25 June 2018, 7pm: 
Concert in Lille, Le Grand Sud, with the child singers of 
Finoreille
 (cond. Brigitte Rose). Free admission with reservation by phone: +33 3 20 88 89 90
26 June-2 July 2018: Residency in Lyon with Les Petits Chanteurs de Lyon
30 June 2018, 4pm: 
Concert at Lyon: Église Notre Dame de l'Annonciation (Vaise), with 
Les Petits chanteurs de Lyon
 (cond. Nicole Corti and Thibaut Louppe), premiere of the piece 
Tibaaq 
by composer Naji Hakim. Tickets: 15/20€. Reservation by e-mail:
contact@petitschanteursdelyon.com
1 July 2018, 5pm: 
Concert at St Étienne: Église Sainte Marguerite, 73 rue de Terrenoire, with 
Les Petits chanteurs de Lyon 
(cond. Thibaut Louppe). Tickets: 6/10/12€. Reservation by phone: +336 27 40 15 12 or +336 20 56 85 93
Who is doing this campaign
My name is Mathilde Vittu, I am music analysis professor at the 
Conservatoire de Paris - CNSMDP 
(France). I established the 
Amwaj Choir
  in 2015 with my husband, Michele Cantoni, an Italian musician who lives in Bethlehem since 2004. Michele is the general director and I am the musical director of the 
Amwaj Choir
, dividing my life between Paris and Bethlehem/Hebron.
How we will spend the funds
100% of the funds will be spent to contribute towards travel expenses of the 64 Palestinian children and volunteers. From Bethlehem/Hebron they have to reach Amman (Jordan) and then fly from there to Paris. Fly tickets have been booked: the price is 710 Euros for each passenger (a total of 45,440 Euros). The transfert to Amman is still under negociation. 
Withdrawal plan
The funds from the campaign will transit through my personal French bank account, which is used to block the flight tickets. We will withdraw the funds when we have to complete the payment, ahead of the issuing of the tickets by the airline.
Perks to the donors

All perks to the donors will be awarded after the end of the tour (July-August 2018).
Thank you very much for your support!
+ Read More