Help Alex get to Nepal!
$1,429
of $1,000 goal
Raised by
22
people in 35 months
I'm Alex, a photographer and creative living in Minneapolis, MN. I work part-time for a creative agency that is passionate about telling stories, and I spend the rest of my days photographing people, weddings, and various content for local small businesses. I am a storyteller at heart. And my mission is to tell them with thought, purpose, and beauty.
What I'm raising money for:
If you're in my circle and didn't know I was planning on traveling to Nepal, that's because I didn't either—not until this past week or so, that is. I discovered through some friends who personally know the founders. And what I found struck a chord deep inside of me.      
The What & Why:
 The Beyond Workshop is a nonprofit organization seeking to help photographers grow their businesses, so they can, in turn, give back to a world in need. Their mission is to encourage photographers to become courageous—to look outside of their own reality and take action. In addition to learning opportunities, we will be spending half of the trip doing volunteer work in Nepal.     
The Where & When:
 It takes place in Nepal from March 10-22 of this year.       
The Rest:
This workshop is full of meaning. And it's something I believe with all of my being that I need to be a part of.
(Learn more about the workshop here: 
thebeyondworkshop.com
)
How the money I raise will be used:
To get me to Nepal: I need $1905 for flights, a passport, a visa, 2 extra hotel nights (for the days immediately before and after the workshop), and travel insurance.
I am covering the cost of the workshop itself, which is $3600. All proceeds from this workshop are given back to the people of Nepal.
How soon I need the funds:
I need to order my tickets by February 1, 2016!
How I'm raising money:
Aside from this GoFundMe page, I will be:
—Offering mini photography packages ($150 for a half-hour session and 15-20 delivered images)
—Creating commissioned lettering projects (prints, social content, etc.)
—Taking on extra design projects
I will be working (very very) hard these next few weeks. This means a lot to me, and I'll be doing all that I can to make it happen.
**By the way, if you're interested in purchasing any of the above items, message me!
Why this means so much to me:
I suppose the reason this means so much to me is because this workshop, in itself, is so meaningful. Unlike other workshops, it's not about 'being creatively inspired' or 'making it big'. It's about the process of
becoming
in a world than needs our gifts. And stepping into who I was created to be, so that I can impact lives.
I will not measure my life in stamped passports or beautiful photos. I will measure my life in the people I loved. The lives I influenced. The stories I told. And this workshop in Nepal is merely a stepping stone on my way to telling stories more thoughtfully. 
You're not investing in an experience or a portfolio of travel images. You are investing in thoughtful storytelling. Storytelling that has purpose and beauty. Storytelling that will continue to grow and shift and morph into something much larger than myself.
Storytelling is powerful. I believe it. That's why my mission statement is 'to tell stories with thought, purpose, and beauty.'
How thankful I will be:
I don't know that I can fully express it how grateful I will be if this is fully funded. I see something meaningful in this workshop. Something that pairs purpose with my passions. Something that is much larger than myself. I love the humility of it all. I know it has the power to change me. To break me down and build me back up again, and I will be humbled beyond measure if I am graced with the opportunity to attend. My hope is that my gratitude will be evident in the way I relate with others and in the way I photograph them. The way I tell their stories. This experience is bigger than me. And my hope is that it will have a lasting impact on others.
xo
Alex
(Photo by
Nina & Wes Photography.
 Lettering by me.)
+ Read More
Update 2
35 months ago
Share
Friends and Family!! I cannot express in human english words how *grateful* I am for all of your support. Seriously. It blows me away.

I have some very exciting (and humbling) news! In the last 24 hours, someone (who has asked to remain anonymous) has booked the flight for me that will get me to Nepal. Which is an insanely beautiful gift. *God provides.* Because of this, I was able to book a returning flight with some of the money raised thus far.

And suddenly this became even more real.

The remainder of the money raised entirely covers the cost of my expenses. Which is so crazy. That means I no longer need more money to get me to Nepal (!!!) However, any further donations made between now and March 7 (when I leave) will go directly towards the cost of the workshop, which I am still working to pay off. Your continued support is so so appreciated.

Thank you all for believing in me!! For seeing my heart and supporting it!! You all are wonderful. xo
+ Read More
Update 1
35 months ago
Share
I am so humbled by how many have already given—thank you thank you thank you!

A quick update that I am offering mini sessions to raise funds for the cost of the workshop from now until the end of February!

$150 for 30 minutes and 15-20 delivered images. Whether you want family photos, head shots, photos with your honey, or images for your blog—I'm your girl.

All profits earned from these sessions will go directly towards the workshop, which is a non-profit organization. None of the vendors or sponsors are paid for their participation, and all proceeds are given back to the people of Nepal. (Full priced sessions are available but my availability is limited.)

Email me at hello[at]alexannephotos[dot]com to inquire!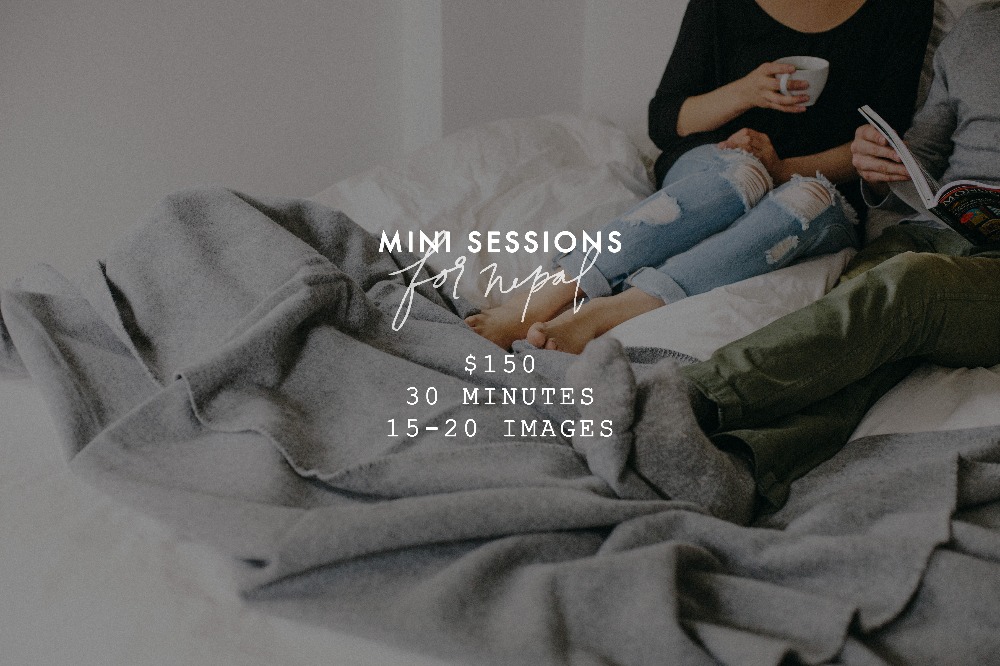 + Read More
Read a Previous Update
Be the first to leave a comment on this campaign.