Alex Palmer Medical Support Fund
$1,720
of $30,000 goal
Raised by
31
people in 1 month
I cannot say that my story is unique to anyone, but I can for myself.  My husband and I met and fell in love 20 years ago this year, and I have seen him do some extraordinary things.  Not to say that he is a saint, because we all have flaws.  But Alex's selflessness has made me look at him with more love and admiration, and he has made me look at myself differently when it comes to sacrifice.  I have seen Alex give a homeless man the coat off his back, pay for groceries for a random stranger in line that was a few dollars short, pay for gas for a family that was stranded, and give money to a people that I knew in my heart was lying. Alex would always say to me;
"Regardless what they actually do with what I give them, it isn't our place to judge them.  They asked for help, and I am obligated to help any way I can.  And we cannot let the wrongs other people do to us affect the rights we do for others."
Alex has been a faithful union brother of CWA Local 6215 and CWA Local 6171 for more than 15 years combined. Alex has served as union steward for the FSC1 in Irving, TX for Local 6171 for several years.  He is a diligent worker in church where he is the photographer and videographer, giving much of himself to ensure the happiness and comfort of others.  But all of this came to a halt this past May.
My husband, Alex, went into the hospital, Texas Health Presbyterian Flower Mound, on May 2, 2018, for a planned 2-day surgery.  He needed to have repaired, a cervical fusion that was originally performed in April 2016. 
After the 2nd surgery, he looked at me and told me that he could not feel or move his left arm or leg, and that his whole left side was numb.  Partial mobility was restored after a few days, but his left leg would not support his weight, hyper-sensitivity down his left arm, and he had poor function of internal organs. 
Part of his daily routine was to have physical therapy worked with him to get me into the shower.  They made a few attempts to get him to and into the shower, but the pain in his neck, back, arms and legs was so excruciating, he would black out by the time he reached the shower stall.  
Dr. John McElroy, spine surgeon, advised that the nursing team had not been giving Alex the prescribed pain medication so that I could tolerate the pain, so he made it a requirement to give the pain meds regardless of pain level.  After taking the pain medication, later that day he was able to take 18 steps and was finally able to take that shower.
On May 9th, 2018, Alex was transferred to Medical City Arlington (Texas) Rehab to receive physical and occupational therapy.  
He was getting stronger and gaining better mobility, but on the 20th of May, 2018, at approximately 11:15 PM, Alex suffered severe neck and back spasms.  Along with electric shocks from nerves firing, he was completely paralyzed from the neck down.  This was a pain like no other.  Alex said, "It feels like a large snake wrapping and squeezing my body."  He became very light headed, short of breath and then he blacked out.  I thought that I had lost my husband.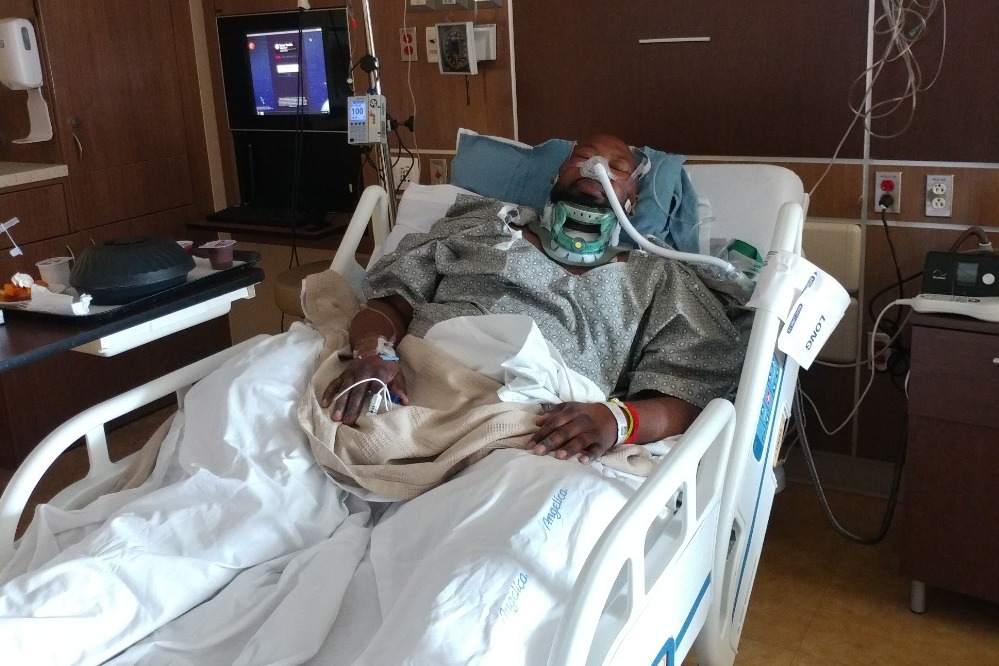 That night, Alex was care flighted back to Texas Health Presby. Flower Mound for further testing, but his they were not equipped to run all test, so he was then care flighted to Texas Health Presby. Dallas.  There, Dr. Jerry Marlin, neurosurgeon, found that his spinal cord damaged, he had nerve damage, and a blood clot that was squeezing on my spinal cord causing his paralysis.  Dr. Marlin was able to find the source of the blood clot, a cut artery, and fix it, but he was not out of the woods yet.  Dr. Marlin advised that the nerves and spinal cord would take up to a year and a half to heal, and that this would be a long and painful journey, and that the bone graph that was placed to promote the fusion had broken up and had to be removed.
My husband and I spent several more weeks there in Presby. Dallas, and was finally released to go home on June 11th.
Since then, he has had some good days and some bad, but Alex never lost his faith or determination to walk on his own and use his hands. 
I have seen my husband lift hundreds of pounds, and it pains me to see him struggle with 5.  He still sees the positive in his situation, and he still makes me laugh in the face of adversity, but I believe that he does this to keep me from worrying too much about him. I watch him struggle to get up out of bed and sit up to eat.  I see his pain when he tries to sleep, and the exhaustion in his face because of the muscle spasms that makes him shake and keeps him awake at night.
Alex is currently getting home health care from Aviator Home Health who sends a physical therapist out 2 to 3 days per week.  When I watch him work out, it seems as if he is getting so much better, but then I see him struggling to walk or stand up straight.  Although home health is very convenient for us, he may be transitioning over to outpatient therapy within the next month or so for a more aggressive therapy session.
And even though he may not tell me or intentionally show it, I know that he has more worry now that his job has cut his pay by 50%.  He just keep smiling and telling me that everything is going to be alright.  He has been the sole bread winner since I was diagnosed with breast cancer back in 2013, and now our savings is running out.  This year, his medical insurance changed to where we now have deductibles to meet plus a 10% co-insurance.  His hospital stay, testing, therapy, labs, and consults has amounted to $730,602.67 based on what we received from the insurance company.  Thankfully we do not have to pay all of that, but we still have approximately $6000 left to pay in deductibles plus $77,000 in CareFlight fees that BCBS has denied the claim for.  We did file an appeal, but no telling which way the insurance company will go.
Alex will get better and back on his feet, but he has about another year or so of recovery.  So, I am asking for help from whomever that can so that we can pay on medical bills, continued physical and occupational therapy, as well as ensure that we do not suffer any major financial burdens by not being able to afford to live in our home.   We have about another month or 2 before our savings is exhausted, along with hardship withdrawals out of our 401K.  No amount is too small, and any amount would be greatly appreciated. 
In advanced…. Thank You.
Lena Palmer 
+ Read More
I want to thank you all for all of your prayers, love, and assistance. Your generosity has definitely come at a good time, and I thank you. I just want to give you all an update on what's going on with me. In my request for help, I mentioned that the insurance company refused to pay for my transport from hospital to hospital. I appealed their decision, and they just came back with their decision to my appeal. They advised that after reviewing all the documentation and having their Board Certified Doctors review all documentation, they decided to go with their original decision. Their original decision was to reject the $77,000 bill for care flight (transported to and from 3 hospitals in 2 days). I plan to appeal this decision as well, so if anyone has any suggestions, please reach out to me.

Last week, I went tot he doctor because of some new pains. The doctor believes that I may have a tendon tear, and they do not heal themselves. He hinted around me having another surgery, so, to be on the safe side, he scheduled an MRI. I also had another appointment with a Neurologist for migraines, and advised her of what my other doctor told me. She feels that the issue may be neurological considering the surgeon cut my nerves from my neck down between my shoulder blades. So she ordered an MRI or some sort of scan that looks at the nerves. I am praying that this issue is neurological because I do not want to be cut on again.

Another bridge that I have to cross is dealing with high blood pressure. Since I have been on these meds, I have been having a lot more headaches, and my blood pressure is extremely high per my physical therapist. For the past 2 weeks, it has fluctuated from as high as 203/108 to a low of 154/95. I don't want to be on any other medications, but now my therapist reached out to my doctor to recommend high blood pressure pills because he is afraid of me having a stroke. I read the side affect of the pills that I am on, and one has a side affect of stroke.

On the financial side, I did apply for disability through SSA, and they returned their decision on my application last week. They advised that after their Board Certified doctors reviewed my medical records, based on their guidelines, I am not disabled. I think these may be the same board certified doctors that reviewed my files for Blue Cross Blue Shield that denied my medical transport.

I am not going to lie to you guys. If I could go back to work tomorrow, I would, but I can't. It is a challenge for me to get up out of bed just to go to the bathroom. And when I do get up, my legs are week, my feet and knees hurt, and it is a chore to stand up straight. I hurt 24/7, and I take pills to tolerate it. My employer has cut my pay to 50%, and after all the deductions out of my bi-weekly paycheck, it is only $397. The reason why my check is so small is because I had to file bankruptcy in 2014. My house flooded out in September 2012, my wife contracts cancer in June of 2013. The insurance company didn't want to pay what it cost to repair the home so I had to come out of pocket, and my savings.

I am still asking for your help. Anything you can do will help. Even if all you can do is share my GoFundMe with others. I do thank you.

Love each and every one of you - Alex
+ Read More
Quick update: I had an appointment with my neurosurgeon on Friday for a follow up. He is please with my strength, but is concerned about my spinal cord. He advised that when I came in for surgery, the bone graph that the spine surgeon placed around the hardware in my neck to promote the fusion was broken up and floating in the fatty tissue. He had to remove all the bone to prevent it from floating and cutting the spinal cord. When I called the spine surgeon about this, he was not even aware of what the other doctor had to do. Pretty disturbing that my doctor was not keeping tabs on other surgical procedures that stemmed around his original work.
The neurosurgeon also advised that I need to have an MRI to see if he can see why my stability has not improved, as well as the hypersensitivity down my left arm. I advised him that there are some pains going down the left side that feels like a knife cutting from my shoulder to my hand. He did this pin prick test, sticking me up and down my arms, legs, face, back, hands, and feet. I could not feel the pin when he stuck me in my left arm or the right one, my left leg, and fingers on both hands. I knew that they felt funny, but I could not tell that they had gone numb. Also my left leg, from my knee to the foot, has swollen up and is also numb. They are not sure the whats or why's, but sending me for several more test this week. 5 appointments set for this week...
+ Read More
Read a Previous Update