The Alaska Paleo-Project
$3,525
of $35k goal
Raised by
7
people in 25 months
>  HELP US FUND THIS VERY IMPORTANT ALASKAN NATURAL HISTORY / HANDS-ON EDUCATIONAL MUSEUM EXHIBIT!
- Artist James Havens & Team have been working tirelessly - for over a year - to create this very special educational museum exhibit. Funded almost entirley out of pocket - we are currently reaching out to the public, individuals, corporate doners and institutions to join us in this final push to aquire the remaining funding required to complete this project which is now over 75% finished.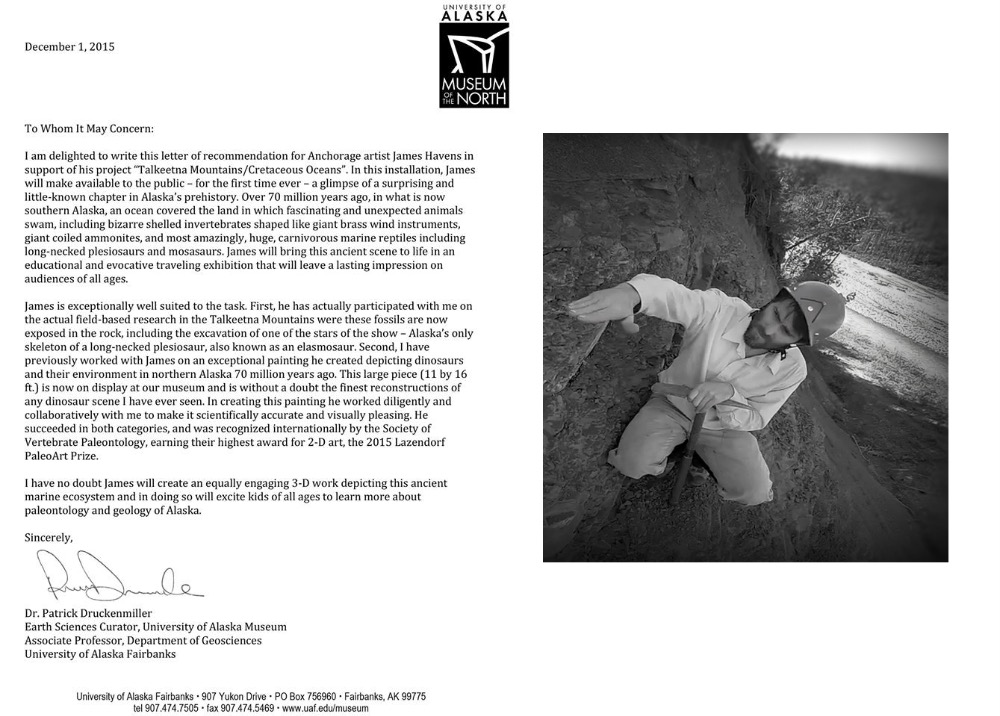 TALKEETNA MOUNTAINS / CRETACEOUS OCEANS
 Once completed the exhibit will be a  museum installation featuring recently discovered ancient Alaskan marine reptiles and their environment from Alaska's mystic Talkeetna Mountains. 
Other major discoveries from Southcentral Alaska's Talkeetna Mountains will also be portrayed in the exhibit and will include:  "Lizzie," Alaska's first and oldest duck-billed dinosaur, Alaska's only ankylosaurus - also discovered in the Talkeetna Mountains, as well as currently unidentified giant ammonites sculptures currently under construction.
We also participated in an actual expedition into the Talkeetna Mountains with the University of Alaska Museum of the North to discover a Elasmosaurus skeleton of which is new to Alaska's fossil record. 
> We also provide - hands on -  public outreach as the project developes in large public venues, including most recently the Anchorage Museum's Discovery Center. 
The public has been encoraged to participate during scheduled work shop dates and actually assist in painting the 32ft mural and learn the process involved with creating a large scale museum exhibit.
> This project is currently being built in 5 phases and will feature life size sculptures and recreations of the ancient marine environment and its inhabitants from Alaskas Talkeetna Mountains fossil record.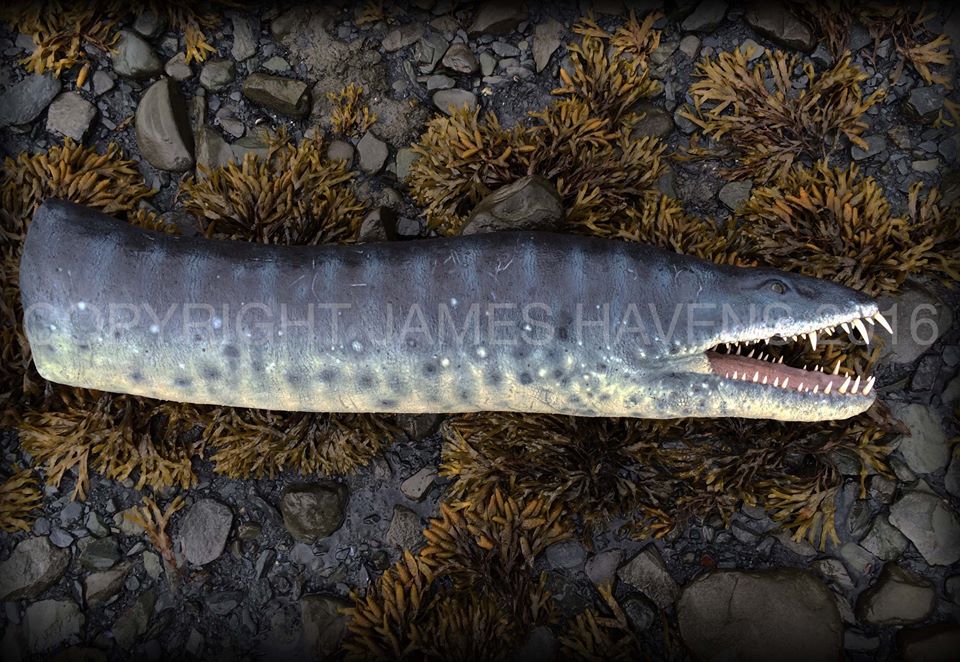 Recently completed plesiosar head reconstruction. 
> The exhibit also includes a RECENTLY COMPLETED hand painted, 32 foot mural.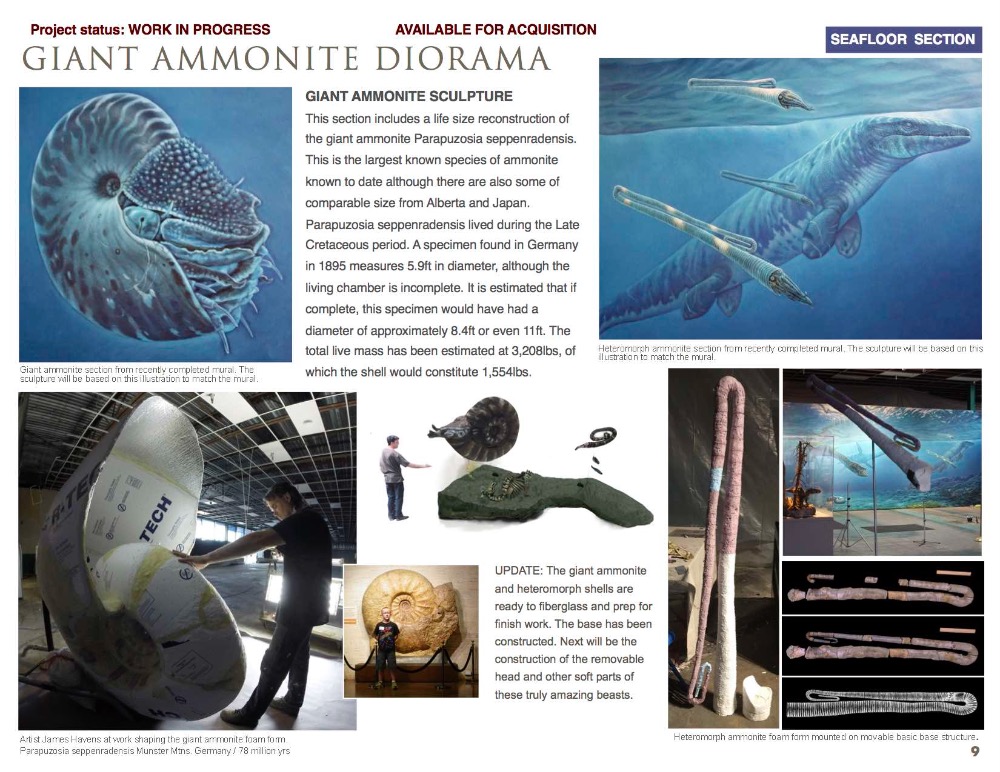 > Multi media displays are also being created and will be an important part of the exhibits experience, including wall wraps with graphics, display cases with actual / and cast Talkeetna Mountain fossils. Exhibit wall vinyl's / original exhibit photographs. T.V. monitors will play the educational documentary currently being produced illustrating the step-by-step process of creating this exhibit/art installation.
A Facebook Page has been established to share my  journey and adventures along the way and will be posted regularly on the artists Facebook blog: 
www.facebook.com/alaskapaleoproject
> Currently, we are actively seeking funding and welcome any interested individuals, sponsors and donors to assist us in reaching our funding and or creative  goals for this  project.  For those corporate donors and sponsors that may require a itemized deduction i.e. materials, supplies and labor as well as the costs associated up to now for donating purposes - A full itemized financial budget is available upon request.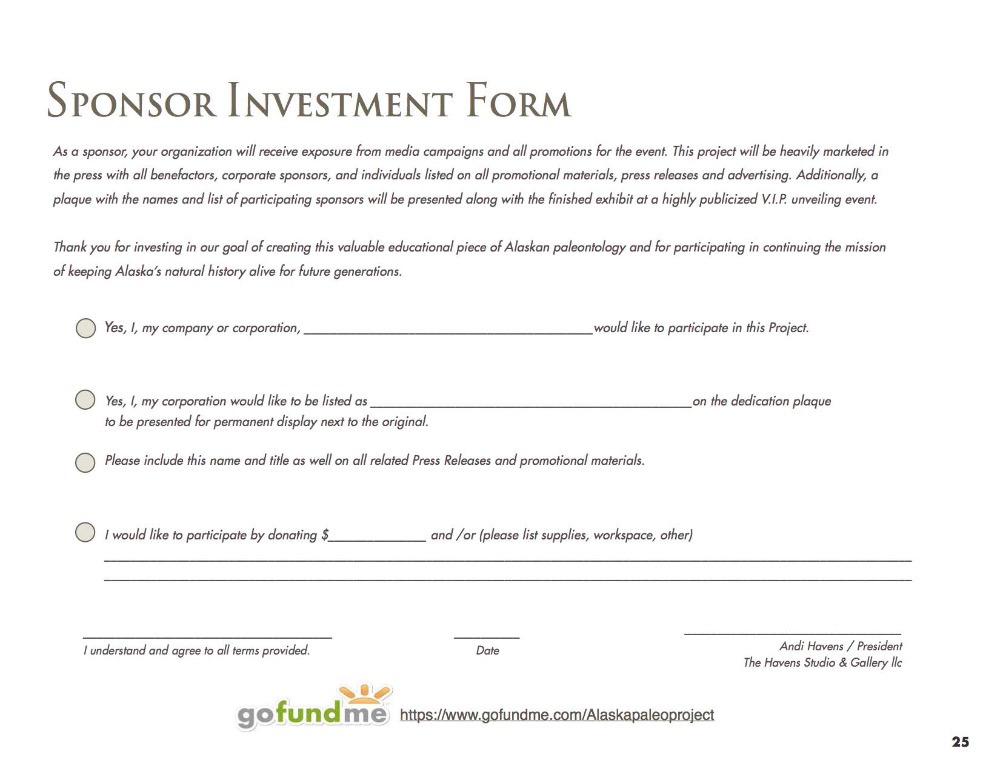 - Thank you!
Ackowledgments: 
Scientific advisors for the project: >Patrick Druckenmiller, PhD Earth Sciences Curator at the University of Alaska Museum at the University of Alaska Fairbanks who Specializes in marine reptiles.
> Exhibit book bio image / Dr.  Pat Druckenmiller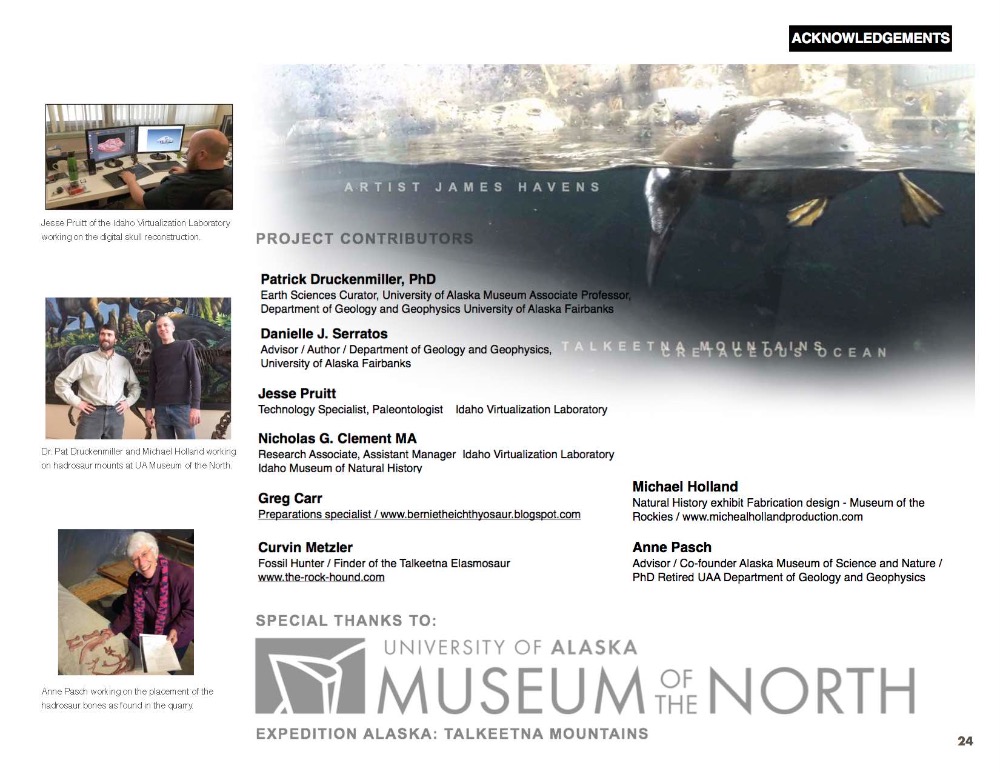 >Anne Pasch PhD UA Professor Anchorage, Alaska and founder of The Alaska Museum of Science and NatureSpecializes in marine invertebrates.
Youtube videos:
https://youtu.be/Q3A7X6LZYk8
https://youtu.be/PfWa_71Vwfw
Project news links: 
http://www.adn.com/culture/arts/2016/05/17/enormous-oil-on-canvas-painting-depicts-prehistoric-marine-reptiles/
https://youtu.be/LEjibCthh7g
+ Read More
Be the first to leave a comment on this campaign.