The Chesapeake Math Program
$2,520
of $3,000 goal
Raised by
46
people in 42 months
The Chesapeake Math Program 
http://chesapeakemath.catherineasaro.net
offers math and science clubs, classes, and contest opportunities to students in Maryland, D.C., and northern Virginia. We sponsor teams for many programs, both national and local, at the high school, middle school, and elementary school levels, and we offer scholarships or small grants in math and the sciences. We began as the Howard Area Homeschoolers in 2001, and the program soon expanded to include students from all types of schools, including public, private, and charter schools.
Each year CMP sponsors students and their parents' travel to National Competitions throughout the United States. Your contribution will help CMP continue with providing travel and lodging assistance to these families.
+ Read More
Update 1
42 months ago
Share
I'm pleased to report the results of the Perennial Problem Solving Contest in Birmingham, Alabama. The Chesapeake Math Program sent two teams of five students each. The following are our results (names in teams in alphabetical order)

FIRST PLACE TEAM, Top Division (8th grade)
PERFECT SCORE
Chesapeake Math program A1

Daniel Yuan, 6th grade
Jeffrey Tong, 6th grade
Matthew Casertano, 6th grade
Peter Roberts, 8th grade
Teresa Thoundayil, 8th grade

THIRD PLACE TEAM, Top Division (8th grade)
Chesapeake Math program A2

Andrew Qian, 8th grade
Emmanuel Odim, 6th grade
Faith Cheung, 7th grade
Jerry Xiong, 7th grade
Maize Booker, 7th grade

WINNERS, OVERALL INDIVIDUAL, EIGHTH GRADE
SECOND PLACE Teresa Thoundayil
THIRD PLACE: Andrew Qian
FOURTH PLACE: Peter Roberts

WINNERS, OVERALL INDIVIDUAL, SEVENTH GRADE
FIRST PLACE: Jerry Xiong (tie)

WINNERS, OVERALL INDIVIDUAL, SIXTH GRADE
FIRST PLACE, with a PERFECT SCORE: Jeffrey Tong
SECOND PLACE: Matthew Casertano

PARENT CONTEST (Parent's took the 6th grade test for fun while the graders were scoring the students' tests)
FIRST PLACE, with a PERFECT SCORE: Michael Roberts. Yay Mr. Roberts!!! :-D

We went to the Space and Rocket Center in Huntsville after the competition to see the Science Fiction Exhibit, which was awesome. We also saw a Saturn V rocket, a space shuttle, and all sorts of other cool stuff. Afterward, we went to a Halloween party sponsored by the Space Center. Then we got caught in the pouring down rain trying to reach the car. Much wetness and running later, we were in the cars and headed back to the hotel, where we had a Halloween party with candy and gaming (since it was raining too much to trick-or-treat).

Congratulations to our mathletes for a job well done!

Picture courtesy of Sharon Casertano. From left to right: Jeffrey Tong, Teresa Thoundayil, Daniel Yuan, Peter Roberts, Matthew Casertano, Coach Catherine Asaro, Faith Cheung, Maize Booker, Emmanuel Odim, Jerry Xiong, Andrew Qian.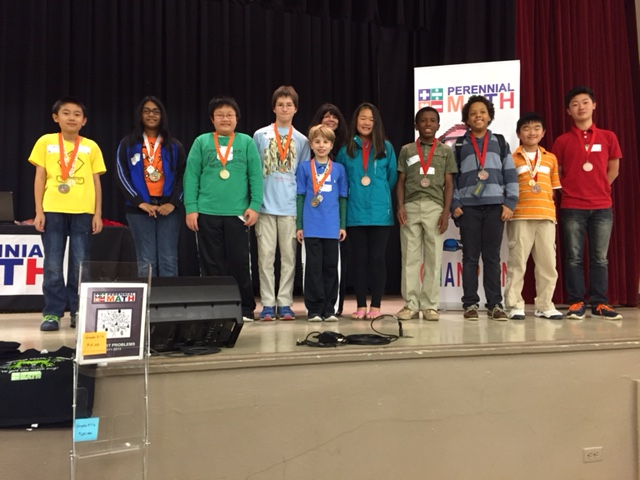 + Read More
Thanks for letting me know. It should work now! Best -- Cat
+ Read More
The link to the Chesapeake Math Program is broken! I
+ Read More