Acorn Energy Bars
$1,730
of $35,000 goal
Raised by
41
people in 18 months
ACORN ENERGY BAR -
Traditional Nutrition for Modern Health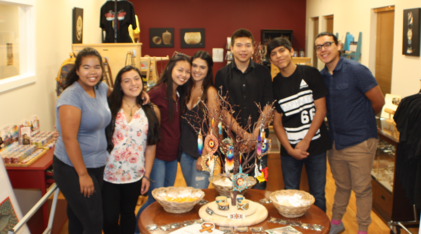 We are the
TRIBAL YOUTH AMBASSADORS
of the California Indian Museum and Cultural Center in Santa Rosa, California. We are Pomo and Miwok youth who advocate for our tribal communities and cultures through our many educational projects and public presentations on California Indian history, cultures and contemporary life. You may have experienced our theater presentation with Journeys to the Past at the Wells Fargo Center for the Arts, attended our workshop at the 2016 Bioneers Conference, or used one of the Native language learning mobile applications we created with our elders. Recently Tribal Youth Ambassadors was acknowledged as exemplary youth program! We traveled to Washington, DC and received a 2016 National Arts and Humanities Youth Program Award from First Lady Michelle Obama.
Our tribal cultures and communities give us HOPE, RESILIENCE, KNOWLEDGE, POWER and so much more. We are excited to share them with you and ask for your support for our newest venture,
ACORN ENERGY BAR
.
ACORN stands for
Advancing Cultural Opportunities to Reclaim Nutrition
.
The TRIBAL YOUTH AMBASSADORS are working to make it possible for California Indians and everyone to be able to eat acorns daily while advancing the acorn ways of our tribal communities. In 2016, the First Nations Development Institute, Native American Food Systems Initiative gave us a small grant to develop our product and produce a business plan for it. With Chef Crystal Wahpepah of Wahpepah's Kitchen, (the first Native American woman-owned catering business in California and a Chopped contestant!) we have created a delicious and first-of-its-kind ACORN ENERGY BAR.
Our goal is to sell the energy bar commercially
. Toward that end, we will be producing it and selling it at Farmers Markets in Sonoma, Lake and Mendocino Counties in Northern California in 2017 and 2018 to begin building a consumer base for our product and to educate people about acorns' health benefits and our traditions.
Acorn Energy Bars
ACORN ENERGY BARS
are made with acorn meal and other organic, gluten-free ingredients representing the bounty of California. For about the same price as another energy bar, everyone now has the ability to choose one made with acorns!!
Your contributions by December 2017
will help us capitalize initial production of the energy bars (licensing, equipment, ingredients, packaging, stipends for youth labor, marketing) and cover our travel costs to Farmers Markets in our region from our base of operations at the California Indian Museum and Cultural Center.
Healthy eating is a critical issue in our communities. You may not know that
1 in 9 Native people in California have diabetes, mainly Type II
. The existence of diabetes in our communities is associated with dietary/nutritional choices and physical inactivity. Healthy eating and exercise can help prevent diabetes and control it. Incorporating traditional foods in our diets is extremely important but not always possible for us in contemporary life. This is where ACORN comes in by contributing and facilitating consumption of a nutritive meal made with traditional foods.
Prior to the arrival of non-Natives in California, our diets were derived completely from local natural resources. Tending, gathering and consuming these resources kept us fit, kept us in balance and kept us connected to the many relations that give us life. Acorns were the mainstay of many California tribal diets and eaten every day. Today, many issues prevent us from incorporating acorns in our diets on a regular basis.
Acorn Mush - Photo by Robert Dorame and Jan Nichols
Did you know that acorns may help prevent Type II diabetes and benefit people that already have it?  "Acorns contain fiber, fat, protein, and carbohydrates. Acorn meal, produced by reducing the "meat" or endosperm of the acorn, digests slowly, a critically important food quality for people at risk for Type II diabetes. Along with mesquite meal, acorn meal has a low and slow glycemic response compared to white bread, potatoes, and processed cereals. Acorn meal from commonly utilized California species contains between 5.5-18.0 percent fats, about 60 percent carbohydrates, and 4-6 percent protein, very favorable quantities for plant foods" (reported in Bean and Saubel1972:126).
ACORN is about more than energy bars.
Our long-term goals
:
·        Secure and advance California Indians' reciprocal relationship with acorns into the future by increasing their consumption of acorns;  
·        Advance local tribal traditions associated with acorn caretaking, gathering and processing; and,
Advance tribal stewardship of acorn food system landscapes.
Yawi'
- We
thank you
for your support!
 To find out more see
CIMCC
or visit the Museum at 5250 Aero Drive, Santa Rosa, California, (707) 579-3004, M – F 9:00 am to 5:00 pm. Facebook | CIMandCC Twitter | CalIndianMuseum
#ACORN
+ Read More
Update 1
10 months ago
Share
We thank everyone for their monetary support and encouragement! Exciting things are happening…
The Tribal Youth Ambassadors have been hard at work developing and promoting their product. The acorn "bars" are now acorn "bites" (round shape holds up better) and the youth have been experimenting with different variations in ingredients.
The youth have promoted the bites at several community events this year: Stanford Pow Wow, CIMCC's California Indian Cultural Celebration, each session of CIMCC's Native Youth Employment Training Program, the Seeds and Cultures Conference, the Bioneers Conference, the California Indian and Indigenous Film Festival, and SNAG Magazine Release Party and Indigenous Marketplace.
Our youth are planning to continue promoting the acorn bites at upcoming community events. The next event will be at our December Native Holiday Craft Fair and Stocking Stuffer Sale on December 10, 2017 from 12 – 4 p.m. at CIMCC in Santa Rosa.
Every time our youth share the bites at community events they ask our community members for feedback. All community members absolutely love the acorn bites and can't wait for them to be able to launch as a product.
News about the project is being shared in statewide and national media outlets. News from Native California Winter Edition contains an article about the ACORN project. Also UNITY Wellness Warriors will be highlighting ACORN and the youth's work in a weekly article sent to 200 tribal youth councils.
Please spread the word about our Giving Tuesday campaign #givingtribalyouthday on 11/28/2017 to support ACORN. RSVP at
https://www.facebook.com/events/314297302390637/
Wishing you a joyous holiday season!
+ Read More
Be the first to leave a comment on this campaign.