Tech4Ghana
$550
of $75,000 goal
Raised by
6
people in 12 months
Tech4Ghana
fundamentally transforms the education of school children in three rural communities in Ghana.  For the first time, they get hands-on experience with computers and a library of books to read: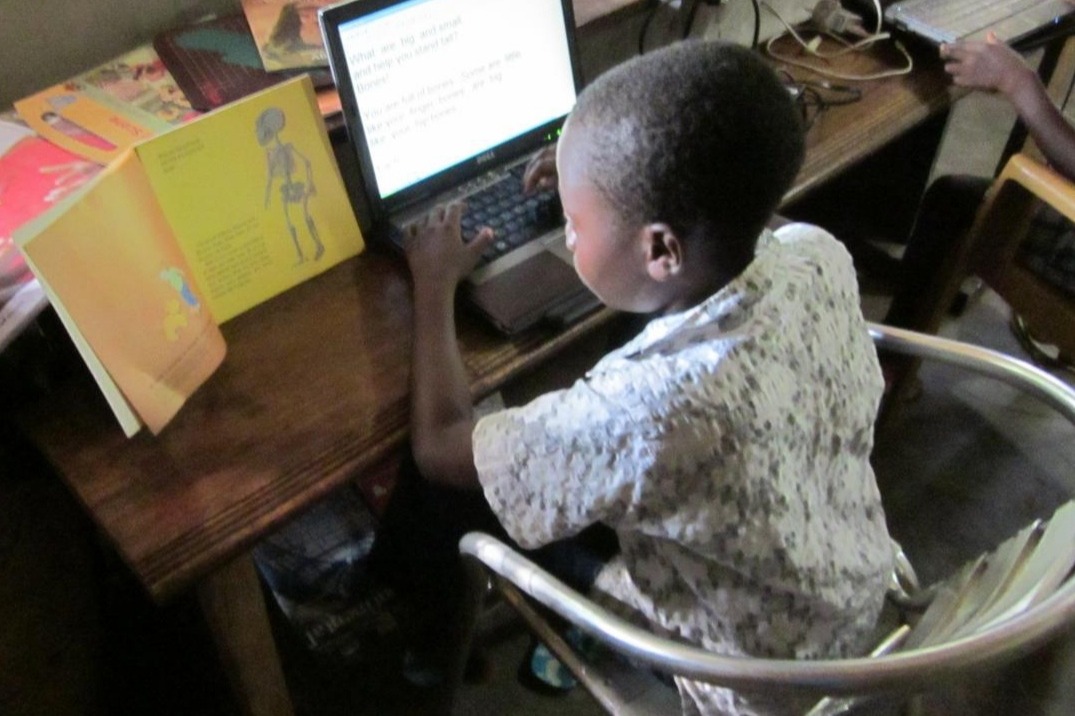 Please help rural Ghanaian children have access to learning technology and literacy.


Tech4Ghana
gives teachers access to instructional technology and English language learning/literacy resources.  Our programs are running, but our equipment is old.  We need $75,000 to:  replace the aging and mismatched laptops in our Computer Lab with 35 new machines; and, acquire a set of instructional hardware (LCD projector, digital camera), five internet-enabled laptops, a printer, and literacy education materials for our soon-to-open Library/Media Center.  
Please read
Tech4Ghana
's STORY below.  It chronicles our decade of charitable work in Wli's rainforest to make dreams come 
In Ghana, between Lake Volta and Togo, there is a thick rainforest at the foot of steep mountainous rocky ridges with waterfalls that never run dry. 
Long ago, Ewe people settled the forested land below, near two converging streams that flow from the Togolese highlands into their valley.  They named this place, Wli. 
In time, they farmed cocoa and coffee under the rainforest canopy.  Eventually, they chopped down much of it in order to cultivate rice and other field crops.  Canopy trees still stand here and there, mostly as boundary markers. 
Rice farm, Wli
What's left of the thick rainforest clings to the steep cliffs of the ridges or travels the waterfalls' stream through its narrow valley.  Eco-tourists from Ghana and around the world come to hike through the remaining virgin forest to the lower and upper waterfalls and climb to rocky mountaintops.  
Geologically speaking, the long line of north/south rock cliffs appear as if they were thrust up along a tectonic fault line in times primordial.  Their rocky tops don't support much plant life, apart from grasses and stunted trees.  Bats live on the cliffs and fly to the farmland and forest below every evening.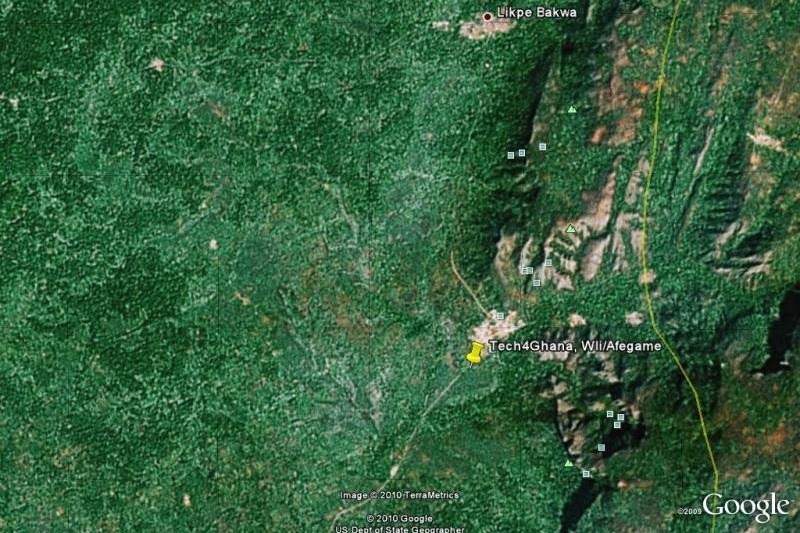 The people who live in these parts are mainly subsistence farmers.  Many of their children grow up and leave for urban areas, hoping for a better life and for money to send home.  Increasingly, some of those who stay are employed by the local growing tourism economy, or find jobs in nearby small city and local government seat, Hohoe.
Today, Wli has an estimated population of 3,000 people.  It's surrounded by farms.  It's the starting point of three roads.  One leads directly to the Togolese and Ghanaian border.  The other two lead to the next similar towns, Fodome Ando and Likpe Bakwa, four or five miles in opposite directions, also along the foot of these forested mountainous ridges. 
Wli, view from the trail to the upper falls
Wli's junction
A Wli lane,
Tech4Ghana
campus (right)
Tech4Ghana
's verdant campus
In 2005,
Tech4Ghana
arrived in Wli, when Ghanaian Donald Yao Molato moved from urban Alogbushi/Accra to "the rural".  
His mission was to provide exemplary instructional best practices for unresorced rural public school teachers there, and their students with the what they need to learn computer and English Language Arts literacy. 
He purchased a 20-acre overgrown farm on the edge of town.  He lived there in a two-person tent for nine months before he could construct a small cement block and tin roofed room.
Since then, a six-building educational village with classrooms has been constructed, along with residences for volunteers, guest rooms, a lawn and butterfly gardens filled with beautiful flowers, and fruit and medicinal trees.  All under scattered canopy trees that keep growing taller.  Behind the campus, towards the mountains, a rainforest is regenerating on
Tech4Ghana
property, where for ages a thick forest grew before rice was cultivated. 
Its campus development was envisioned, designed, and built by Yao.  Co-founder Stephen Mohney, a Brooklyn, New York public elementary school teacher (now retired), has primarily financed this educational village, with the help of some very generous friends.
It is a charitable promise of people committed to equitable education and the wellbeing of children in Ghana, who must otherwise attend un-resourced rural schools. 
We opened our first Computer Center in September 2009.
We added a small Library in 2011.  Books were donated, mostly lightly used children's books, and shipped in barrels from Brooklyn. 
School classes began coming from Wli's elementary and middle schools.  However, the students' first hands-on experiences with computers were limited by the number of computers and room space we had.  Neither did we have instructional technology for the teacher's use. 
Prior to this, teachers taught the government mandated Information and Communication Technology (ICT) through textbooks.  Students saw pictures.  Now they could see and use the hardware.
We knew what we had to do.  We started planning our expansion.  In the meantime, we continued to host Wli's school class visits.
Additionally, we began drop-in access for students and the community during afterschool hours, Saturdays, and vacations.  High school students, when they were back home, also dropped by.  We stayed open after dark.
Last September 2017, we opened our Computer Lab in a large room that could comfortably accommodate a class of students. 
We still have only about a dozen working but aging and mismatched laptops.   The students share.   Our goal is to have enough laptops so that every child can touch and learn on one, a class set, as per One Laptop Per Child's admirable mission, and as per international technology education standards.
We offer teachers access to instructional technology . . . 
This middle school teacher uses a laptop and LCD projector for her Saturday Academy word processing class.
Here she accesses an online image, which is projected to the screen for her school time lesson.  The wireless headset that she wears broadcasts from the portable speaker on the right.
This elementary school teacher is demonstrating the uses of a document camera attached to an LCD projector. 
Here, he introduces his students to a wired USB keyboard, which we attach to the laptop along with a wired mouse for student use.  He's also wearing the wireless headset.  Below, his Instruction is in Ewe; students are being taught English technology terms:
We opened four restrooms last September, as well.  Wli does not have public water or sewage systems.   As a result, none of our students have indoor plumbing or flush toilets.  They get water, by bucket or large pan, from either one of three hand-pump borehole wells in town or from the river.  
We had to drill our own borehole well and pump water from the aquifer to the building's rooftop tank in order to supply our toilets, sinks, showers, and exterior taps with unlimited clean water. 
Drilling for aquifer water through the bedrock
We struck water!
During the February/March 2017 dry season,
Tech4Ghana
's groundwater well, Yao's source of water, looked like this:
We had already finished construction of our septic tank in 2016.
This October we will open our new Library/Media Center, in a room of its own.  
English language learning and reading is not only essential for computing, but for further education, college, and career.  It is Ghana's national language.  
All
of our students are English language learners and come from homes where English is not spoken, and reading books and computers do not exist.  
Our new Library will have English literacy instructional resources for teachers and access to print rich materials for their students.
Library bookshelves, under construction 
Reading benches, in waiting 
Door, under construction 
The carpenter is installing it.
This butterfly garden pathway leads to
Tech4Ghana
's world of learning . . .
Computer Lab
Libary/Media Center and Environmental Science Center (under construction)
We now serve the elementary and middle schools of three rural Volta Region communities:  Wli, Fodome Ando, and Likpe Bakwa. 
Wli classes walk from their schools. 
Wli Elementary School, 4th grade class 
Fodome Ando Elementary School 
Classes from the other communities get transported in our school van.
The Ghana government does not provide these basic and essential resources for schools.  It is estimated that 90% of elementary and middle school students, especially from rural schools, have never even had the opportunity to experience a computer, hands-on. 
This is a crisis, which has put these rural children at such a perilous disadvantage to their urban and privileged peers.  These children are losing out on their potential and opportunities.  The educational divide increases all the time and many are left behind, due solely to where they're born and to the poverty that is endemic in the area. 
We are diminished by others "misfortune of life". 
But, what
Tech4Ghana
 has done
is 
beginning to help.  Wli's Middle School's Assistant Headmaster reported that student scores on government standardized tests improved, last year. 
Wli Assistant Headmaster credits 
Tech4Ghana
for increased student achievement
We will soon have the space capacity to host two entire classes at one time, each up to 35 students.  Already, we have nearly tripled the numbers of students that we serve from last academic year (2016-2017), from 150 to 400 students. Next year we will add two more partner schools and more than quadruple our pool of potential students. 
Expanded access to our Library and English literacy resources,
will
make a difference.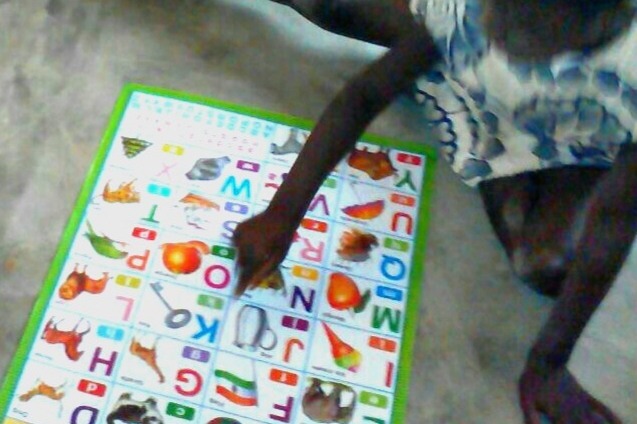 Team Rainforest Dream Rangers are raising money to equip the Computer Lab with a class set of new laptops and fill our new Library with reading books.  Thirty-five new laptops for the Lab, five laptops and instructional technology hardware for the Library's Media Center,  Wi-Fi access, and English literacy resources will be purchased.  We estimate that $75,000 would meet the above mentioned needs. 

Tech4Ghana USA
is a Brooklyn, New York-based nonprofit organization, registered in New York State and is a 501(c)3 public charity, as designated by the U.S. Department of Treasury/IRS.  It was established in the US to raise money to support the work of
Tech4Ghana
in 
Wli, which is a
 registered nonprofit in Ghana.   
Donations are tax charitable deductions to the fullest extent of the law.  

To date Tech4Ghana USA has not received any funding from foundations, corporations, or governments.  
We exist on the beneficence of individual charitable donors.  It's an all-volunteer organization.  Apart from bank account and wire fees, 
all
 donations are either transferred to 
Tech4Ghana
 or used to purchase items here and pay shipping fees and customs taxes.   
Please visit the
Tech4Ghana
 website.to view galleries of photos documenting ten years of development in Wli, 2009 to Present:   
www.tech4ghana.org
Tech4Ghana
signboard 
Our students are children of the rainforest past, since much of it has been cleared for farming.  Yet, their dreams still "never dry" like the waterfall that Wli children see every day, cradled by the forest high in the not-so-distant horizon.  
Please donate whatever you can to keep our students moving on . . .


GOOD NEWS!  Tech4Ghana
's backyard rainforest is regenerating.  It will take decades to mature.  In the future, teachers will lead students on educational tours of it, also demonstrating sustainable agriculture under its canopy.  
Out third new classroom, adjacent to the Library, will be an Environmental Science Center.  We hope to establish it next year.  School classes will study life sciences, particularly the ecosystem in which their students live, and eco-friendly and restorative local solutions to our changing global climate.
For future's sake, let's all dream  . . .                         
Rainforest Dreams 


Where once rice was cultivated, now a rainforest grows.
Addendum:  On the occasion of the Opening of 
Tech4Ghana
's Computer Lab, a Wli Middle School student "took the stage" to deliver a freestyle Praise Rap in Ewe, to the delight of all.  Listen as he thanks us for the "biscuits" (packages of cookies) that they're about to enjoy!
+ Read More