College Access for Zawadi Scholars
$2,770
of $200,000 goal
Raised by
10
people in 26 months
Zawadi Africa Education Fund
is a leadership development program that provides university scholarships and leadership development and life skills training to academically gifted but financially disadvantaged African girls, with the objective of developing a pipeline of young African women leaders.  
The Zawadi Africa Education Fund was founded in 2002 by Dr Susan Mboya, and is based on the highly successful Kennedy-Mboya Africa Student Airlifts Program of the 1960's, pioneered by Tom Mboya, (Dr. Mboya' s father), and President John F. Kennedy. 
Looking back at the last 14 years, Zawadi Africa Educational Fund has made big strides in the advancement of the girl-child education and most importantly,in the building of female leaders that are well on their way in making a difference in their communities and staying true to the Zawadi Africa Educational fund mantra of "Each One, Teach One". 
We are proud of the outstanding results we have been able to deliver in our first 14 years. These milestones include:
The program has over 360 students on full scholarships at 70 colleges and universities in the US, Canada, Kenya, Uganda, Ghana, South Africa, including Yale University, MIT, Harvard University, Smith College, McGill University, University of Cape Town (South Africa), Kwame Nkrumah University (Ghana) and Jomo Kenyatta University (Kenya).
Suggested Sponsorship Categories: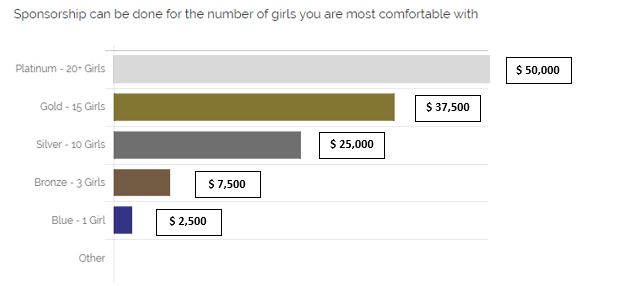 Below is a breakdown on how your donation will benefit each Zawadi Africa student:
Zawadi Africa is a catalyst for accelerating the growth of women leaders. We believe in the power of women. Zawadi Africa was formed with the belief that together with a world class education and the right character development, these young African women will be able to return to their home countries empowered and equipped with the skills needed to make significant, positive impact in their communities in a continent where traditionally women have not had a voice in the development of their community.
Zawadi has raised over USD 70 million in scholarship funds since inception in 2002. Zawadi Africa program has had a 100% retention and graduation rates to date, with 145 graduates as of May 2016.
Zawadi Africa's Auxillary Program: Beyond the Classroom
Research by Nike Foundation shows that approximately 150 million girls living in the developing world are not in school. Of this number, 14% get married before the age of 15 and 38% before the age of 18. Further research indicates that when a girl in the developing world receives 7 or more years of education, she marries 4 years later. When she spends 2 extra years in school, her wage earnings are boosted by 45%. In addition, higher levels of education result in better infant and child wealth.
In rural areas of Kenya, girl lack role models who help widen their horizons. As such they lack ambition, drop out of school due to teenage pregnancies, early marriages as second or third wives and later bear children they can barely afford to raise. Lack of tertiary education and life skills only serves to worsen the situation, as they remain jobless. Their daughters fall into the same circumstances as their mothers, as this is all they know. The cycle continues.
Beyond the Classroom serves the dual purpose of serving as a high school retention tool for girls for whom the future does not hold much promise, and preparation for successful entry into the highly competitive post-secondary school world. Further, it strives to equip high school girls with the life skills that they need in order to make intelligent choices by enhancing effective decision making skills, encouraging goal setting and building confidence. To date, The Beyond The Classroom Progam has reached over 16,000 students in primary and high schools accross Kenya.
+ Read More