41
9
Yak Girl Goes on Tour
$4,115
of $8,000 goal
Raised by
42
people in 14 months
Dear friends,

I am BEYOND excited to announce that after fifteen years of writing my book, Yak Girl: Growing Up in the Remote Dolpo Region of Nepal  is being released on January 7, 2018! I can't wait to share it with you. I know it will not only change my life, but will also change the lives of others, especially the people of Dolpo.
I am currently on a  international book tour to inspire people with my stories and to educate them about Dolpo. So far, I have gave more than 50 book talks between USA , Nepal and soon to Europe and I would like to continue to give more talks. I have given book talks at
Book stores, Universities , Senior Centers,  High Schools, Middle Schools, Elementry Schools, Book Clubs, Dolpo Community (Nepal), non-profit organizations and private events. And it has been an incredible journey so far .

My favorite part is having people come to my talks and then they reconnect to their  familys and friends after many years of not seeing each  other and create stronger bond. Or people making new friends and creating projects together. When I was in Nepal, many young Dolpo thanked me for telling their life story because their is very similar to mine and that really touched me.

I try to make each talk different and give helpful life messages to each group especially to students. 

Thank you to all my donors, host families and everyone that helped make Yak Girl tour possible! 

Please join me and make this tour possible by donating or sharing my campaign with your friends.

My Story

I was born in the remote Dolpo region of Nepal, high in the mountains bordering Tibet. I was the oldest of eleven children, only six of whom survived the harsh conditions. Dolpo has no running water, electricity, motor vehicles, phones, formal schools, or doctors, other than the local lamas, trained in the use of herbs and prayer. I began herding the family's goats and sheep at age five and by seven I was defending them from attacks by wolves and snow leopards.

When I was ten, my parents took me on a month-long trek to Kathmandu to find help for my extreme scoliosis. There we encountered Westerners who arranged to bring me to the United States and to get the surgeries I needed to save my life.

I was adopted by an American family, and eventually graduated from the University of Colorado with a degree in Fine Arts. For the last eight years, I have been working as an early childhood teacher in Boulder, Colorado.

My Goal

I need to raise at least $8,000 for my travel expenses. Some of my family and friends have begun to contribute to my tour to get it started, but I will need to raise more funds to be able to accomplish my goals.
I have started getting invited to do many presentations at bookstores, universities, senior living centers, book groups and secondary schools in CO, NC, PA, MA, WA, CA, Nepal and Europe. (I hope you can come to one!)

My presentation will include a slide show, video clips, stories from my book, and interesting facts about Dolpo. Anyone who wishes to can be part of my adventure from the comfort of their home by following me on Facebook 
Here is my tour schedule :  https://www.dorjearts.com/events/


How you can help

1.   Donate (Thank you, thank you, thank you!)
2.   Help me spread the word by sharing my campaign 
3.   Buy my book (amazon.com or in person)
4.   Come to one of my presentations. Tour Dates 

Gifts for supporting the Yak Girl Tour

·       $20: Thank you card with Yak Girl artwork
·       $35: The Only Son  DVD (a documentary about my family)
. $50:  An autographed copy of my book
·       $100: One of my prints ,"I am Happy" or "Wheel of Peace" (see below), and an autographed book 
·       $500: An autographed book, a coffee mug with my art, The Only Son DVD, and one of my prints
·       $1000: I will come do a Yak Girl presentation in your city or town in the US.  Just message me first to make sure it is practical, go over details, and make sure it will fit in with my upcoming tour schedule.
·       $2,000 or more: My mother will light candles around the famous Boudhanath Stupa in Nepal and pray for your long life and good health. I see you smiling! Who knows? This could change your life! 

Domestic shipping included, international shipping orders, add extra accordingly.

 Anything you give will be so appreciated!!!

Join me on social media

DorjeArts.com
Facebook.com/dorjeartsyakgirl
Instagram.com/dorjeartsyakgirl/

Yak Girl Tour Photos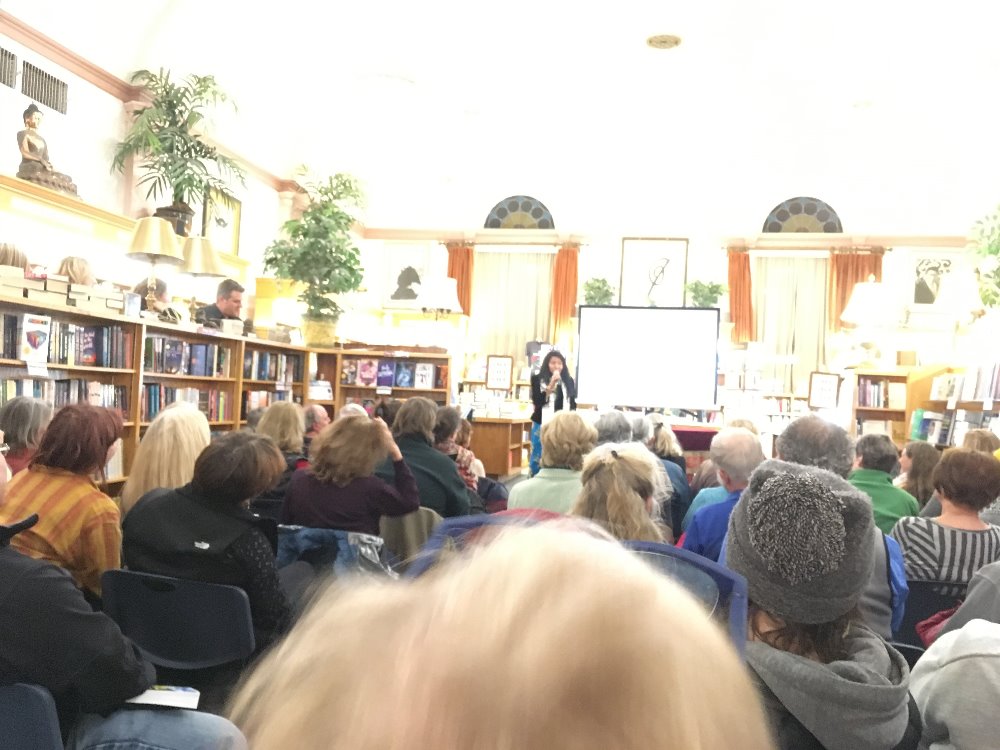 Book launch ! Night of laughters, tears and community gathering as 130 of us tightly packed at the Boulder Book Store as I shared Yak Girl stories with friends and family members :) 

Doing nature workshop with families to help them reconnect to nature and reminding people to  share stories and listen to each other. And always help those in need. 

Reminding the elders to share their stories to their love ones.  And that their life story is important ! :) 

University talks : Reminding the students to not give up and  don't be afraid to ask for help and be resourceful. 


Yak Girl's  1st Nepal talk sharing  how I came to Rokpa  with my Rokpa brothers and sisters , sponors, volunteers, guests and staff. 


Brainstorming ideas to help improve Dolpo's need with the Dolpo Community in Kathmandu :) 



Dorje's Artwork For Donor Gifts 



I Am Happy



Wheel of Peace
+ Read More
Update 1
Posted by Dorje Dolma
14 months ago
Share
My dear friends and family,
I want to take a moment to say THANK YOU! THANK YOU! For making GENEROUS donations and sharing my Yak Girl Goes on Tour! You are not only helping change my life but lives many others. I feel extremely thankful for you amazing people!! We have already reached more than $1,000! $6,615 left to go before reaching the $8,000. Thank you to the first awesome giving donors, thank you to the over 500 people who shared my campaign link to your friends and family. Thank you for buying my book on amazon. And thank you to all of your kind, sweet, thoughtful and encouraging messages and gifts. I have no words right now, other than tremendous amount of gratitude to each and every one of you. I just love how so many of you showed your excitement around Yak Girl and what's come next. I am super happy to have more people joining the Yak Girl team!! Please continue to support and share my tour campaign so I can come to your town start yakking about Yak Girl.
I hope you all had a wonderful Thanksgiving!
Dorje

+ Read More