5
18
Water for the Farm
$295
of $2,000 goal
Raised by
7
people in 3 months
WE NEED MORE WATER
There she goes again, begging for money.  Everyone has a hard time here, so what makes me so special.  That's what I hear in my head in writing this and I don't know where to start, but if I don't ask, the answer will always be no.  I am truly sorry for the length of this story but even if you don't donate, you may gain an understanding.
One way or another, we need more water and I need your help to do it. 
Many years we go without water in February and again in September for a short time.  We can get by as a household and there is a Spring a short drive down the road.  Many family's living here struggle through this I am told, however it isn't enough for even a small business that requires on water.  This has been the hardest year yet, for many reasons, but in part because it didn't rain for so long and we lugged water for over a month in the hottest weather we have had since … I don't know.  There are rumors that this weather trend may continue, and this would be devastating without water.
THE BACKGROUND
I started a campaign back in March to keep to Meadery part of our farm/apiary open called Honey, Bees and Mead for Life.  The Meadery portion of the farm is a lot of work, dependant on our honeybees, small orchards and water.  Micheal, my spouse just wanted to look after the bees he loves so much and after so many losses, that is where he wanted to focus his efforts.  If I came up with the money to purchase the licenses, he would give me that portion of the farm, the remaining equipment and recipes.  Up until then, my only involvement was the designing and marketing end, and helping to clean and sterilize equipment.
How it came to bees
Micheal starting beekeeping in 2002 and would sell his honey at local markets around Cape Breton.  Somewhere around 2006, and having been friends since 1976, he asked me what I thought about making and selling mead.  My first thought was, alcohol will never go out of style.  My second and deeper thought was formed while attempting a business of my own using my computer, web and graphic skills that showed me the trends leaning towards legend.  "You may have something here."
He opened as Winter Winery in 2006 and after I came to Cape Breton to be with Micheal, we became Midgard Meadery in December 2012.  Micheal's passion was always one of purpose and he wanted to make a 12th Century mead.  His love of history is as strong as it is for bees, nature and peaceful, healthy life.  He has always been big on nutrition providing health and thus 'no chemicals' was an important part and it has become important to many.  For some, our mead is the only choice to partake.  We don't use chemicals to stop the process and in fact, our farms honey and products are chemical free also.
To bees or not to bees
We suffered bee losses in the first year due to weather conditions and took steps to rectify this for future years.  We purchased nucleus colonies (or nucs) and grew them to strong colonies off-site at a friend's farm.  We had 5 bee yards at this time; including our on-site apiary at the farm.  When we thought we would have the best year yet, we discovered sabotage.  Someone had sprayed our whole site with insecticide, not just around but inside the hives as well.  Brood was dying as it was hatching.  It didn't only affect us.  Our friend's farm also uses organic methods, and this halted that business as well.  It was heart breaking for everyone.  The struggle here was very real as there is always various standard and if it was not for social services, we would have ended there.
Again, we purchased new bees on borrowed money.  It takes two years to build a nucleus colony into a thriving hive and the work in the hot summer sun is tasking.  Micheal fed those nucs quality nutrients from the farm to make them strong, used his techniques to facilitate brood making, did 3-way splits to those and some or our other hives to bring our count to 50 hives; future goals for 100.  He was frustrated by our losses but was not going to let that stop us from making this farm/apiary a viable business.  This brings in part of the reason he didn't want the responsibility of the Meadery any longer.  He would have too much work with the bees and might have to hire help, which he couldn't see happening any time soon.  The bees were more important.
THE PAST AND YOUR SUPPORT
I raised $2,300.00 from my first campaign with your support.  Not knowing what I was doing but knowing I had to do something if I wanted a life.  I could have left, but I couldn't bring myself to watch Micheal and/or his life fall apart.
I opened my last campaign with my arrival to Cape Breton after being a victim of assault.  Yes, I used my life to attract the attention I needed to save the Meadery.  It is true, I lived a hard life and suffered almost 20 years of abuse that ended in a jail term for the abuser.  All I wanted was some peace; a life when I got here, and I was in sad shape.  Micheal nurtured me back into health and society with a lot of struggle in that as well.  I owe him my sanity, if there is any left, and I don't give him enough credit for all that he has done for me.  This beautiful place helped.
We always said partner, but that wasn't the case, though the term spouse was used for the government paperwork as a dependant.  Micheal is my first love and I was so happy that he wanted me in his life, I wanted to help build the Meadery, I had many skills to be used and they were.   I learned that he was closing the Meadery the same time you learned. 
That is the past, this is the present…
You helped me get the paperwork and licensing in order.  It was a series of comical errors but in the end, I was able to do that which I set out to do and more.  I purchased the licenses, 
(View Licenses)
  some honey (as we had our losses) and some new equipment, as things always need renewing.  The Meadery became my sole-proprietorship and the farm became a joint effort. 
I researched and listed what I would need to renovate the Meadery, to purchase more shelving & equipment and make it something worth a tour.  This I started with my own pension funds and my own two hands.  Like I said, I have skills.  Occasional contract workers were hired, also with my pension funds, with hopes that I would be able to support more hours for them as I grew.  In part, I wanted to give back; grateful for the chance of a life with less struggle and my contract workers also needed that chance.  We had some help for awhile with youth workers but that didn't work out the way it was supposed to.  In the end, there is a couple I would like to be able to hire…
With all that came liability insurance and a used vehicle for me, paid cash that was safe to transport youth/workers and not the farm truck that relocates racoons and transports bees and honey.  Both are in my name and so I pay for the insurance on both.  Tools enough for everyone to use and personal safety equipment for the youth.  Water was out so buying water for drinking and food for the teams' lunches were necessary for everyone's well being.   All this and more is my own responsibility, not Micheal's. 
The renovation is on-going, the equipment is on order (one piece at a time).  That is what I am doing and going to do.  Micheal is fixing up the farm with a bit of my help, building bedrooms (which we have never had), a farm gate store bit by bit.  He has been doing so in between beekeeping for about 4 or 5 years.  Like I said, it is a struggle and it wears us down at times.  Meanwhile, friends, relatives, neighbours and customers oblivious to the struggle continue to want honey, eggs, mead and other products from our no chemical farm.  People drop in for tours and tastings that I have given for free in the past, but it is embarrassing when I bring them in to my home instead of the Meadery or store.  They expect something different, no doubt.  This is a small farm Meadery.  We are working on it.  We like a call first as we are busy and do have work.
Borrowing is not the answer for us.  We can borrow, but we need to make enough to cover the debt and we had already borrowed for bees last year and two years before that.
THE BEES – Spring into Summer into FallThings rarely happen as planned. 
We went into the winter with the 50 hives I talked about earlier and came out with 43-44.  Not bad.  We had built bee huts out of hardware cloth and insulated swimming pool covers (another purchase) that look like little blue greenhouses and covered the ends with bows from our trees that could be added to if it got colder or removed as weather got warmer.  Although they kept them nice and warm and dry, they heated the bees too much when the warm weather hit in the spring, so we removed them. 
The bees were hungry.  With being warmer, they used much of their honey stores.  With what was left, and the pollen from the Alder and Maple trees, started making brood (new bees).  We fed them to resupply nutrients and it looked like it was going to be a great year…finally!
The dandelions (the first nectar) finally arrived, and we could stop feeding as it is another expense.  They were out one day and then it rained, and got cold, and the bees left the brood to cluster around the Queen, to keep her safe and warm like they do.  On the 27th of June we had frost in the hills of our farm, and in the Highlands, there was snow. 
Without the worker bees and their nurture, without any warmth, the brood died and the over wintered bees that survived started to weaken because they are not supposed to live through 8 months of cold.  Winter bees live 6-7 months and summer bees live approximately 6 weeks, but Micheal has built some strong survivor bees over the last little while.  Just at the end of this struggle, a neighbour decided it was a good thing to burn toxic, throat burning garbage and waste.  That was it for all our hard work and in the end, we were left with 8 hives.
With the new non-grape winery laws coming into effect, we are required by law to have a minimum of 25 beehives, not nucleus colonies but producing hives.  With Micheal's diligence, our 8 strong surviving hives and hard work, he turned those 8 into 25 and we passed our inspection.  This year again our extraction will be limited to the sale of honey, as Micheal's business and the purchase of honey will be necessary for mead, as mine.  By law, I can only purchase the equivalent of what we produce.  If we had 51 hives, I could buy as much honey as I wanted.  We were expecting to have that.  Extraction starts next month, and I will update my supporters, but we are estimating 800 pounds.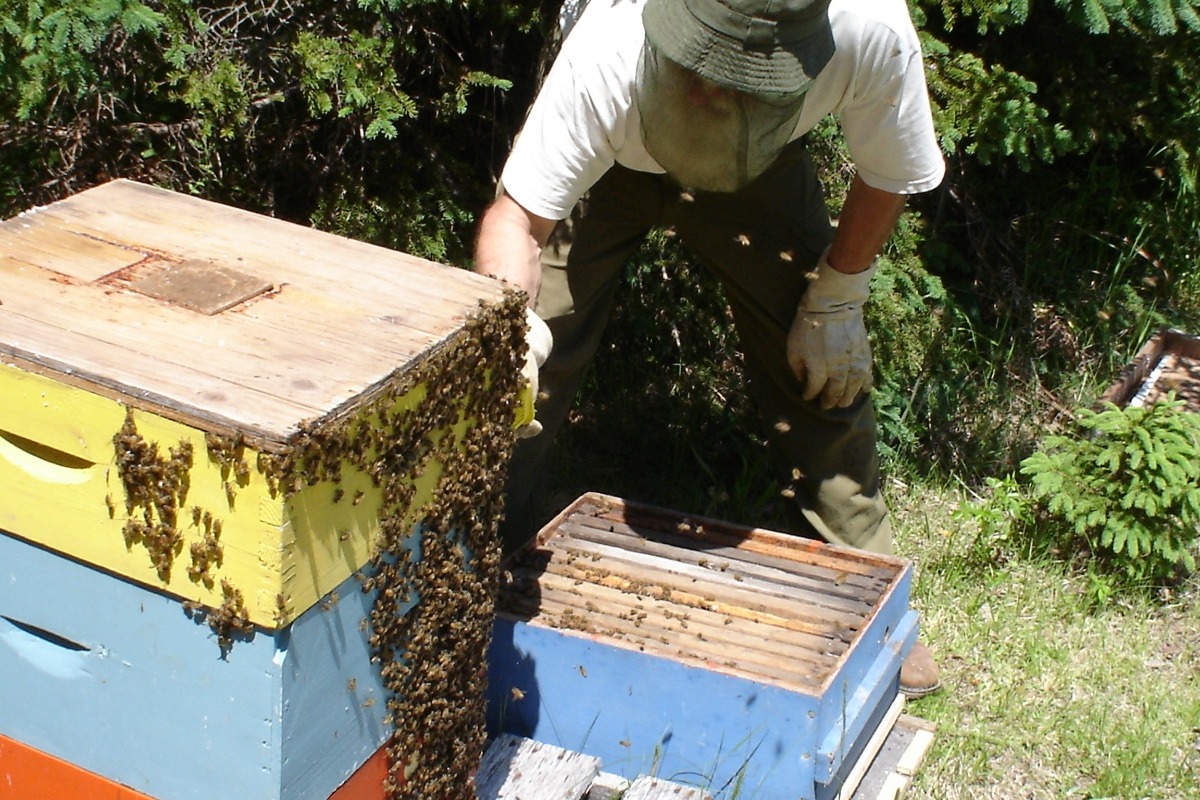 WATER, water everywhere and not a drop to drink
I need your assistance so that on top of everything else already in the works, I can buy and install a larger cistern.  The one we have wasn't installed for farm use and is only a 750-gallon tank.   It was always in the plan for more water but these last years have been draining the resources needed.   Before the dairy closed, we were collecting blue barrels for a temporary system.   Now they are scattered throughout the farm for watering purposes.
Cape Breton is a humid place most of the time.   We all struggle with keeping mold at bay.   There is water all around us, so the on-going joke is too much or not enough.  This drought after the long rainy cold 'Sprinter' had us depleted while tourists and city dwellers thought it was beautiful, even if warmer than they would like.  Many of my friends never thought about water for us here and were amazed to find out how difficult it can be.  Living on the city water supply, they only know what they know.  Plants need water, turn on the hose. 
Here, plants need water, they die.  Our fruit orchards suffered doubly this year.  First a cold snap after pollination and then no water.  We have 3 pears, no cherries, haven't seen any apples, no peaches, no plums.  The black currants are limited, and the blueberries aren't enough … but we have lots and lots of Black Berries, if you want to help pick them.
People ask why I am just asking for help with water.
  It is where to start, I believe.  I would not turn down help for the bees or the farm, but without water, we don't have life.  I can't clean, do laundry, take a shower, hydrate employees or myself, feed honey bees or hummingbirds, cook a meal, water plants, produce and fruit orchards, water chickens, etc., and I can't make mead.  Please just try to go a day without turning on your tap or flushing a toilet.  If you wipe up a mess, remember, you can't rinse the cloth.
People ask why we don't dig a well.
  It is harder than you think.  We live in the country on a mountain made of rock, soil is brought in for produce.  When you drill a deep well in rock you pay lots and you pay by the foot whether you get water or not.  We have a shallow well that dries up in the summer, but I would only risk it for washing up.  The Arsenic maps show Arsenic down around the end of the Barrachois hills.  We make our mead with soft filtered rain water and it is award winning, 12th century, Norwegian style and it is in demand.
YOUR SUPPORTTo all those who support and have supported
I really am grateful.  I truly am honoured.  This wouldn't have been possible without you.  It isn't much, but all helpers who have volunteered their time and all donors from our campaigns or elsewhere will have their names made into leather tags to be secured to the wood of our farm gate wall; to be remembered and to thank you in a small way.  Even with all that is going on, you make me feel blessed.
Jen Holtom
Midgard Meadery / Scotch Lake Farm 
+ Read More