WakeUp App and Website Development
$6,133
of $10,500 goal
Raised by
95
people in 27 months
Our Goal
We hope to raise
$10,500 in 60 days or less
through this GoFundMe campaign in order to fund mobile application and website development. Those who donate
$75 or more
will have the option of having their name listed on a virtual "donor wall" page on our website.
Short Background


The idea for WakeUp was born in November of 2015. In the wake of various conflicts and tragedies throughout the world this year, we saw many of our peers take to social media as a way to channel their frustrations and try to influence the world around them. We acknowledged their good intentions, but we couldn't help but notice that their actions weren't creating any type of change. We realized that this was a common trend; many times when people want to create an impact in their community they use social media platforms like Facebook and Twitter. The issue is that existing social medias aren't specifically designed for community involvement. Sure, you can use different social medias to plan events, but they're not streamlined for that purpose. Scroll down the page and you're likely to see a picture of your friend's new cat and a recipe for "the best cookies you'll have in your life." The allure of using existing social media platforms to make change is that they're easily accessible, but the problem is that they have little to no impact. We realized that a lot of change could come if people simply channeled their energy differently, so we created WakeUp to be the first digital platform specifically designed for productive, time efficient activism.
How WakeUp will work:
WakeUp will exist as an online platform comprised of a website and a mobile application.
Website
The website will be a media outlet, full of articles created by our hand-picked team of writers, covering longstanding historical issues as well as current events. The articles will avoid the all too common theme of pessimism and despair. Instead, they will be written with positivity and hope, as these sentiments are essential in inspiring people to believe that they are capable of making change. The articles will be concise and supported by references. They will offer resources for further education, and will ALWAYS provide ways for the reader to get involved right then and there from behind their computer screen.
The articles will stem from 6 major categories. Many times articles will overlap into two or more categories:
Poverty and Human Welfare
Climate Change and Sustainability.  
Social Systems.
Policy Change
Economic Activism 
Tools for community involvement
Mobile Application
The mobile app is the centerpiece of the WakeUp platform. It is made up of three components: an "Activity" page to get a real-time feed of activism occurring in the community, a "Get Involved" page to provide easy, time efficient access to events near and far, and a "Personal Profile" page to create networks of fellow friends and community organizers.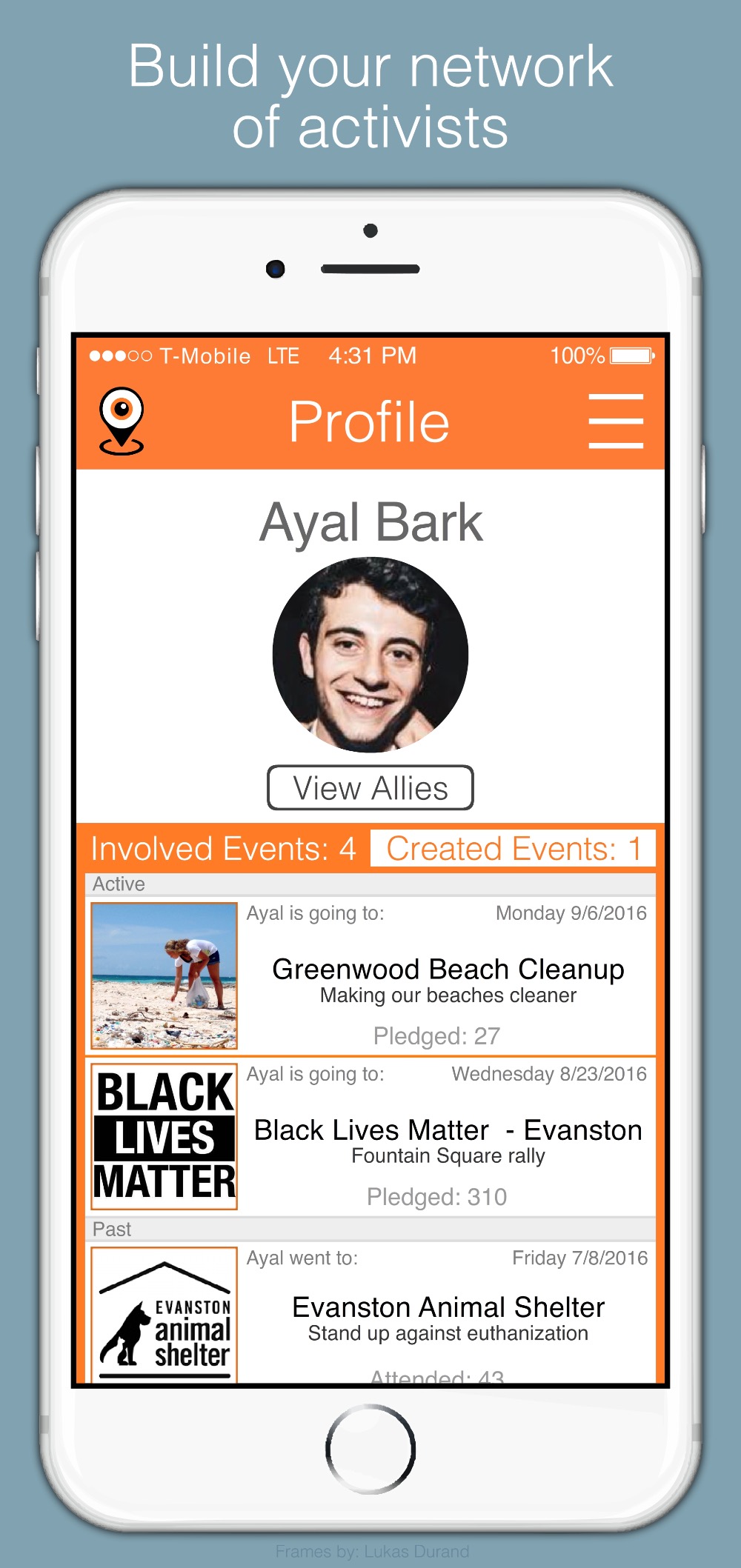 The "Get Involved" page will have a google-maps-esque layout with dropped pins in locations where change-making events are taking place. The user can refine the event options based on proximity, event types, and whether or not that event has been organized by one person or a change agency organization.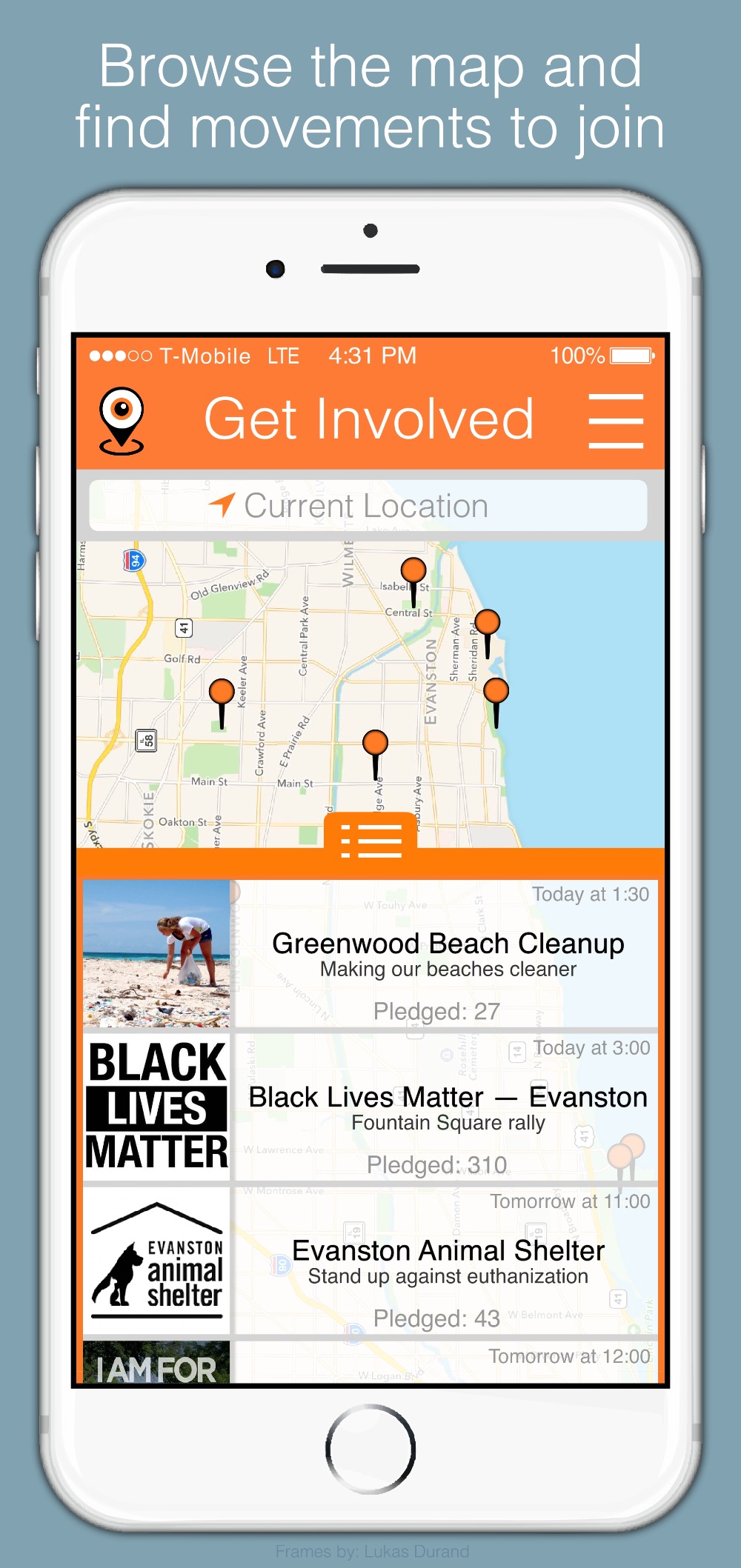 The open platform format of the app allows individuals and change agencies alike to create and advertise their own events within the application. This two-way flow of communication and networking resembles LinkedIn in a sense, while being very specifically geared towards taking meaningful action in one's own community.
This application is truly an ecosystem for change; a living, breathing, community-based entity that optimizes activism by making it time efficient, effective, and personal.
The Impact
Never before has there been a platform like WakeUp. When completed, it will greatly increase the ability of any person (not just those labeled politicians, activists, etc) to tailor community involvement to their lifestyles and become involved in making the change that they want to see. WakeUp is a movement. We want to change the culture of activism. No longer will change-making be someone else's responsibility. We want users to understand that campaigning for change is a cool, and more importantly, accessible activity. Through WakeUp, everyone can be informed on the issues that plague our society and become a part of their respective solutions.
Other Ways You Can Help

SHARE THIS VIDEO!!!
Show the campaign to two friends and ask them to do the same
____________________________________________________________
Thanks to Nate Brieva for creating the campaign video!
+ Read More
Thank you all so much for donating, we're almost a third of the way there! It's incredibly motivating to see the community supporting this idea, and recognizing the effect it can have. PLEASE continue to share and donate! Your help is greatly appreciated.
+ Read More
Please help my app too as budgets continue to tighten IDM
+ Read More