Violet's Medical Fund
$2,610
of $10k goal
Raised by
43
people in 12 months
I've set up this account to help my daugher Amber, her husband and my granddaughter Violet. Here is their story...
"Most know that when Violet was born she was in heart failure and needed open heart surgery at just 5 weeks old. Her surgeon did an amazing job and through the years it seemed she would never need another open heart surgery. But now after her last test results the cardiologist has informed us that Violet will need another open heart surgery. 

This was from Violet's first open heart surgery...

On top of dealing with the news of the open heart surgery Violet's knee severely dislocated. She has a condition that causes over elasticity of the joints which is often common for children with Down syndrome. But for Violet, she has a very severe case and can no longer walk. We just got back from a trip to Philadelphia where they fitted her for a loner wheelchair and several different leg braces that will keep her leg fully extended so she doesn't bend it. There is a surgery available for her legs but it comes with great risks...risks that we just are not willing to take right now with her. She will have to wait until she is 10-12 years old before she is able to "possibly" have the surgery on her leg because the risk of the surgery failing at such a young age is close to 50%.

Violet in Philadelphia getting her loner wheelchair.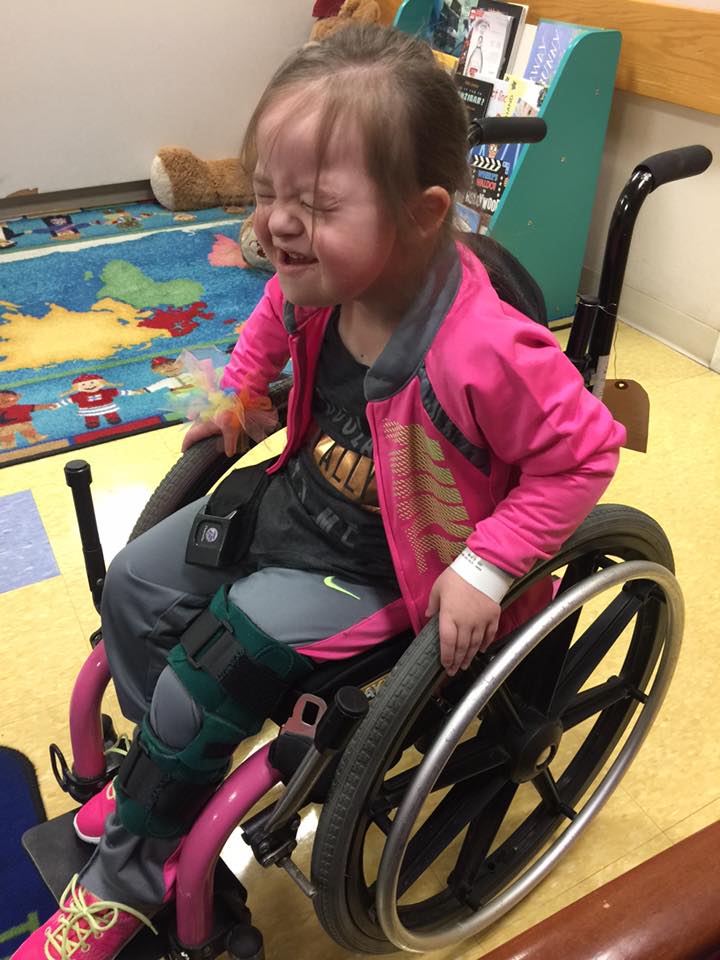 So we are now faced with Violet in a wheelchair and needing open heart surgery. I'm not able to work as much anymore since I am her caregiver, so my income is basically non existent at this point.  We are hoping to raise enough money to help with a down payment for a more handicap accessible minivan since her wheelchair is quite heavy and hard for me to get in and out of the back of my SUV. The funds will also be helping with a ramp for the backdoor to get her wheelchair in and out, rehab services, physical therapy, medical expenses for her open heart surgery, and expenses for traveling back and forth to Birmingham, Alabama to her cardiology team.
We never planned for her to need another open heart surgery. We never planned on her being in a wheelchair. We definitely didn't plan to be hit with both of them within 24 hours."  

If you are not able to donate, please share or keep Violet in your thoughts and/or prayers. No child should ever have to go through so much in such a short life.



+ Read More
Be the first to leave a comment on this campaign.