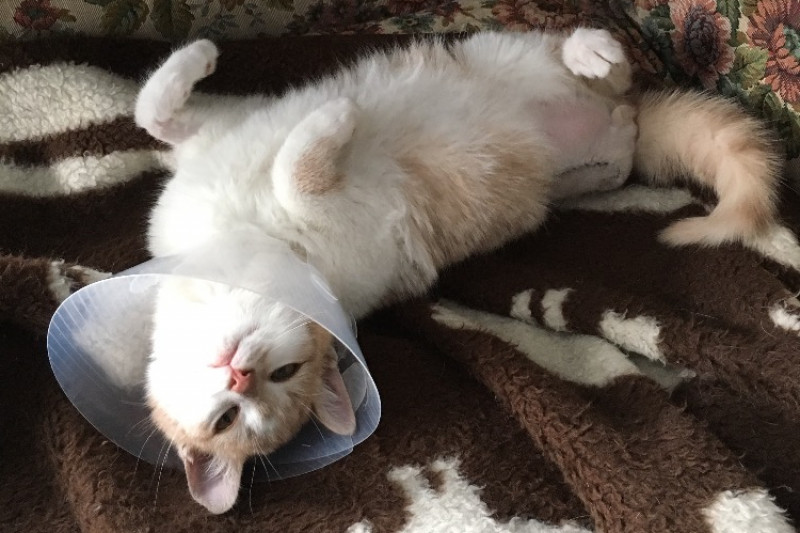 48
11
Baby Tex's Leg Amputation
$3,756
of $3,232 goal
Raised by
54
people in 9 months
Kitten Wrangling
This little cowboy, now named "Tex," was born and living outside of a store on the outskirts of Albany, NY. Tex and his many siblings, mom, and several other cats were fortunate enough to be fed by the store owners, but the area around the store is industrial, with lots of equipment, pallets of supplies, and storage areas. Not really safe or cat-friendly — and somehow Tex hurt one of his hind legs during his first three months of life. 
The store owners noticed Tex wasn't using his back leg. All the cats and kittens seemed semi-feral in that they would come close to eat, but if anyone tried to reach out and touch them, they would run away. Even Tex, on his three good legs. There seemed to be no way to help Tex.
So, the owners started talking to people about Tex, and this is how things start to happen. Word of mouth.
One of their customers is one of my customers, and she told me about this kitten with the bad leg, running around outside of the store. I had to go to the store and see what the situation was, for myself.
After speaking with the owners, and getting permission to try to catch the kitten, as soon as possible with our winter weather approaching (it was December already, in the northeast US), I borrowed some humane cat traps from Whiskers (
ewhiskers.com
) and set about trying to catch this little guy.
This took NINE days. I just tried to fit in trapping sessions as I could, with my work schedule. Some days I was able to stay longer than others. Some days I went back twice. Most days I wore ski pants and my parka and I stood around in the shadows of an outbuilding, a good 100 feet away, waiting, holding the rope to the drop trap, looking through binoculars to see if the right cat was in the trap eating the pile of cat treats I put out .... 
Finally, the day I caught Tex (and one of his buddies), it took all of 15 minutes. I let his friend go, after confirming with one of the store owners that I had the right kitten. Of course, it was a Sunday (no regular veterinary clinics are open), so off to an emergency veterinary clinic we went!
Lassoing the Problem(s)
At this point Tex was in a portable humane trap, and I had the trap covered with a sheet. It's a big, ungainly thing that gets you lots of stares when you casually stroll into the emergency clinic waiting room. Tex was very quiet though, and not trying to break out, which was surprising, but good. 
Having no idea what to expect from this kitten, who had never been touched by a human, I let the staff know they  might need to sedate him. I've had some pretty crazy experiences with feral kittens ... they are good at climbing walls, light fixtures, windows, you name it!
Tex was good for the staff, but they did a light sedation in order to get two X-rays. The X-rays showed some bad news. 
Tex had three problems with his leg. He had an old tibial fracture that was in many pieces. He also had a wound on the inside of his hind foot and the X-ray showed that the foot bone next to that was infected to the point that the bone had already been eaten away by the infection. I didn't even know that was possible. On the X-ray there is just a blank area where the bone used to be. And one of his toes had a problem (it just looked black), which could not be fixed. The toe needed to be amputated.
Now, of course I'm bringing Tex to the emergency clinic to help him, so so when the veterinarian says we can have a consultation with a surgeon in two days, I make the appointment. I know what's next, and I have my credit card ready. Help Tex, figure out the rest later. I know my husband, Alan, will agree.
Getting Back in the Saddle
Tex turns out to be the sweetest kitten ever! Alan and I have fostered many cats and kittens, feral and friendly, but this little guy takes the cake. However the store owner socialized Tex by just feeding and talking to him, he did just the right thing, without ever touching Tex. It's truly amazing. As most rescue people know, after about six weeks of age, feral kittens are.... pretty feral!
Anyway, Tex went in for a consultation with the surgeon and she recommended full amputation of his hind leg for the best recovery and long term result. We discussed other options, and in the end I went with her recommendation. 
The next day, Tex went in for his amputation. I have never taken care of a cat with an amputation before, so I was nervous for the little guy ( and for me!). Now, I could have gotten Tex a cheaper amputation using a general veterinarian... probably almost half the price of the one he had, but when it comes to my cats, I prefer to use a board-certified veterinary surgeon, so that is what I chose for Tex. I mean, who wants a half-priced amputation?!
Tex did great! He stayed at the hospital one night. I picked him up the next day .... a technician carried him out, on his back, like a baby, holding a little toy mouse. How adorable is that? She said she didn't want to give him back.  ;)
By day three at home he was taking off his Elizabethan collar and scurrying around on three legs. Today is officially two weeks since I trapped him. Two weeks from his surgery he will get his stitches out and he will be ready for the rest of his vetting and will be ready to find  his forever home. 
He's a mild-mannered little guy who loves to play, he loves cats, he just discovered the couch ("nope, I'm not sleeping on dirt ever again," he said), uses the litter box just fine, and has a cute little meow. He purrs if you look at him, and he rolls over for belly rubs!
Financing the Full Rodeo

Normally, when faced with a situation like this, I turn to my favorite local cat rescue, Whiskers (
ewhiskers.com
) to take on the financial aspect while Alan and I do the fostering and schlepping back and forth to the vet and adoption clinics. 
Unfortunately, Whiskers is unable to take on more vet bills right now, which I knew before I went to look at Tex. I paid for Tex's emergency veterinarian bill, his surgical consultation, and his surgery on my own. Tex could not wait (Think of that bone infection) ... someone had to act now .... and thanks to credit cards, I could pay now and figure the rest out later.
I have already received money from a few people, for Tex, before I even had time to sit down and set up this gofundme page! I am confident that we can raise the money to cover Tex's bills.
As a matter of fact, if we raise MORE money than Tex needs for his surgery, I will make sure that money goes to help all the folks "back at the ranch." That would be the six other kittens and the five+ adult cats (I don't have an exact count), living outside of the store,  who ALL need to be trapped, spayed, and neutered. Each should have a rabies vaccination and some will probably need other veterinary care.
The store owner is building a heated shelter for the cats who will stay on site. Friendly cats will find homes. A heated water dish is on site now. Temporary insulated winter shelters are in place. More improvements will be made. 
Thank you so much for reading this long story about one little kitten. Thank you from my heart for any help you can give to Tex and his family and friends. It's 3 degrees Fahrenheit outside right now, as I type this. It stinks that there are abandoned and descendants of abandoned  cats stuck living outside, but if we keep working on this problem, I hope someday that won't be true. Thank you!
+ Read More
Update 2
9 months ago
Share
Tex had his stitches removed last week, and the surgeon declared him fully healed. Isn't that amazing? Can you imagine a person being fully healed from a complete leg amputation in 2 weeks? The first thing Tex did without his cone on was wash his face with his paw! Then he raced all around the house at 100 mph, including running up and down the stairs!
+ Read More
Update 1
9 months ago
Share
Each day we marvel at how well Tex is doing, and then the next day he is more active! Only two more days until he gets his cone off .... he can't wait!
+ Read More
Read a Previous Update