Help Ann and Tony Stop Foreclosure
$14,065
of $15,000 goal
Raised by
203
people in 35 months
Update -
Hello all -
Tony and I haven't done an update here on our GoFundMe in about 5 months. We kept thinking that any moment now, we'd be triumphant successes rising from the ashes of defeat, with only a singed tail feather or two.  Unfortunately, that day has not yet come, although we still remain convinced there must be a pony in the towering pile of poop.
When last you heard from us, we were just about to file Chapter 13 bankruptcy to stop the foreclosure on our house...and that happened!! Yea!! And so for the last few months we have been (just barely and with help) making those payments, our first mortgage payments, and our other bills. We cut our expenses, including giving up Tony's studio space. I continued to look for a job, and we put our efforts into running Tinplate Studios as well.
Then...the darkness came...or more specifically January and...job prospects withered and died and the business tanked. I blame That Man...you know the one. And we need to make our bankruptcy payment next week, and the coffers are empty.
Now...as I said...all is not lost...not absolutely...not yet. I have two jobs circling out there that I really truly believe are close to offers *and* we have our biggest show coming up in two weeks - Emerald City Comicon. Finding enough money to buy supplies for that is, unfortunately, an issue as well.
So here we are again. On your doorstep, hats in hand, asking for help. We understand this is not a sustainable lifestyle choice...to keep doing this. We are already looking into selling the house - a tricky prospect while in bankruptcy, but must find a way to survive just a bit longer to give that a chance to succeed as well.
As you well know...we have stuff for sale!
There are many fun new things up on www.tinplatestudios.etsy.com
There are also starting to be things up on my Etsy shop - www.dejaviews.etsy.com
Nothing in our house (vintage collectibles! steamy costume bits! shop fixtures and housewares!) is safe from a priced-to-sell-tag and we'll try to get those up on Facebook first just as soon as possible.
We are humbled and grateful for your support. Your good wishes shine a light in what seems to us to be overwhelming darkness and you give us strength to go on.
 Ann and Tony

Hello friends, family, acquaintances, fans, and kind strangers –
You last heard from us through this venue about 6 months ago, when so many of you, so generously, helped us by providing funds to allow us to pay some bills, catch up on our first mortgage, and put a temporary tarp over what was left of our roof. (That's where the initial $4,885 went...and why it says we want such a big honking number - we're trying to raise $5,000 now.) I got some temporary contract work, we did a few shows for Tony's business, Tinplate Studios, and we squeaked along until now. What we were not able to do was make a couple of past due payments on our second mortgage, and the mortgage holder, Washington State Employee's Credit Union (WSECU), is now foreclosing on our house. The foreclosure sale is set for September 9th, in less than 2 weeks.
We've been working with the Urban League for the last several months to try and negotiate some sort of modification with WSECU, but they have been unwilling to do so. Because they are a credit union, they are not bound by law to do Foreclosure Mediation. Although they told us, in 2012, and again in 2015 that they had "written off" the loan, and did not seek payment from us during that time, we did start a reduced payment plan with them in late 2015, and we fell  2 -3 months behind on that. We're current on our 1st mortgage.
WSECU now appears to be willing to possibly consider making some arrangements that could postpone or forestall the sale of the house. They want money right away for their legal fees and towards our arrears, and then perhaps they would be willing to make arrangements for the balance. They want the money tomorrow. We don't have it. It's possible we may be able to negotiate a few more days.
 So…what we're hoping for is to raise enough money to buy us some time. We don't want to lose our home – I grew up in this house. My parents bought the house in 1947, and I raised my family, the third generation of Ravenna residents, in my childhood family home. I even wrote a book about the neighborhood, with a number of pictures of the house!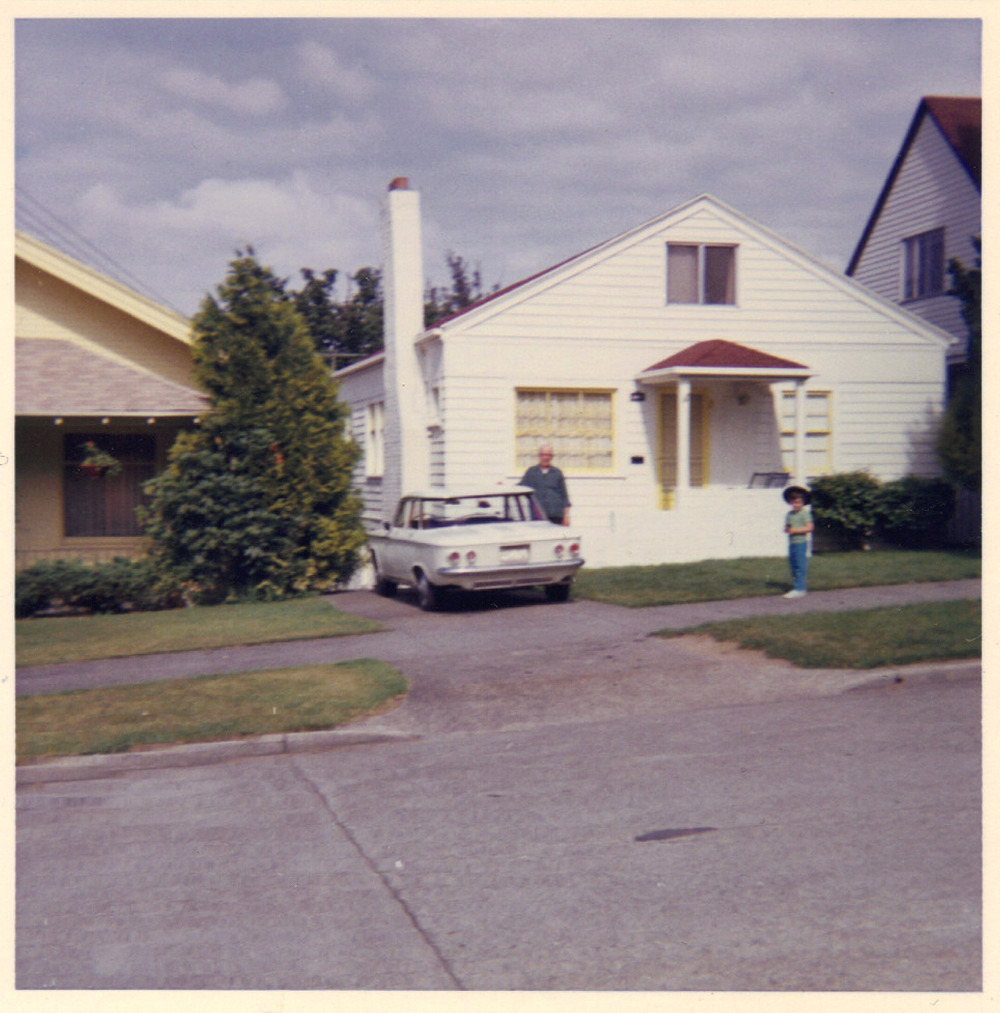 (Check out my Author Page .)
Here's a bit of background on us and our situation -
If you've found your way here, you probably know us (or at least had a passing moment of thinking who are the dashing duo in the great hats?!)

but you may not know our current situation. Myself (Ann Wendell) and my husband, Tony Hicks, are romantic/creative partners in adventure, living in our 100 year old house in the Ravenna neighborhood of Seattle. We met online about 13 years ago, and after falling madly, truly, deeply in love, decided we should meet. Tony came to visit me in Seattle and never left (as a native Seattleite, I was allowed to sponsor him...even though he's from California.) I'm an author, local historian, and recruiter/business researcher and Tony is an artist, creating sideshow gaffs and cryptozoological wonders, natural (and unnatural) illustrations and sequential art, disturbing jewelry, and Steampunk bodgery as Tinplate Studios .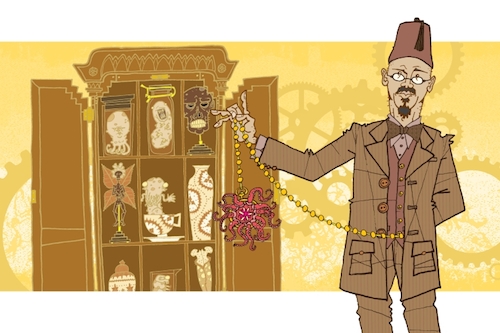 So...here's the scoop. We've gotten ourselves into a bit of a pickle. We have woken up to smell the cat food in our bank account. We're broke...flat out busted...skint...tapped out...poor as church mice, as Job's turkey, as a cabdriver in Venice. How the heck did this happen?!?! Well, the last 2 years or so have been filled with our very own Series of Unfortunate Events (and frankly we were already in a pretty deep hole due to such fun life experiences as the aftermath of a messy divorce, unemployment, and cancer.) We were unprepared for the big blows - the unexpected loss of my job and Tony's diagnosis of Sarcoidosis, a chronic inflammatory disease. He was flat on his back for months, and I was taking care of him. Unfortunately, he is still not back to being completely healthy, and he struggles every day to have the energy and stamina to continue working. And thus began the cascading Dominos of Doom where part of your roof blows off, your 80 year old furnace needs repair (and somehow to be filled with oil before the cold hits), as does your car (which is how you get to shows where you could vend and make money...if you could...but you can't), the utilities and electricity still need to be paid,  and even though my job search is in high gear, offers are just not pouring in.
We are lucky to be covered for healthcare (Thanks Obama!!) so we still have a steady supply of antidepressants coming in. But we now face the prospect of literally having no place to live. This is how we would use the money we're asking for now – staving off the foreclosure sale of our house. If you can help us keep a roof over our heads (even though it is now a large plastic tarp) for just a bit longer until we have steady money coming in, it would mean the world to us.
Other ways you can help -
1. Buy things from us!
Tony's Etsy shop is www.tinplatestudios.etsy.com . (It may be several weeks processing time, but he promises it'll be well worth the wait.)
Ann's Etsy shop is  www.dejaviews.etsy.com (This will soon be filled with treasures such as vintage hats, clothes, jewelry cocktail sets, tea pots and salt and pepper shakers.) You can also buy Ann's books from her directly (Images of America: Seattle's Ravenna Neighborhood, and Images of America: Frederick & Nelson.)
2. Let Ann know about job leads!
Here's my LinkedIn profile to get an idea of what I can do - www.linkedin.com/in/annwendell .
3. Promote Tony's work!
Etsy -  www.tinplatestudios.etsy.com
Facebook - https://www.facebook.com/Tinplate-Studios-Steampunk-Wonders-and-Bodgery
Twitter - @tinplatestudios
Instagram - Tinplatestudios
Tumblr - chattergrub
4. All the wonderful things you already do! Thank you so much for all your support!
Keep those Facebook pictures of baby hedgehogs rolling in. We need them now more than ever!
+ Read More