The Grandfather Challenge
$2,905
of $10,000 goal
Raised by
17
people in 29 months
The Jason Project, Inc. & The Grandfather Challenge
Grandfather Mountain, NC
Dear Potential Donors:
In June of last year, we lost our twenty-six-year-old son, Jason Matthew Nipper. In honor of Jason's memory, we formed a non-profit corporation called The Jason Project, Inc., which has now qualified as a Charitable Foundation (copy of 501-C-3 IRS letter has been provided to GoFundMe). Through this legal entity and the work that we have organized pursuant to its Charter, we hope to provide assistance in various forms to "at-risk" young persons, including those youth who are suffering from mental illness and/or drug addiction.
Because of Jason's abiding love of the outdoors and mountain hiking, one of our goals is to organize Outward Bound/ Intercept wilderness excursions and similar programs which are designed to build self-confidence in struggling youth, as well as trust and a positive rapport with adult mentors. As part of our "outreach" efforts, we have established a special program called "The Grandfather Challenge," through which at-risk young persons will, through a series of hikes, navigate all of the rigorous hiking trails at Grandfather Mountain, NC. One of these hikes takes you to the highest point in the Blue Ridge Mountain chain, and affords incredible views along its peaks. As these hikes take place, we will try to teach these young people to respect this very pristine and special nature preserve, and to recognize and appreciate God's beauty and creation. A special Certificate, backpacks, hiking boots, and other recognition will be given to each at-risk young person that completes this program.
We fervently believe that this type of program or activity can not only provide enjoyment to those who participate, but can also build confidence and trust in others, similar to the ideals pursued in various "outward bound" programs.
Although we expect to receive referrals for at-risk youth candidates to complete this Challenge from multiple sources (including our local NC court system, The Western Youth Network, Watauga, Avery, and Mitchell County High Schools, and other sources and agencies), our first priority was to form an alliance with the Juvenile Court system in Unicoi, Tenn, and Recover Appalachia, as part of the Court's pre-trial intervention program. The Unicoi County Circuit Court, Juvenile Division, has now become our first partner to work with us in implementing The Grandfather Challenge. Also, the Grandfather Mountain State Park of North Carolina has issued a Special Use Permit to our organization, and the Grandfather Mountain Stewardship Foundation has sanctioned our project and issued a special pass for highly discounted entrance fees to the Grandfather Mountain, NC attractions.
We are especially proud of our adult hike leaders (see the list below please). You should readily see that we have found some very experienced and qualified hikers. More importantly, each of them are devoted to the underlying goals of this project. We believe that our youth participants will benefit tremendously from the mentoring that these adult hike leaders bring to this project, and that their lives will be touched in ways that will make a meaningful difference in their futures. Sometimes just the trust and respect earned by an adult mentor, together with the completion of a tough physical challenge, will provide a life-altering change in a young person's life.
We ask that you please give this some careful thought, and consider if you might want to contribute to this worthy project. Our son Jason can live on in our hearts and in the lives of other at-risk children, if you will help us succeed with this endeavor !!
Sincerely,
James and Cheryl Nipper
The Jason Project, Inc. / The Grandfather Challenge
james@ jamesnipper.com
Mission Statement: To provide healthy and rigorous outdoor excursions and challenges where at-risk youth can be encouraged and inspired to rise above their adversities and excel mentally, spiritually, and in life.
Adult Hike Leaders: We have established relationships with each of the following hiking experts, who are serving as our initial hike leaders for The Grandfather Challenge:
Luke Appling: Luke has worked on Grandfather Mountain since 2002, and is currently serving as a State Park Ranger at Grandfather Mountain State Park; EMT basic, certified Environmental Educator through North Carolina, Search and Rescue trained at the basic and alpine winter levels (EMT and Law Enforcement alpine training); certified visual tracker (tactical man-tracking), BS in Ecology from Appalachian State where he took many local field classes, near expert level in local flora and fauna. He loves being outdoors and exploring nature - hiking, fishing, hunting, foraging, gardening, beekeeping, bird watching, etc.
Amanda Smithson: Amanda is an Interpretive Park Ranger at Roan Mountain State Park, an EMT, a certified Interpretive Guide, an expert in local flora and fauna, has a wealth of knowledge in hiking, backpacking and wood-craft, is incredibly passionate about the outdoors and has lead numerous hikes and programs for the public.
Drew Taylor: Drew is the President of the Carter County Bar association in Carter County, Tennessee, and his law practice focuses on Child-Advocacy and Community- Advocacy. He handles cases representing children's rights, and sits on the board of Recover Appalachia that focuses on helping at-risk teens. In his spare time, Drew loves to hike challenging mountain trails, and will serve as one of our unique hiking guides.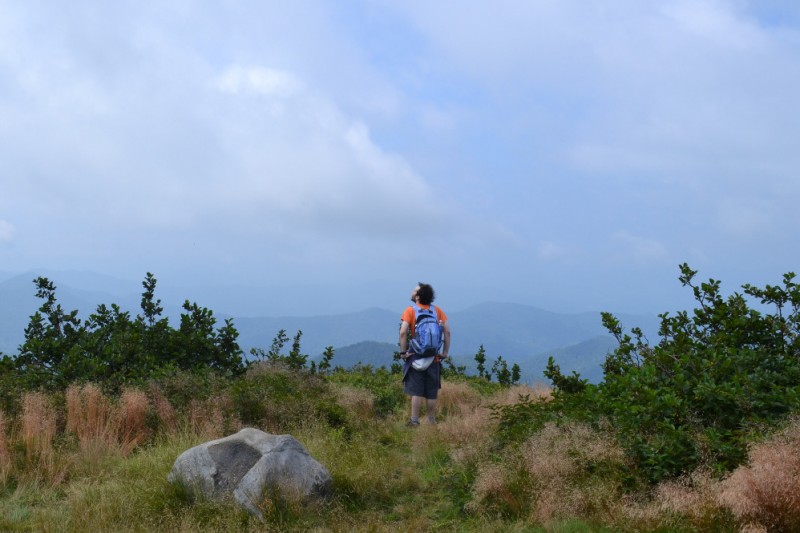 + Read More
Be the first to leave a comment on this campaign.